Lamberts Point, a coal terminal on the banks of the Elizabeth River since 1885, never had an air permit because it predated the 1970 federal Clean Air Act and the resulting oversight.
In effect, there are no coal dust emission limits for Lamberts Point, provided the terminal doesn't handle more coal than allowed each year by the state; the company hasn't come close in years.
Lamberts Point is a regulatory relic, grandfathered in before the days of modern air pollution control.
Read the full story from The Virginian-Pilot here.
More than half of the private wells in the Town of East Fishkill have higher concentrations of sodium from road salt than some government health standards recommend, according to a new study by local scientists.
The findings by the Cary Institute of Ecosystem Studies are preliminary. But they represent the first scientific analysis of well test data collected as a result of laws enacted in 2007 by three southern Dutchess County towns. The findings highlight the potential for continued and deeper analysis of the growing body of well test data, which include results for dozens of other contaminants at each location.
The data were provided to the Cary Institute by the Poughkeepsie Journal, which used custom software to collect and collate the well test results from the Dutchess County Department of Health's website.
Read the full story from the Poughkeepsie Journal here.
In October, residental properties in Oregon were sprayed with pesticides meant for a nearby forrest. Residents say the pesticides caused health problems for themselves, their families and their pets. Oregon Public Broadcasting looked into what oversights allowed this to happen. They found lack of government funding to test soil and improper record keeping to be major factors on why the government's investigation took six months and why residents are still searching for answers.
The federal government does not require U.S. railroads to have comprehensive plans for a worst-case oil disasters, according to the Maine Center for Public Interest Reporting.
That means no one knows if the railways that carried 4.2 million barrels of crude oil through the state last year are prepared for a catastrophe.
A handful of factors – including a declining number of volunteer firefighter/first-responders and a lack of information – complicate planning efforts in rural states like Maine.
Read the story here.
---
Reporting on hazardous materials?
Get data from NICAR's recently updated hazardous materials database.
Listen to tips on covering hazmat pollution and using the NICAR database.
An audit of the North Lee County Water Association in Mississippi turned up widespread financial management problems, including violations of several state and federal laws, the Daily Journal (Tupelo, MS) reports.
The audit, which is likely "the most rigorous examination ever" of the nonprofit cooperative's financial records, comes on the heels of a $1.2 million loan from the U.S. Department of Agriculture Rural Development Administration.
While copies of the audit are required to be available for public inspection, the water association did not comply with state law.
The association has been plagued with problems, according to the Daily Journal.
Rust-colored water and frequent boil notices have been part of North Lee's water quality problems for years. In October 2011, all board members resigned amid allegations of misconduct and falsifying water reports. Former North Lee manager Dan Durham pleaded guilty in federal court in 2012 to falsifying the water reports and received probation.
Read the story here.
Crop irrigation has boomed in Minnesota in the past few years, increasing land values and raising yields for corn, soybeans and other crops. But hundreds of Minnesota farmers appear to be irrigating cropland without the state permits required to use large volumes of public water, according to Minnesota Public Radio News.
Of roughly 1,200 crop irrigation wells drilled from 2008 to 2012, more than 200 likely are operating without a permit, a Minnesota Public Radio News investigation of public well records found. In addition, nearly 200 others operated without a permit until the past year or so.
Click to read the full story.
From the IRE Journal: Learn how reporter Mark Steil used data to find hundreds of unpunished water violations in rural Minnesota.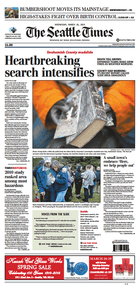 Snohomish County officials in a 2010 report were warned that neighborhoods along the Stillaguamish River were ranked "as one of the highest risk areas for deadly and destructive landslides," according to The Seattle Times.
The document contradicts claims from an emergency-management official that the area "was considered very safe" and that the slide "came out of nowhere."
The Times also found state records showing that the plateau that gave way Saturday had been logged for almost a century. Scientists in recent decades had warned that the slope was becoming unstable and could potentially lead to calamity.
More coverage: Before and after map | Photos | Victim list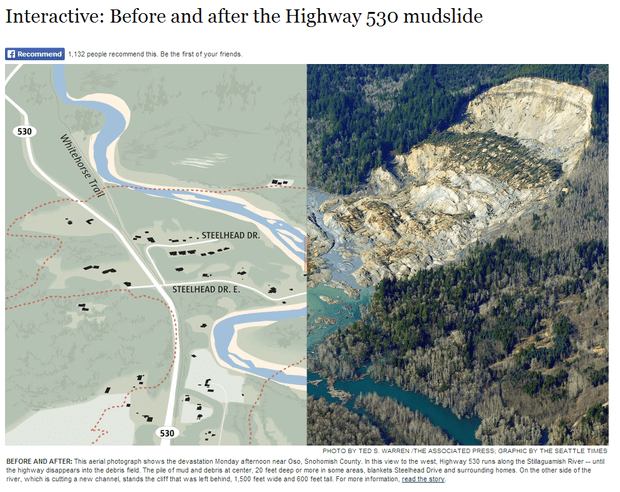 It's amazingly easy to steal water from a California stream. Even in this epic drought, the state has no way of monitoring exactly who is tapping into its freshwater supplies and how much they take. And those who do get caught taking water they have no right to often are allowed to keep taking it for years just by promising to obtain a permit.
The number of Louisville companies storing dangerous quantities of toxic chemicals has dropped significantly in the past decade, but hundreds of thousands of area residents remain at risk of being sickened or killed in the event of a catastrophic leak.
Federally required safety records analyzed by The Courier-Journal show that 21 firms report storing deadly or explosive toxic substances such as chlorine, formaldehyde and anhydrous ammonia in amounts large enough to require disaster plans — with some danger zones stretching from Southern Indiana to northern Bullitt County.
Global News obtained 11 years of collision data and found that "Torontohenge," when the setting sun aligns with Toronto's east-west street grid and forces drivers to squint through salt-crusted windshields, coincides with the third-worst day of the year for car accidents.