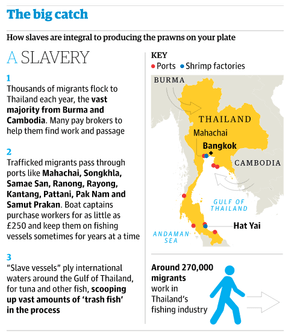 Slaves forced to work for no pay for years at a time under threat of extreme violence are being used in Asia in the production of seafood sold by major US, British and other European retailers, the Guardian can reveal.
A six-month investigation has established that large numbers of men bought and sold like animals and held against their will on fishing boats off Thailand are integral to the production of prawns (commonly called shrimp in the US) sold in leading supermarkets around the world, including the top four global retailers: Walmart, Carrefour, Costco and Tesco.
The investigation found that the world's largest prawn farmer, the Thailand-based Charoen Pokphand (CP) Foods, buys fishmeal, which it feeds to its farmed prawns, from some suppliers that own, operate or buy from fishing boats manned with slaves.
The unsupervised spending in El Chaparral is symptomatic of a vast community aid effort with lax financial controls. A network of more than 70,000 community groups has received the equivalent of at least $7.9 billion since 2006 from the federal agency that provides much of the financing for the program, Reuters calculates, based on official government reports.
The money is part of a broad government effort called the "communal state" that steers funds to communities, primarily through an outfit called the Autonomous National Fund for Community Councils, or Safonacc. But exactly how much money passes through this system, who gets it and how it's used are largely a mystery.
Read the story here.
The Associated Press reports that the U.S. Agency for International Development was behind the creation of a "Cuban Twitter," a social network designed to undermine the communist government and push Cubans toward dissent.
The project – called ZunZuneo – drew tens of thousands of subscribers in the more than two years in operated. American contractors were able to gather personal data on users.
According to the report, "The AP obtained more than 1,000 pages of documents about the project's development. It independently verified the project's scope and details in the documents through publicly available databases, government sources and interviews with those involved in ZunZuneo."
Read the story here.
Mizzou did not pursue alleged assault | ESPN
The University of Missouri did not investigate or tell law enforcement officials about an alleged rape, possibly by one or more members of its football team, despite administrators finding out about the alleged 2010 incident more than a year ago, an "Outside the Lines" investigation has found. The alleged victim, a member of the swim team, committed suicide in 2011.
Mass. spent millions on secret settlements | The Boston Globe
For years, the state has used confidential settlement and severance deals to make embarrassing problems go away, often requiring workers to promise to keep the payments secret and avoid saying anything critical about the agencies. When the Globe first asked for copies of all the pacts worth at least $10,000 statewide, it took a four-year legal fight to obtain the names of workers who received the money.
Free game tickets, hot concert seats: The politics of higher education in Missouri | The St. Louis Post-Dispatch
Missouri's public universities have spent almost a million dollars since 2011 on contracts with professional lobbyists to represent their interests in Jefferson City — while plying state legislators with tens of thousands of dollars more in free meals, sports outings, concert tickets and other perks.
Consumers With Canceled Insurance Plans Shifted to New Ones Without Their Permission | ProPublica
The California Department of Insurance said it is exploring whether any laws were broken when insurance companies withdrew money from consumers' accounts for plans they didn't select.
Data breach likely will happen to you | The Atlanta Journal-Constitution
Most people and companies use anti-virus software, but it only guards against threats it recognizes, and the bad guys are constantly tweaking their weapons to circumvent such protections. Adding as little as a few lines of code will evade most anti-virus programs.
Patients' deadly surgery wait as toll soars | The Herald Sun, Melbourne, Australia
More than 840 people - 16 a week - died waiting for surgery in Victoria in the past year. The revelation comes as the length of time patients spend on elective surgery waiting lists continues to grow
Charity Checker | The Tampa Bay Times and The Center for Investigative Reporting
The Tampa Bay Times, in partnership with The Center for Investigative Reporting, has built an online tool to make charity research a little easier. Our "Charity Checker" website, for the first time, aggregates the ratings and reviews already offered by several of the nation's most prominent watchdog organizations. With a simple search, you can see their results, all in one place, then click through to dig deeper into a charity through GuideStar, Charity Navigator, GreatNonprofits and the Better Business Bureau. The idea for Charity Checker grew out of our reporting on America's Worst Charities, a yearlong investigation into charities that have chronically steered most of their donations to for-profit telemarketers. The full series can be found here: www.cironline.org/americasworstcharities or tampabay.com/charity.
The latest entry in Reuters' "Breakout" series focused on China's military buildup reveals that the US government has more than 350 active military-technology smuggling cases linked to China, up by more than 50 percent since 2010. The report details how China is recruiting amateurs to buy weapons and significantly complicates U.S. efforts to stop the flow of American armaments to China. The report includes an unprecedented interview with one convicted arms trafficker and details of the secret FBI recordings in his case.
A Reuters investigation into the Iranian supreme leader's $95 billion economic empire—which was partly built on confiscating family property from ordinary citizens: Several other Iranians whose family properties were taken over by Setad described in interviews how men showed up and threatened to use violence if the owners didn't leave the premises at once. One man said he had been told how an elderly family member had stood by distraught as workmen carried out all of the furniture from her home. According to this account, she sat down on a carpet, refused to move and pleaded, "What can I do? Where can I go?" "Then they reached down, lifted her up on the carpet and took her out."
Two killings in the Brazilian neighborhood of Centro de Meio over a soccer match gone wrong left the country spinning, the New York Times reports. The killings were widely reported as an extreme example of soccer violence in Brazil, a grisly contradiction to joga bonito, to play beautifully, as the country prepared to host the 2014 World Cup and 2016 Olympics.
A sociologist's study found more deaths directly related to fan violence in Brazil than any other country. The number escalated from an average of 4.2 per year about a decade ago to 23 in 2012.
The story touches on interior Brazil's wider culture of knives and revenge. It touched on hopelessness and rage born of poverty and inequality, and mistrust that seethed from inadequate policing and uneven access to justice. When formal justice seemed weak and unresponsive to one killing, another score was settled as scores have long been settled in this region of Brazil — with private justice, bloodshed trumped by bloodshed.

"Google Inc., Facebook Inc. and LinkedIn Corp. wound up in Ireland because they could reduce their tax bills. Their success is leading European and U.S. politicians to label the country a tax haven that must change its ways. The grand architect of much of that success: Feargal O'Rourke, the scion of a political dynasty who heads the tax practice at PricewaterhouseCoopers in Ireland."
"Despite repeatedly denouncing the CIA's drone campaign, top officials in Pakistan's government have for years secretly endorsed the program and routinely received classified briefings on strikes and casualty counts, according to top-secret CIA documents and Pakistani diplomatic memos obtained by The Washington Post."
The trial of commanding officer Lt. Jorge Vinicio Sosa Orantes began last week, ProPublic reports. It is the first trial in the United States involving an atrocity from Guatemala's 30-year civil war. It is also the first full airing of the Dos Erres case in a U.S. court. Sosa played a lead role in one of the worst war crimes in the recent history of the hemisphere: the massacre of 250 people in the Guatemalan hamlet of Dos Erres in 1982. He is charged with fraudulently obtaining U.S. citizenship years later by concealing his participation in the massacre.