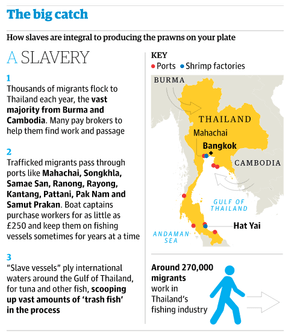 Slaves forced to work for no pay for years at a time under threat of extreme violence are being used in Asia in the production of seafood sold by major US, British and other European retailers, the Guardian can reveal.
A six-month investigation has established that large numbers of men bought and sold like animals and held against their will on fishing boats off Thailand are integral to the production of prawns (commonly called shrimp in the US) sold in leading supermarkets around the world, including the top four global retailers: Walmart, Carrefour, Costco and Tesco.
The investigation found that the world's largest prawn farmer, the Thailand-based Charoen Pokphand (CP) Foods, buys fishmeal, which it feeds to its farmed prawns, from some suppliers that own, operate or buy from fishing boats manned with slaves.
An oil boom is underway at the Eagle Ford Shale in Karnes County, Texas, but the development is diminishing the quality of life of the inhabitants of the rural county and possibly endangering their health, according to reporting by the Center for Public Integrity, InsideClimate News and the Weather Channel.
Residents' complaints are going unaddressed and air quality monitoring is patchy. Though officials have said there is no cause for worry, experts say that the lack of monitoring and research into the health effects of pollutants has resulted in a poor understanding of how oil and gas development impact public health.
Compounding these weaknesses is the political backing of oil interests in the state with many industry regulatory officials doubling as its strongest supporters.
Dozens of Nepalese migrant laborers have died in Qatar in recent weeks and thousands more are enduring appalling labor abuses, a Guardian investigation has found, raising serious questions about Qatar's preparations to host the 2022 World Cup.