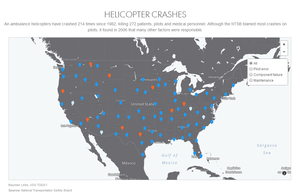 A USA TODAY investigation shows repeated instances in which small aircraft crashes, deaths and injuries were caused by defective parts and dangerous designs, casting doubt on the government's official rulings and revealing the inner workings of an industry hit so hard by legal claims that it sought and won liability protection from Congress.
Wide-ranging defects have persisted for years as manufacturers covered up problems, lied to federal regulators and failed to remedy known malfunctions, USA TODAY found. Some defective parts remained in use for decades — and some are still in use — because manufacturers refused to acknowledge or recall the suspect parts or issued a limited recall that left dangerous components in hundreds of aircraft. The manufacturers involved paid hundreds of millions of dollars in settlements that received little or no public attention until now.
To see all of the content, visit the project landing page.
The federal government does not require U.S. railroads to have comprehensive plans for a worst-case oil disasters, according to the Maine Center for Public Interest Reporting.
That means no one knows if the railways that carried 4.2 million barrels of crude oil through the state last year are prepared for a catastrophe.
A handful of factors – including a declining number of volunteer firefighter/first-responders and a lack of information – complicate planning efforts in rural states like Maine.
Read the story here.
---
Reporting on hazardous materials?
Get data from NICAR's recently updated hazardous materials database.
Listen to tips on covering hazmat pollution and using the NICAR database.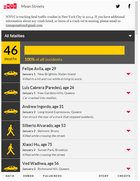 More than half of the 27 pedestrians killed by cars in New York City this year died on major roadways. That's just one of the findings of a new WNYC analysis of traffic deaths, Mean Streets.
WNYC worked with the NYPD to compile an accurate list of traffic deaths after finding discrepancies between its statistics and those kept by advocacy groups.
The station is tracking each death using an interactive database that includes names, dates, locations, street view maps and brief descriptions of the deaths.
Across the United States, police and prosecutors are allowing tens of thousands of wanted felons — including more than 3,300 people accused of sexual assaults, robberies and homicides — to escape justice merely by crossing a state border, a USA TODAY investigation found. Those decisions, almost always made in secret, permit fugitives to go free in communities across the country, leaving their crimes unpunished, their victims outraged and the public at risk.
Read the USA TODAY report. Check out some of the local reporting that's come out of the project.
Despite being banned in countries such as Afghanistan, China, Colombia, Germany, Ireland and the Philippines, the potentially explosive fertilizer ammonium nitrate can be purchased pure and by the ton in the United States, according to the Dallas Morning News.
An investigation by the newspaper found that "for more than a decade, U.S. efforts to tighten controls over ammonium nitrate fertilizer have repeatedly failed, bogged down by bureaucratic gridlock and industry resistance. Regulations approved years ago remain unenforced and unfinished. Mere talk of safer substitutes has been blocked by those with profits at stake."
The Orlando Sentinel completed its three-part series "Blood In the Streets" this week, examining Central Florida's chronic, tragic record of pedestrian crashes, the worst in the country. Using state and federal data, reporters Scott Powers and Arelis Hernandez reviewed thousands of pedestrian crashes to target scores of interviews. Their findings: The problems are rooted in many decades of sprawling development and road planning and a careless culture. Drivers who kill pedestrians face life-changing grief and guilt. Victims and families find little support and no closure from the justice system. And no transportation plans address the ultimate problem: high speed.
New Jersey Transit placed much of its equipment in rail yards that forecasters predicted would flood after Hurricane Sandy, a move that damaged one third of its locomotives and a quarter of its passenger cars, according to a report from Reuters. The damage could cost tens of millions of dollars to repair, according to Reuters.
As homeowners begin to pick up the pieces following the destruction of Hurricane Sandy, their focus turns to insurance. Echoing the situation on the east coast, the Minneapolis Star Tribune investigated the topic of homeowner's insurance premiums following natural disasters in the state of Minnesota.
The Star Tribune found that rates were steadily hiked up 10-12% over the course of 2012, although the weather trends don't necessarily justify the size of the increase.
"Despite a stunning drop in homicides in D.C., murder remains a stubborn crime to solve and prosecute. The Washington Post has reviewed nearly 2,300 slayings in the city between 2000 and 2011 and found that less than a third have led to a conviction for murder or manslaughter, although the numbers have improved in the past few years."
"According to The Post's investigation, more than 1,000 cases remain unsolved. In a 15-month study, Cheryl Thompson individually tracked every homicide in the District between 2000 and 2011 to learn what ultimately happened to each ensuing case."
After a report was released by Spokane's regional health district, the newspaper mapped life expectancy for each neighborhood in Spokane – showing the differences in well-being among its many neighborhoods: People in the county's wealthy neighborhoods can expect to live longer than those in the poorer ones, by years and years.