One in four of the more than 3,700 commercial motorcoach and passenger van companies regulated by the federal government has never received a full safety evaluation, according to an investigation by The Boston Globe. Nearly half have not been reviewed in more than two years.
Buses carry nearly as many people as airlines, but receive far less scrutiny. More than 170 people were killed in bus crashes from 2010 to early 2014, while no one died in commercial plane crashes on US carriers during that period.
"A News Tribune investigation found that at least eight cars have plunged into the water at the Narrows Marina boat launch over the past 17 years. Four of 11 occupants were killed. Another was left permanently disabled," the News Tribune reported.
The accidents involved different types of people, from thieves outrunning the cops to an elderly couple who apparently got lost. Two drivers were drunk.
Records from the accidents paint a similar picture: All were the result of lost or confused motorists driving into the water by mistake. All happened in the dark. Most happened at or around high tide. Often it was raining.
The News Tribune found no government safety standards or guidelines specific to private boat launch facilities."
Read the full story here.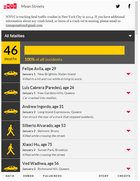 More than half of the 27 pedestrians killed by cars in New York City this year died on major roadways. That's just one of the findings of a new WNYC analysis of traffic deaths, Mean Streets.
WNYC worked with the NYPD to compile an accurate list of traffic deaths after finding discrepancies between its statistics and those kept by advocacy groups.
The station is tracking each death using an interactive database that includes names, dates, locations, street view maps and brief descriptions of the deaths.
"Each day, trucks and railcars hauling hazardous materials share roadways with Iowa drivers and pass through Iowa towns and fields. But unless there is an accident, officials often don't know what materials pass through the state." Read the full story from IowaWatch/Investigative News Network here.
"Defective brakes, axle problems and cracked wheel rims were among the most serious maintenance problems state inspectors found on trucks owned by B&E Transport, the firm involved in last week's crash that damaged a bridge over U.S. 281," according to a San Antonio Express-News article.