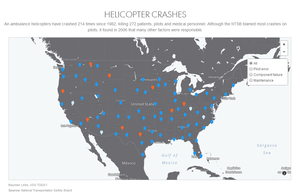 A USA TODAY investigation shows repeated instances in which small aircraft crashes, deaths and injuries were caused by defective parts and dangerous designs, casting doubt on the government's official rulings and revealing the inner workings of an industry hit so hard by legal claims that it sought and won liability protection from Congress.
Wide-ranging defects have persisted for years as manufacturers covered up problems, lied to federal regulators and failed to remedy known malfunctions, USA TODAY found. Some defective parts remained in use for decades — and some are still in use — because manufacturers refused to acknowledge or recall the suspect parts or issued a limited recall that left dangerous components in hundreds of aircraft. The manufacturers involved paid hundreds of millions of dollars in settlements that received little or no public attention until now.
To see all of the content, visit the project landing page.
One in four of the more than 3,700 commercial motorcoach and passenger van companies regulated by the federal government has never received a full safety evaluation, according to an investigation by The Boston Globe. Nearly half have not been reviewed in more than two years.
Buses carry nearly as many people as airlines, but receive far less scrutiny. More than 170 people were killed in bus crashes from 2010 to early 2014, while no one died in commercial plane crashes on US carriers during that period.
Top officials at the Indiana Bureau of Motor Vehicles were told the agency was improperly overcharging Hoosiers millions of dollars, but they secretly kept doing it for at least two years to avoid budget troubles, a former deputy director alleges.
The explosive accusation comes in an 88-page deposition taken last week as part of a class action lawsuit pending against the BMV in Marion Superior Court. The suit seeks to recoup $30 million to $40 million that the BMV overcharged Indiana motorists for personalized license plates, vehicle registrations and dozens of other services.
Read the full story from The Indianapolis Star here.
Metro-North Engineer Steven Bauer's testimony is just one part of a wide-ranging and ongoing NTSB investigation of the Bridgeport derailment and subsequent collision with an oncoming train, records reviewed by Hearst Connecticut Media show. Investigators have also produced an animated reconstruction video that offers concise details about the accident.
The video concludes the crash was caused by a broken section of track that rail workers had repaired a month earlier -- but failed to again fix two days before the crash.
Read the full story from the Connecticut Post here.
Eleven years of data analyzed by the Columbus Dispatch showed that those charged multiple times with operating a vehicle while impaired were able to get their charges reduced through a plea deal almost as often as those who had no recent drunk driving charges.
Some say repeat offenders know how to beat the system. Drivers can refuse to submit to a breath test if they are pulled over by police. In 2009, defendants refused chemical tests in 36 percent of the cases handled by city prosecutors. In 2013, it was 41 percent. Without the results of such tests, prosecutors lack a key piece of evidence.
"A News Tribune investigation found that at least eight cars have plunged into the water at the Narrows Marina boat launch over the past 17 years. Four of 11 occupants were killed. Another was left permanently disabled," the News Tribune reported.
The accidents involved different types of people, from thieves outrunning the cops to an elderly couple who apparently got lost. Two drivers were drunk.
Records from the accidents paint a similar picture: All were the result of lost or confused motorists driving into the water by mistake. All happened in the dark. Most happened at or around high tide. Often it was raining.
The News Tribune found no government safety standards or guidelines specific to private boat launch facilities."
Read the full story here.
Denver is raking in significantly more money from parking tickets than it did just five years ago — largely because of added meters, overnight downtown parking hours, technology that speeds up ticketing and hiked street-sweeping fines.
A Denver Post analysis of parking-citation data found that collections from tickets and penalties reached $30.5 million last year.
Read the full story from The Denver Post here.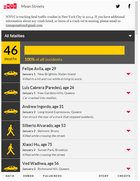 More than half of the 27 pedestrians killed by cars in New York City this year died on major roadways. That's just one of the findings of a new WNYC analysis of traffic deaths, Mean Streets.
WNYC worked with the NYPD to compile an accurate list of traffic deaths after finding discrepancies between its statistics and those kept by advocacy groups.
The station is tracking each death using an interactive database that includes names, dates, locations, street view maps and brief descriptions of the deaths.
The Nevada Taxicab Authority, the state agency that regulates the taxicab industry, has a lax record of enforcing the law, with its citations to drivers dropping significantly in 2013, an investigation by the Las Vegas Review-Journal found.
The authority, a law enforcement agency with 26 officers, issued just two tickets in December 2013 to cabbies for long-hauling passengers, or taking them on longer than needed routes. In 2013, a state audit determined that nearly a fourth of trips from the Las Vegas airport to hotels on the Strip are long-hauls, costing passengers about $15 million annually.
Global News obtained 11 years of collision data and found that "Torontohenge," when the setting sun aligns with Toronto's east-west street grid and forces drivers to squint through salt-crusted windshields, coincides with the third-worst day of the year for car accidents.