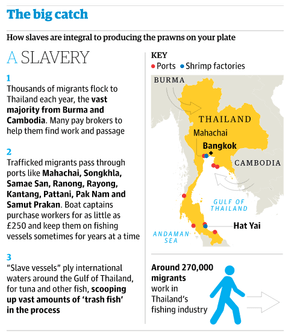 Slaves forced to work for no pay for years at a time under threat of extreme violence are being used in Asia in the production of seafood sold by major US, British and other European retailers, the Guardian can reveal.
A six-month investigation has established that large numbers of men bought and sold like animals and held against their will on fishing boats off Thailand are integral to the production of prawns (commonly called shrimp in the US) sold in leading supermarkets around the world, including the top four global retailers: Walmart, Carrefour, Costco and Tesco.
The investigation found that the world's largest prawn farmer, the Thailand-based Charoen Pokphand (CP) Foods, buys fishmeal, which it feeds to its farmed prawns, from some suppliers that own, operate or buy from fishing boats manned with slaves.
Recent salary survey shows that City of Springfield wages often were less than the wages offered for comparable jobs in other cities.
But a News-Leader analysis of public employee salaries shows that city government workers have no more — and no less — cause for complaint than other area workers.
Overall, city wages appear to mirror those of others in the community. As of February, the average hourly wage of a City of Springfield employee was $17.75, according to payroll records obtained by the News-Leader.
Read the full story from the Springfield News-Leader here.
The Center for Investigative Reporting has uncovered more problems in Richmond, California's public housing system. Two maintenance workers, who also live in public housing, were found to have double-billed for tasks, billed for more hours than were worked and charged overtime during their regularly-scheduled shifts. Overtime paid to the two workers totaled more than $125,000 over four years.
All time sheets from the two workers were approved by the appropriate officials and it is still unclear if the two men were deliberately abusing the system.
A Detroit News investigation found about 1 in 4 Detroit landlords paid to rent to poor families through the state's Housing Choice Voucher program collectively owe the city at least $5 million in back taxes and probably much more. Federal and state guidelines for the rental assistance — known as Section 8 — don't require that all landlords pay.
Read the entire story here.
Florida's new unemployment benefits website, CONNECT, "launched so riddled with technical glitches that it has left thousands of unemployed Floridians without the money they need for food, rent and bills," according to the Tampa Bay Times.
"The problems are so bad that the (Department of Economic Opportunity) began fining the contractor $15,000 a day and federal officials intervened, convincing the state to pay the back claims so claimants could get their money. Two months after CONNECT's debut, so many claims remained unpaid that the DEO hired an extra 330 employees, at a cost of $165,000 a week."
Read the full story here.
For years, the state has used confidential settlement and severance deals to make embarrassing problems go away, often requiring workers to promise to keep the payments secret and avoid saying anything critical about the agencies. When the Globe first asked for copies of all the pacts worth at least $10,000 statewide, it took a four-year legal fight to obtain the names of workers who received the money.
Dozens of Nepalese migrant laborers have died in Qatar in recent weeks and thousands more are enduring appalling labor abuses, a Guardian investigation has found, raising serious questions about Qatar's preparations to host the 2022 World Cup.
"Mississippi Department of Corrections officials insist their comp time policies are legal and, indeed, authorized by the Mississippi Personnel Board. But at face value, the resulting system has required 25 prison guards to work more than 1,000 extra hours for free, according to a Clarion-Ledger analysis of MDOC records."
"The number of internships in the United States has ballooned over the past few decades. But oversight and legal protection for unpaid interns hasn't kept up."
"America is now dotted with "temp towns" – places where it's difficult to find blue-collar work except through a temp agency and where workers often suffer lost wages, no benefits and high injury rates."