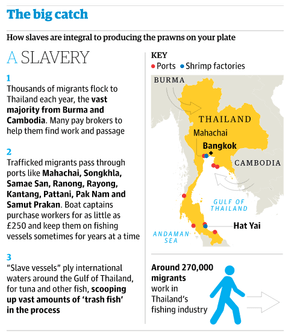 Slaves forced to work for no pay for years at a time under threat of extreme violence are being used in Asia in the production of seafood sold by major US, British and other European retailers, the Guardian can reveal.
A six-month investigation has established that large numbers of men bought and sold like animals and held against their will on fishing boats off Thailand are integral to the production of prawns (commonly called shrimp in the US) sold in leading supermarkets around the world, including the top four global retailers: Walmart, Carrefour, Costco and Tesco.
The investigation found that the world's largest prawn farmer, the Thailand-based Charoen Pokphand (CP) Foods, buys fishmeal, which it feeds to its farmed prawns, from some suppliers that own, operate or buy from fishing boats manned with slaves.
More than 2,300 providers – doctors, nurses, physician assistants – earned $500,000 or more from Medicare in 2012 from a single procedure or service, according to a Wall Street Journal analysis of the data. A few of those providers, including an internist in Los Angeles and a dermatologist in Port St. Lucie, Fla., collected more from the single procedures than anyone else who billed for them — by very large margins.
The data release was prompted by a Journal legal effort to make the information public. This story is the first of a series, Medicare Unmasked, examining how payments are made in the roughly $600 billion Medicare system.
Before he was handed a badge and a gun as a police officer for Florida Atlantic University, Jimmy Dac Ho was no stranger to trouble in South Florida.
Fired from the Broward Sheriff's Office in 2004 after a violent fight with his wife, Ho spent two years trying to get another job as a police officer. He was rejected by at least seven departments because of his history at the Sheriff's Office before he landed at FAU in 2006.
Once there, he racked up complaints of excessive force, intimidation and sexual harassment. Many of his problems involved women: Records show he was reprimanded for sending inappropriate text messages and making lewd comments to female employees and students.
Read the full story from The South Florida Sun Sentinel here.
The Center for Investigative Reporting has uncovered more problems in Richmond, California's public housing system. Two maintenance workers, who also live in public housing, were found to have double-billed for tasks, billed for more hours than were worked and charged overtime during their regularly-scheduled shifts. Overtime paid to the two workers totaled more than $125,000 over four years.
All time sheets from the two workers were approved by the appropriate officials and it is still unclear if the two men were deliberately abusing the system.
When former Milwaukee County jail guard Aron Arvelo was charged recently with two felonies accusing him of secretly recording female co-workers, it wasn't the first time he had run into trouble for harassing women.
Just 2 1/2 years earlier, officials tried unsuccessfully to fire Arvelo after he was caught stalking a co-worker. But a five-member citizen panel refused to follow the recommendation, putting Arvelo back in his old job.
The Iowa Department of Administrative Services explicitly offered $6,500 to a former state employee last year in exchange for her secrecy, according to documents obtained by the Des Moines Register.
The documents include a March 6, 2013, e-mail in which Department of Administrative Services attorney Ryan Lamb writes to an attorney representing former employee Carol Frank: "I am agreeable to changes you propose and offer $6,500 for additional term," referring to a stipulation that the settlement be kept confidential.
Read the story here.
Guards and other employees at Alabama's Julia Tutwiler Prison for Women accused in a U.S. Department of Justice report of demeaning, harassing and sexually abusing inmates typically pleaded guilty to lesser crimes, an AL.com examination of court records found.
The head of Virginia Beach's second-largest department hasn't been to work in nearly three years and keeps volunteering for military service instead of returning to his $150,000-a-year job.
Since deploying in June 2011 – days after a city auditor's report recommended that he be fired – Public Works Director Jason Cosby has become vested in the city's pension plan and still collects more than $35,000 a year in benefits, although his salary is on hold. Cosby's mandatory service ended in 2012, but he took assignments around the world that kept him on active duty, according to military records and interviews with commanders.
For years, the state has used confidential settlement and severance deals to make embarrassing problems go away, often requiring workers to promise to keep the payments secret and avoid saying anything critical about the agencies. When the Globe first asked for copies of all the pacts worth at least $10,000 statewide, it took a four-year legal fight to obtain the names of workers who received the money.
"The job is hazardous, the returns are paltry and they say their work is illegal. But that doesn't stop the miners – mostly adults and some children – from diving into the mud to find gold," The Center for Investigative Reporting writes. Read the full story here.