Welcome to the virtual #NICAR21 conference! If you've already registered, here's what you need to know to access the conference.
(If you still need to register, you can do that online and then follow these instructions. You will receive an email to access the conference platform within one business day of registration. During conference week, we will work to give access as soon as possible after registration.)
Getting started & accessing the virtual conference platform
The NICAR21 virtual conference is online at nicar21.org. We highly recommend you bookmark this URL for easy access, especially since you can access it for a full year!
If you've already registered, you should have received an email link with access to Pathable, our virtual conference platform. Using the link from that email, you'll be asked to set a password. You will need this email and password to access Pathable during and after the conference.
Can't find the email? Search your inbox and Spam folder for "Pathable." If you still can't find it, email logistics@ire.org.
What are the technical requirements?
Google Chrome: Recommended browser for the best experience on Pathable. Make sure you are running the latest version, and that you allow pop-ups.
Zoom: Please download Zoom to your computer before the start of the conference.
What time zone is the agenda?
The Pathable agenda will automatically reflect your time zone.
How do I build my own schedule?
To add live sessions to your agenda, start on the main Agenda page (go to Schedule > Agenda). When you find a session you want to add to your schedule, click on the green plus sign located in the upper right-hand corner of each session.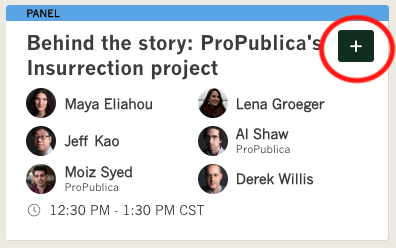 Anything you add will show up on your My Agenda page (go to Schedule > My Agenda). You can also export your schedule to your personal calendar by using the Export Calendar feature located in My Agenda.
How do hands-on classes work?
The conference features seven virtual data labs where you can learn spreadsheets, SQL, data wrangling, data viz, Python, R and web scraping -- with no sign-ups or extra fee required. The classes are all on demand and will be available for a year after the conference so you can work at your own pace and come back for refreshers.
Access the labs under Schedule > Virtual hands-on labs.
How can I get live help with hands-on skill lessons?
To compliment the virtual labs, we are offering live office hours where you can meet with an experience data journalist to help with a particular skill or project. Sign up here to be matched with an expert. 
Note: You must sign up by Monday, Feb. 22 for one-on-one office hours. If you don't sign up, you can come to open office hours found on the Agenda.
Will all the sessions be recorded?
Most of the live sessions are being recorded and will be available in Pathable for one year after the conference. Every session description notes whether the session will be recorded.
As a general rule: panels and conversations will be recorded; networking and happy hour sessions will not.
Recorded sessions will be available for viewing a few hours after the session concludes. In addition, any tipsheets from the session will be available in the Files tab for each session.
How does Zoom work inside Pathable?
Most panels (webinar-style meetings) will have the Zoom room embedded inside the Pathable page. This allows you to view the session even if your device or organization limits Zoom access. When you're in the Pathable room, you'll see the video on the left and the chat box on the right.
When you "Join a live meeting," you may experience a brief delay and see a gray/black box as the embedded video loads.
If the embedded format shown above isn't working, you also have the option to "use the Zoom app instead." This will open a new Zoom window. (Find it directly under the video window in Pathable.)

Will I be on a camera? Will I be muted?
It depends! There are two types of Zoom rooms, each noted at the bottom of that session's description.
Webinar room: Only speakers can be on video and unmute themselves. Attendees are in listen/view-only mode, unless they use the "Raise Hand" button and the session host allows them to speak. At NICAR21, we use this setup for most of the live panels and demos.

Meeting room: These are what most of us use in our day-to-day lives. Anyone — speakers or attendees — can be on video and unmute if they choose. At NICAR21, we mostly use this setup for networking sessions, conversations and a few demos.
Finally, a note: If your organization or device limits Zoom access, you may not be able to unmute or go on video. But you should still be able to view the content and use the chat in Pathable.
Can I go in and out of sessions?
Yes, you can enter and leave any live session (as long as it is not at capacity).
How do I get technical support or help?
If you are having technical difficulties, make sure you are using Google Chrome. This will take care of some common problems, like a slow-loading browser or audio issues. But if you still need help, reach out one of the following ways:
Use our live Help Desk: An IRE staff member will be available each day during the conference to assist with any questions. Here are the Help Desk hours:

Wednesday, March 3: 8 a.m. – 1 p.m. (ET)
Thursday, March 4: 11 a.m. – 1 p.m. (ET)
Friday, March 5: 11 a.m. – 1 p.m. (ET)

Contact Pathable Technical Support: From the Pathable navigation bar, click on Tech Support > Get Support. This will open a chat box and connect you with someone at Pathable. This is a free service provided to attendees by IRE.
Send IRE an email. If you have a question about registration or other non-technical issues, email us at logistics@ire.org.
IRE is bringing our popular Master Classes online this year, making them available to all IRE members.
Master Classes are half-day, deep-dive workshops into investigative reporting skills and are usually offered at our two annual conferences. In response to huge demand at the virtual IRE Conference last September, IRE is making some of its most popular Master Classes more widely available.
The first Online Master Class will be Feb. 19 focusing on digital investigations and taught by Jane Lytvynenko and Craig Silverman of BuzzFeed News. The second, on March 17, will help you become a public records sleuth, led by David Cuillier of University of Arizona and Grace Cheng of Thomson Reuters.
Cost
The Online Master Classes cost $35 each, and an IRE membership is required to register. Nonmembers may check requirements and apply for membership here.
Registration
View more information and register for the classes here.
The New York Times' groundbreaking coronavirus tracking project took first place in the 2020 Philip Meyer Journalism Awards. Other top awards go to investigations that uncovered how deeply race and income determine causes of death in Massachusetts and how qualified immunity impacts excessive force cases against police.
"In this difficult year, journalists and news organizations stepped up to fill the void of important information for the public," said Sarah Cohen, a contest judge and the Knight Chair in Data Journalism at the Walter Cronkite School of Journalism at Arizona State University. "In the tradition of Philip Meyer, they created data and analyzed information using social science methods to help the public understand the pandemic, racial justice and other key issues."
The 2020 winners are:
First place: Tracking the Coronavirus, The New York Times
By Staff at The New York Times
Judges' comments: "The New York Times' coronavirus project is a massive data collection undertaking, but it also is much more than that. The Times took on vetting and building out a strict methodology to ensure that data on COVID cases at the county-level, at nursing homes, at universities and in prisons could be used reliably. But The Times also published groundbreaking journalism rooted in social science methods that helped shed light on disparities in the impact from COVID-19. This work truly is a public service for researchers, for public policy efforts, and most importantly, for readers."
Second place: Last Words, The Boston Globe
By Mark Arsenault, Liz Kowalczyk, Todd Wallack, Rebecca Ostriker, Robert Weisman, Saurabh Datar and Spotlight editor Patricia Wen.
Judges' comments: "Painstakingly gathering more than 1.2 million death certificates and surveying thousands of families, The Boston Globe showed how deeply race and income determine how and why Massachusetts residents die and how those factors affect the quality and length of life and access to care. The Globe carefully analyzed the death certificate data with methods such as linear and multiple regression and geocoded the residential addresses of the deceased and matched it with Census data to determine income. Along with the data and survey work, the Globe did numerous interviews with epidemiologists, medical experts and family members to produce compassionate and informed stories. Impressively, the Globe team reacted quickly to the pandemic by including investigations into nursing home deaths from Covid-19 and revealing possible discrimination against the poor who apply to nursing homes. The series is a riveting example of how data analysis and social science methods leads to stellar public service journalism."
Third place: "Shielded," Reuters
By Andrew Chung, Lawrence Hurley, Jackie Botts, Andrea Januta, Guillermo Gomez, and Jaimi Dowdell
Additional reporting by Charlie Szymanski, Lena Masri, and Kanupriya Kapoor
Judges comments: "The Reuters' team reviewed thousands of lawsuits and appellate cases of qualified immunity to show a spike in cases since the Supreme Court's ruling in 2009, and that courts were more willing to take cases defending police officers than plaintiffs who accused officers of excessive force. Using their unique relationship with Westlaw, Reuters showed a plaintiff's likelihood of overcoming qualified immunity depended heavily on where the case was heard. The project used logistic regression and other social science methods, and was published weeks before George Floyd was killed and the Black Lives Matter movement shone a spotlight on the difficulty of prosecuting such cases."
Honorable mention: "What Do We Really Know About the Politics of People Behind Bars?" The Marshall Project and Slate
By Staff at The Marshall Project and Slate
Judges' comments: "The Marshall Project and Slate focused their social science efforts on a population never polled before: the incarcerated. The project was remarkable not only in its mission -- to survey the political leanings of those currently imprisoned -- but also in its reach, gathering more than 8,000 submissions from across the country during one of the most historic elections in U.S. history. As states begin restoring the voting rights of formerly incarcerated people, this project may very well be the first glimpse into the future of our nation's electorate."
The Meyer Award recognizes the best uses of empirical methods in journalism. The winners will be honored during the 2021 NICAR Conference. The first-place winner will receive $500; second- and third-place winners will receive $300 and $200, respectively. The award is administered by the National Institute for Computer-Assisted Reporting, a joint program of Investigative Reporters and Editors and the Missouri School of Journalism.
The Meyer Award honors Philip Meyer, professor emeritus and former Knight Chair of journalism at the University of North Carolina at Chapel Hill. Meyer is the author of "Precision Journalism," the seminal 1973 book that encouraged journalists to incorporate social science methods in the pursuit of better journalism. As a reporter, he also pioneered the use of survey research for Knight-Ridder newspapers while exploring the causes of race riots in the 1960s.
The judges for the Philip Meyer Award for Precision Journalism were:
Sarah Cohen, Knight Chair in Data Journalism at Arizona State University, Walter Cronkite School of Journalism and Mass Communication
Brant Houston, Knight Chair in Investigative Reporting at the University of Illinois at Urbana-Champaign
David McKie, Deputy Managing Editor at Canada's National Observer
Cheryl Phillips, Hearst Professional in Residence and Director of Big Local News at Stanford University
Jodi Upton, Knight Chair in Data and Explanatory Journalism at Syracuse University
The Philip Meyer Journalism Award follows the rules of the IRE Awards in its efforts to avoid conflicts of interest. Work that included any significant role by a Meyer Award contest judge may not be entered in the contest. This often represents a significant sacrifice on the part of the individual — and sometimes an entire newsroom. The IRE membership appreciates this devotion to the values of the organization.
IRE works to foster excellence in investigative journalism, which is essential to a free society. Founded in 1975, IRE has more than 5,500 members worldwide. Headquartered at the Missouri School of Journalism, IRE provides training, resources and a community of support to investigative journalists; promotes high professional standards; and protects the rights of investigative journalists. The National Institute for Computer-Assisted Reporting was founded by the Missouri School of Journalism in 1989 and became a collaboration between the school and IRE in 1994.
Contact:
Denise Malan, IRE Interim Executive Director, denise@ire.org
Sarah Cohen, Knight Chair in Data Journalism at Arizona State University, Walter Cronkite School of Journalism and Mass Communication, sarah.h.cohen@asu.edu
Registration is open for IRE's virtual NICAR21 data journalism conference, which runs March 3-5 and will feature hands-on data classes, panels and discussions, and opportunities to network with fellow data journalists.
Register by Feb. 10 to secure the early-bird rate of $125 for professionals. After that date, professional registration will be $175. Students may register at any time for $50. IRE membership is required to attend and should be current through April 1.
During the conference, members will be able to attend sessions, interact with speakers and one another, schedule one-on-one or small group video meetings, celebrate winners of the Philip Meyer Award, and gather virtually with IRE friends from across the country and around the world for fun activities.
Conference sessions will run between noon and 4 p.m. U.S. Eastern Time each day, with some social events scheduled after main conference hours.
Submissions also are now open for pitches for Lightning Talks, quick and quirky 5-minute presentations that are a beloved NICAR tradition, and for the NICAR21 T-shirt contest, where the winning design will be sold as conference swag. Submission for both are due Jan. 27, and members can vote for the winning talks and T-shirt design soon after.
"While the NICAR Conference will look different this year, we are excited to bring the same high-quality data journalism training to our members in this new format," IRE Interim Executive Director Denise Malan said. "The online conference also will be accessible for more journalists than ever before."
Sign up for the NICAR21 email newsletter to receive detailed updates on major announcements and the planning process. You'll also get reminders of key dates/deadlines surrounding the conference.
Frequently asked questions
How do I register for NICAR21?
First, make sure you have a current IRE membership through April 1, 2021. You can do that by logging into your account on the website and going to Manage Memberships in your Member Dashboard.
If you have a current membership, you will see a green 'Yes' in the Active column.
If your membership has expired, click the 'Subscribe' button to go through the renewal process. (Note: If your membership expired before Dec. 1, 2020, you will not be able to log in to the website. Please create a new account on our website by filling out the Join form.)
If you have never been an IRE member, please apply from the Join page.
Next, go to the conference ticket page. The correct price for your membership level will show up in the 'Get Tickets' block. Click 'Add to cart' and follow the steps to check out.
If the ticket block is blank, please check that you are logged into your account with a current membership. If you still need help, email info@ire.org.
What sessions can I expect at a virtual NICAR21?
View a list of expected sessions here. Full session and speaker details will be released in the coming weeks.
NICAR21 will offer a mix of panels, demos, discussions, networking, and on-demand hands-on data training, with several options to choose from during each hour of the conference.
Will there be Lightning Talks?
Lightning Talks, a much-anticipated session at every NICAR conference, will be part of the virtual experience as well. Lightning Talks are 5-minute presentations on particular skills, tools or techniques. Pitches are submitted and voted on by NICAR21 attendees.
You can submit a pitch for a Lightning Talk here. Pitches are due Jan. 27, and voting will open shortly afterward.
Will we have opportunities to socialize?
While we aren't able to hang out in person this year, we still want to bring the NICAR community together in some more relaxed social settings. The NICAR Happy Hour sessions will offer everything from low-key to high-energy sessions to help you unwind after a long and exhausting day (or year).
What will hands-on training look like in a virtual setting?
All hands-on training will be on demand, via short, recorded videos that teach the same skills NICARians have come to expect from our conferences. Attendees can learn valuable data journalism skills, tips and tricks at their own pace. Videos will be recorded by IRE trainers teaching these skills:
Spreadsheets
SQL
Python
R
Data visualization
Web scraping
Data wrangling
Each lab will include instructions to set up your computer at home, data files to follow along, and other resources.
NICAR will also offer numerous office hour sessions where attendees can sign up to receive live help from experts in various skills to complement the on-demand training.
What are the tech requirements to attend NICAR21?
The conference will be held on an event platform called Pathable, which is best viewed on the Chrome browser. Sessions within Pathable are held on Zoom, and attendees should download Zoom here (free and available for Mac and PC).
Attendees will receive a login for the Pathable platform before the conference.
Does IRE offer fellowships to attend?
Fellowships are available for the following communities:
Journalists, students and educators of color
Women who are early-career (three years or less) or students
Educators who teach data journalism/investigative reporting
Fellowships include a complimentary IRE membership/renewal ($25 for students/$70 for pros) and a complimentary conference registration ($50 for students/$175 for pros).
For more information and to apply, visit our fellowships page.
How long can I access conference materials?
All on-demand classes, live session recordings, tipsheets and session materials will be available on the conference website for one year for any attendee to access. Members are encouraged to register for the conference even if they can't attend during live conference hours.
Will there be a mentorship program?
No, the mentorship program will not be a component of the virtual conference. One-on-one help for data skills and projects will be available at office hour sessions where attendees can sign up for individual time slots.
How do I keep up with all the news about NICAR21?
Sign up here to receive email newsletters with all the latest NICAR21 announcements about sessions, Lightning Talks, the T-shirt contest, office hour signups and more!
Denise Malan will manage IRE staff and operations as interim executive director until the IRE Board of Directors hires a new executive director.
During the past year, Malan has served as IRE deputy executive director. She was a newspaper journalist for more than a decade, covering government, education, politics, the environment and more. After several years at the Corpus Christi Caller-Times in Texas, she joined IRE in 2013 in a joint position with the Institute for Nonprofit News, helping newsrooms around the country use data in their reporting. She became an IRE training director in 2016 and earned a master's degree in data science from the University of Missouri in 2019.
"I'm grateful for the opportunity to lead IRE during this time of transition, and I look forward to working with our dedicated staff, board and members," Malan said.
The deadline to apply for the executive director position is January 15. Full details are available online. IRE is seeking a new leader to succeed Doug Haddix, who served in the role for more than four years. In October, he announced his resignation, which took effect January 8.
Welcome to our new website, which has been redesigned to better serve our members and the journalism industry. Please refer to our FAQs and screen shots below for full details. Here are tips for key features:
LOGGING IN: At the top right of the home page, click Log In. Use the same email and password that you've been using to log into the IRE website. If you don't remember your password, please click the Forgot Password link and follow instructions. If you still have questions or need assistance, please email info@ire.org.
EXPIRED MEMBERSHIP: If you can't log in, one reason may be that your membership has expired. In that case, please go through the process to rejoin IRE on the Join page.
MEMBER DASHBOARD: To the left of the Log In / Log Out button is the Member Dashboard. After you click it, you will look below and see three buttons:
IRE Membership: Please take a few moments to edit your profile so that we have the most up-to-date details. To help us better serve our members, please be sure that you've completed the areas for gender, race and ethnicity. You'll also find Manage Membership, which has information about when your membership expires and a link for renewal.
Order History: Moving forward, this will contain items that you order from IRE, including conference registrations, bootcamps, data, T-shirts, books and other items.
Member announcements: This is where IRE can send a message to all members. For example, if IRE members qualify for special discounts, coupon codes will be shared here.
NAVIGATION: The website is designed to be intuitive, so we encourage you to explore the drop-down menus at the top. Simply hover your mouse over About, Training, Resources, News, Hire Us and Awards to see all of your options. Please note our new Diversity & Inclusion page. Also take a look at the quick links at the bottom of the home page. Throughout the site, you'll see plus signs with some labels; simply click those buttons for more details. You can toggle those accordion boxes on and off by clicking them.
RESOURCES: For the first time, IRE members will be able to search across various types of materials: tipsheets, data sets, audio files, contest entries and more. The new Resource Search can look through all resources, or you can limit it for a targeted search (e.g. only tipsheets or only data sets). Once you find what you need, add those items one by one to your shopping cart (even if they're free). Then click the Shopping Cart button at the top right of the page and follow instructions. For example, you will be able to gather free tipsheets, register for a conference, buy a T-shirt and purchase a book in one transaction.
DATA SETS: If you're looking for data provided by IRE, navigate to the Resource Search. IRE maintains these databases: SBA Disaster Loans, SBA 7a Business Loans, National Inventory of Dams, National Bridge Inventory, FOT Fatality Analysis Reporting System, College Scorecard-Simplified and Boating Accidents. Use the Resource Search to find them by clicking on Data and adding a key word (uncheck the View All button). We also provide archived data that is no longer updated but useful for reporting. Click here to see a full list and a link to request archived data.
FAQs
Where can I check my membership status and expiration date?
First, make sure you're logged into the IRE website. Use the same email and password that you've been using to log into the IRE website. If you don't remember your password, please click the Forgot Password link and follow instructions. If you can't log in, one reason may be that your membership has expired. In that case, please go through the process to rejoin IRE on the Join page. If you still have questions or need assistance, please email info@ire.org.
Once you've successfully logged in, click on Member Dashboard at the top right:
Make sure the IRE Membership tab is selected (1). In the shaded box, click on Manage Membership (2). Your membership expiration date will be listed in the Subscription column (3).
How do I renew my membership?
First, make sure you're logged into the IRE website.
Then click on Member Dashboard at the top right:
Make sure the IRE Membership tab is selected (1). In the shaded box, click on Manage Membership (2), then Renew (3).
If your membership has recently expired, the word Subscribe will appear instead of Renew. Click Subscribe to restart your membership.
When the form opens, select your membership type and complete the other information. Be sure to click Complete Registration at the bottom of the form (below the payment information).
Where is my membership and events history? It doesn't look correct in my Membership Dashboard.
First, make sure you're logged into the IRE website.
Then click on Member Dashboard at the top right:
Go to the Order History tab (1). Details about each of your prior payments for IRE events and products will appear in the Actions column, where you can click each one for full details (2).
To see past transactions for IRE membership dues, click on 'Your Transactions' in the sidebar. Please note that not all transactions from previous years have been transferred to the new website.
I applied to join IRE. How long until I get access to the website?
If your news organization, employer or other affiliation was in our dropdown list, your membership will take effect immediately. That means you'll be all set to explore the members-only sections of our website.
However, if your affiliation is not already on our list, IRE staff likely will need to request additional information from you to determine whether you qualify for IRE membership, as set by our Articles of Incorporation. That may take a few business days to process.
How do I reset my password?
If you know your existing password, start by logging into the IRE website.
Then click on Member Dashboard at the top right:
Make sure the IRE Membership label is selected (1). In the shaded box, click on Change Password (2) and complete the information on the form. Click Update Password.
If you do not remember or know your existing password, click the "Log In" button in the upper right corner of the IRE homepage. Click the "Forgot Password" link on the login screen to generate a password reset email. If you still need help, email IRE at info@ire.org.
I'm trying to access a resource, and I don't see a way to download or add the product to my cart?
You must be logged in as an IRE member to access IRE tipsheets, data, audio files and other resources. For all of those items, the "Add to Cart" button will appear only when you're logged in as an IRE member.
I'm trying to register for an event and the ticket area is blank?
Most IRE events are open only to current members.
If you're already a member, please log in with your membership email and password. Ticket information will then be visible.
If you're not a member and you don't see any available tickets, that means it's a member-only event. Before purchasing a ticket, you first will need to join IRE. Be sure to check out the five membership types permitted by our Articles of Incorporation. If you qualify, simply click the Join Now button to apply for membership.
The IRE office will be closed from Thursday, December 24, until Monday, January 4. If you need assistance during the break, please send an email to info@ire.org. Responses may be delayed during the office closure.
Rowaida Abdelaziz of HuffPost, Carlos Ballesteros of Injustice Watch, Terry Jones of The Advocate, and Ishan Thakore, an independent journalist, will serve as IRE's 2021 Journalists of Color Investigative Reporting Fellows.
Abdelaziz, an enterprise reporter, has been with HuffPost since November 2016. Prior to that, she was HuffPost's social media editor, and she served as Middle East North Africa Researcher for the Committee to Protect Journalists. She is a graduate of Rutgers University.
Abdelaziz's project involves President Donald Trump's ban on individuals from several predominantly Muslim countries from entering the United States, and now tens of thousands of Americans, many of them Muslims, have been separated from their families. She will investigate the effect of the bans by diving into the numbers — it's still not clear how many people were impacted — and uncover the physical, mental and economic toll the ban has taken.
Ballesteros, a staff reporter, has been with Injustice Watch since June 2020. Prior to that, he was at the Chicago Sun-Times, and he also worked in New York for Newsweek. He is a graduate of Claremont McKenna College.
Ballesteros' project centers on COPA, the public body born in 2016 charged with revamping investigations of Chicago police officers who exerted deadly force after the public outcry against the killing of Laquan McDonald. He will investigate how COPA has fared so far in carrying out its mission, with a focus on family members of people killed by police officers and a searchable database of records concerning those investigations and their outcomes.
Terry Jones, a staff reporter, has been at The Advocate since April 2012. Prior to that, he was at the Hattiesburg American. He is a graduate of Southern University.
Jones is taking a deep dive into the spending of federal funds within the city-parish's Office of Community Development to see just how far and how long questionable spending of those grant dollars might have further stunted the communities that needed them most. Has the city-parish government's documented mismanagement of federal grant funding earmarked for low and moderate income residents and communities further widened the lines of disparity when it comes to race, socioeconomic status and upward mobility for a certain segment of the population in Baton Rouge?
Thakore is an independent journalist and associate producer for the Emmy Award-winning show Full Frontal with Samantha Bee. He was previously a Sundance Institute Grantee at BBC World Service and a National Geographic digital storytelling Fulbright Fellow. Thakore is a graduate of Duke University.
Thakore's project aims to quantify pandemic-era informal evictions among undocumented New Yorkers in a single borough. Understanding the scale of informal evictions, which do not go through housing court, is important, because it exposes how even strong tenant protection laws can fail the city's most vulnerable residents.
IRE's yearlong fellowship is designed to increase the range of backgrounds, experiences and interests within the field of investigative journalism, where diverse perspectives are critically important. The 2021 fellowship program is open to U.S. journalists of color with at least three years of post-college work experience.
Abdelaziz, Ballesteros, Jones and Thakore were selected based on the projects they pitched in their applications. They will continue in their current professional roles while receiving a suite of IRE resources and support. These include complimentary registrations for an IRE data journalism bootcamp and both annual conferences, and they will receive IRE data services. Most importantly, they will each receive a mentor network of IRE members who will guide them through their year-long project.
"Access to IRE's full array of training, mentoring and support helps our Fellows supercharge their investigative skills in a single year," IRE Executive Director Doug Haddix said. "We're excited to see them each grow professionally. And we're grateful to our donors and supporters, who have enabled us to expand this program to nurture more journalists of color doing high-impact watchdog work."
Bracey Harris, of NBC News, was IRE's first fellow in 2019. When she was selected for the fellowship she worked at The Clarion-Ledger in Jackson, Mississippi. During her fellowship she took a new role at The Hechinger Report. Harris' fellowship project explored the effects of school integration on black families in Mississippi, which led to an investigation published The Hechinger Report and The Clarion-Ledger in February 2020.
The 2020 Fellows are Sameea Kamal of the Los Angeles Times, Monica Velez of The Fresno Bee and Josh McGhee, formerly of The Chicago Reporter, and now at Injustice Watch. Due to the pandemic, their projects will be published in spring of 2021.
The IRE Journalist of Color Investigative Reporting Fellowship was initially made possible thanks to generous donations from IRE members Meghan Hoyer, Megan Luther, Mike Tahani and Mike Gruss. Additional funding was provided by the IRE community and company sponsors ABC News, CNN, ESPN, Gray Television and Hearst Foundations. More than $100,000 has been raised to support the program.
Applications for the 2022 IRE Journalist of Color Investigative Reporting Fellowship will be available in October 2021.
If you'd like to donate to the fellowship, go here and indicate your contribution is for the JOC fellowship.
If you are interested in participating in IRE training events, you can check them out here. If you are looking for financial assistance to attend any of these events, you can find the details here.
It's time to gather your best stories of the year! The 2020 IRE Awards contest is now open for submissions, and we can't wait to see what you've done.
You'll notice our new contest submission platform, which we hope will be easy and straightforward to use. The platform, powered by OpenWater, will allow you to start, save and come back to your entries at any point during the open call. You will need to set up a login and password through the platform, but it does not have to be the same information as your IRE membership.
As with any new system, we might need to tweak some things as we move forward. Please check out the new contest submission platform and email questions to Director of Programming and Resources Lauren Grandestaff at lauren@ire.org or Contest Committee chair Jennifer LaFleur at jlafleur@irworkshop.org.
Eligible entries must have been published or aired between Jan. 1 and Dec. 31, 2020. The deadline for submissions is Jan. 12, 2021 at 11:59 p.m. Eastern time.
For details on how to enter, go here. To view past winners, go here.
To volunteer to be a contest pre-screener, fill out this short form.
Projects investigating senior care during the pandemic, microfinance financial networks and the lack of protection for coal ash workers in Tennessee have been awarded IRE Freelance Fellowships. The recipients of the 2020 fellowships are:
Jared Whitlock, first place, is a freelance journalist based in Encinitas, California. His project will investigate regulatory holes in the assisted living and nursing home industries.
Mara Kardas-Nelson, second place, is a UC Berkeley-based freelance journalist. Her project will investigate how American and European banks and investment funds are making money off tiny loans given to the world's poor.
Austyn Gaffney, third place, is a freelance reporter based in Louisville, Kentucky. Her project investigates how state and federal regulatory agencies and private companies failed to prioritize worker safety in East Tennessee's Kingston coal ash disaster.
The generosity of an anonymous donor has allowed IRE to award fellowships for the last 13 years. The fellowships give independent journalists a financial boost to pursue investigative work.
If you'd like to donate to the Freelance Fellowship fund, click here to make a donation. Please designate "Freelance Fellowship" in the form.
About the award:
IRE Freelance Fellowships are awarded annually to journalists who make their living primarily as freelance/independent journalists. Applications are scrutinized by experienced freelance journalists. Proposals are judged in part on the breadth, significance and potential impact of the investigative project. At the request of the donor, proposals dealing with whistleblowers, business ethics and/or privacy issues will receive priority; projects involving other topics will be given serious consideration by the committee as well. The freelance projects are to be published or aired primarily in U.S. outlets.