IRE's first symposium on diversity and inclusion is going online Oct. 21-22, allowing members to join safely from their hometowns around the world as the pandemic continues.
The DBEI Symposium on diversity, belonging, equity and inclusion had originally been planned as a hybrid event, including an in-person component in Baltimore, but IRE is moving the event fully online because of the continued uncertainty of the coronavirus delta variant situation.
"IRE already had a robust virtual program well underway for the symposium and our staff and supporters are now finalizing the transition to fully virtual as we count down the weeks to this unique event," said IRE Executive Director Diana Fuentes. "We're working to create a safe environment to engage in difficult discussions about diversity, belonging, equity and inclusion issues. These discussions — and subsequent actions — are vital for the future of our industry. We hope you'll join us."
The symposium schedule can be viewed here, and new sessions and speakers are continually being added. The symposium will include a mix of panels, small-group conversations, networking and master classes, which are 2- to 3-hour deep-dive workshops. All sessions are included in the registration fee of $150 for professional members or $50 for student members. IRE membership is required to attend.
Sessions will provide journalists with tools to help make their newsrooms more diverse and inclusive as well as how to better cover historically marginalized communities and topics. There will be sessions geared toward reporters, editors, educators and students.
"We've got plenty of work to do to get to all the dimensions of DBEI work we are called to in order to improve our journalism, and IRE is committed to helping push those conversations forward," said Francisco Vara-Orta, IRE's Director of Diversity and Inclusion. "It's a pivotal moment in history to rise to the occasion for journalists, and these panels we hope will help our colleagues feel better equipped to tackle their work inside and outside of newsrooms with more specific guidance and support."
The symposium will take place from noon to 4 p.m. Eastern U.S. Time on both days, to allow for participation across the United States and around the world. Training sessions will be recorded and available for attendees on demand on the conference platform after the conference is over.
Below are answers to some frequently asked questions.
What will registration cost for the virtual DBEI21 symposium?
Registration rates are:
Professional, Academic, Associate and Retiree: $150
Student: $50
Attendees must be members of current members of IRE through October ($70/professional, $25/students).
Will you have fellowships available?
Yes! With the switch to a virtual format, IRE anticipates having more fellowships available that cover the cost of registration and a one-year IRE membership. Click here for more information and to apply. You also can sign up for our DBEI21 Symposium newsletter to receive more information about fellowships as it is released.
I've never been to a virtual conference. How will it work?
Attendees will access session links on the Guidebook platform. The conference site will be private and accessible only to attendees. You will receive access to the conference platform about a week prior to the conference.
Will I need special equipment or software to participate?
All you'll need is Internet access and a computer, laptop or tablet — much as you need to participate in an online video meeting. Google Chrome is the recommended browser, and attendees will need to download Zoom to access sessions
What if I'm working, attending class or dealing with other obligations that cause me to miss some sessions?
That's the beauty of a virtual conference. Most sessions (excluding networking and small-group conversations) will be recorded and available to attendees following the conference. You can view them at your convenience. Most sessions will include video plus any related tipsheets and slide decks.
Will there be swag?
Yes, T-shirts, mugs, stickers and other items will be available for purchase in the IRE Store and will be shipped to you.
How can I become a sponsor of the virtual #DBEI21 conference?
The virtual platform offers many enticing opportunities for sponsors. If you'd like information on the benefits of sponsoring #DBEI21, please contact Anna Lopez, IRE director of partnerships, by email: anna@ire.org.
How can I keep up with new developments connected to #DBEI21?
Just sign up here to receive e-mail updates about #DBEI21. It's the best way to stay up-to-date on the latest virtual conference news.
What if I have other questions?
Please contact logistics@ire.org. We're here to help!
Welcome to the virtual #NICAR21 conference! If you've already registered, here's what you need to know to access the conference.
(If you still need to register, you can do that online and then follow these instructions. You will receive an email to access the conference platform within one business day of registration. During conference week, we will work to give access as soon as possible after registration.)
Getting started & accessing the virtual conference platform
The NICAR21 virtual conference is online at nicar21.org. We highly recommend you bookmark this URL for easy access, especially since you can access it for a full year!
If you've already registered, you should have received an email link with access to Pathable, our virtual conference platform. Using the link from that email, you'll be asked to set a password. You will need this email and password to access Pathable during and after the conference.
Can't find the email? Search your inbox and Spam folder for "Pathable." If you still can't find it, email logistics@ire.org.
What are the technical requirements?
Google Chrome: Recommended browser for the best experience on Pathable. Make sure you are running the latest version, and that you allow pop-ups.
Zoom: Please download Zoom to your computer before the start of the conference.
What time zone is the agenda?
The Pathable agenda will automatically reflect your time zone.
How do I build my own schedule?
To add live sessions to your agenda, start on the main Agenda page (go to Schedule > Agenda). When you find a session you want to add to your schedule, click on the green plus sign located in the upper right-hand corner of each session.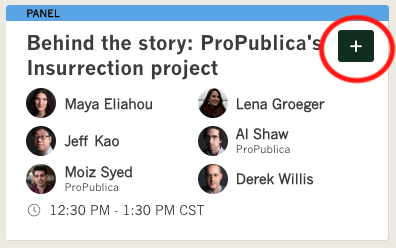 Anything you add will show up on your My Agenda page (go to Schedule > My Agenda). You can also export your schedule to your personal calendar by using the Export Calendar feature located in My Agenda.
How do hands-on classes work?
The conference features seven virtual data labs where you can learn spreadsheets, SQL, data wrangling, data viz, Python, R and web scraping -- with no sign-ups or extra fee required. The classes are all on demand and will be available for a year after the conference so you can work at your own pace and come back for refreshers.
Access the labs under Schedule > Virtual hands-on labs.
How can I get live help with hands-on skill lessons?
To compliment the virtual labs, we are offering live office hours where you can meet with an experience data journalist to help with a particular skill or project. Sign up here to be matched with an expert. 
Note: You must sign up by Monday, Feb. 22 for one-on-one office hours. If you don't sign up, you can come to open office hours found on the Agenda.
Will all the sessions be recorded?
Most of the live sessions are being recorded and will be available in Pathable for one year after the conference. Every session description notes whether the session will be recorded.
As a general rule: panels and conversations will be recorded; networking and happy hour sessions will not.
Recorded sessions will be available for viewing a few hours after the session concludes. In addition, any tipsheets from the session will be available in the Files tab for each session.
How does Zoom work inside Pathable?
Most panels (webinar-style meetings) will have the Zoom room embedded inside the Pathable page. This allows you to view the session even if your device or organization limits Zoom access. When you're in the Pathable room, you'll see the video on the left and the chat box on the right.
When you "Join a live meeting," you may experience a brief delay and see a gray/black box as the embedded video loads.
If the embedded format shown above isn't working, you also have the option to "use the Zoom app instead." This will open a new Zoom window. (Find it directly under the video window in Pathable.)

Will I be on a camera? Will I be muted?
It depends! There are two types of Zoom rooms, each noted at the bottom of that session's description.
Webinar room: Only speakers can be on video and unmute themselves. Attendees are in listen/view-only mode, unless they use the "Raise Hand" button and the session host allows them to speak. At NICAR21, we use this setup for most of the live panels and demos.

Meeting room: These are what most of us use in our day-to-day lives. Anyone — speakers or attendees — can be on video and unmute if they choose. At NICAR21, we mostly use this setup for networking sessions, conversations and a few demos.
Finally, a note: If your organization or device limits Zoom access, you may not be able to unmute or go on video. But you should still be able to view the content and use the chat in Pathable.
Can I go in and out of sessions?
Yes, you can enter and leave any live session (as long as it is not at capacity).
How do I get technical support or help?
If you are having technical difficulties, make sure you are using Google Chrome. This will take care of some common problems, like a slow-loading browser or audio issues. But if you still need help, reach out one of the following ways:
Use our live Help Desk: An IRE staff member will be available each day during the conference to assist with any questions. Here are the Help Desk hours:

Wednesday, March 3: 8 a.m. – 1 p.m. (ET)
Thursday, March 4: 11 a.m. – 1 p.m. (ET)
Friday, March 5: 11 a.m. – 1 p.m. (ET)

Contact Pathable Technical Support: From the Pathable navigation bar, click on Tech Support > Get Support. This will open a chat box and connect you with someone at Pathable. This is a free service provided to attendees by IRE.
Send IRE an email. If you have a question about registration or other non-technical issues, email us at logistics@ire.org.
IRE is bringing our popular Master Classes online this year, making them available to all IRE members.
Master Classes are half-day, deep-dive workshops into investigative reporting skills and are usually offered at our two annual conferences. In response to huge demand at the virtual IRE Conference last September, IRE is making some of its most popular Master Classes more widely available.
The first Online Master Class will be Feb. 19 focusing on digital investigations and taught by Jane Lytvynenko and Craig Silverman of BuzzFeed News. The second, on March 17, will help you become a public records sleuth, led by David Cuillier of University of Arizona and Grace Cheng of Thomson Reuters.
Cost
The Online Master Classes cost $35 each, and an IRE membership is required to register. Nonmembers may check requirements and apply for membership here.
Registration
View more information and register for the classes here.
Registration is open for IRE's virtual NICAR21 data journalism conference, which runs March 3-5 and will feature hands-on data classes, panels and discussions, and opportunities to network with fellow data journalists.
Register by Feb. 10 to secure the early-bird rate of $125 for professionals. After that date, professional registration will be $175. Students may register at any time for $50. IRE membership is required to attend and should be current through April 1.
During the conference, members will be able to attend sessions, interact with speakers and one another, schedule one-on-one or small group video meetings, celebrate winners of the Philip Meyer Award, and gather virtually with IRE friends from across the country and around the world for fun activities.
Conference sessions will run between noon and 4 p.m. U.S. Eastern Time each day, with some social events scheduled after main conference hours.
Submissions also are now open for pitches for Lightning Talks, quick and quirky 5-minute presentations that are a beloved NICAR tradition, and for the NICAR21 T-shirt contest, where the winning design will be sold as conference swag. Submission for both are due Jan. 27, and members can vote for the winning talks and T-shirt design soon after.
"While the NICAR Conference will look different this year, we are excited to bring the same high-quality data journalism training to our members in this new format," IRE Interim Executive Director Denise Malan said. "The online conference also will be accessible for more journalists than ever before."
Sign up for the NICAR21 email newsletter to receive detailed updates on major announcements and the planning process. You'll also get reminders of key dates/deadlines surrounding the conference.
Frequently asked questions
How do I register for NICAR21?
First, make sure you have a current IRE membership through April 1, 2021. You can do that by logging into your account on the website and going to Manage Memberships in your Member Dashboard.
If you have a current membership, you will see a green 'Yes' in the Active column.
If your membership has expired, click the 'Subscribe' button to go through the renewal process. (Note: If your membership expired before Dec. 1, 2020, you will not be able to log in to the website. Please create a new account on our website by filling out the Join form.)
If you have never been an IRE member, please apply from the Join page.
Next, go to the conference ticket page. The correct price for your membership level will show up in the 'Get Tickets' block. Click 'Add to cart' and follow the steps to check out.
If the ticket block is blank, please check that you are logged into your account with a current membership. If you still need help, email info@ire.org.
What sessions can I expect at a virtual NICAR21?
View a list of expected sessions here. Full session and speaker details will be released in the coming weeks.
NICAR21 will offer a mix of panels, demos, discussions, networking, and on-demand hands-on data training, with several options to choose from during each hour of the conference.
Will there be Lightning Talks?
Lightning Talks, a much-anticipated session at every NICAR conference, will be part of the virtual experience as well. Lightning Talks are 5-minute presentations on particular skills, tools or techniques. Pitches are submitted and voted on by NICAR21 attendees.
You can submit a pitch for a Lightning Talk here. Pitches are due Jan. 27, and voting will open shortly afterward.
Will we have opportunities to socialize?
While we aren't able to hang out in person this year, we still want to bring the NICAR community together in some more relaxed social settings. The NICAR Happy Hour sessions will offer everything from low-key to high-energy sessions to help you unwind after a long and exhausting day (or year).
What will hands-on training look like in a virtual setting?
All hands-on training will be on demand, via short, recorded videos that teach the same skills NICARians have come to expect from our conferences. Attendees can learn valuable data journalism skills, tips and tricks at their own pace. Videos will be recorded by IRE trainers teaching these skills:
Spreadsheets
SQL
Python
R
Data visualization
Web scraping
Data wrangling
Each lab will include instructions to set up your computer at home, data files to follow along, and other resources.
NICAR will also offer numerous office hour sessions where attendees can sign up to receive live help from experts in various skills to complement the on-demand training.
What are the tech requirements to attend NICAR21?
The conference will be held on an event platform called Pathable, which is best viewed on the Chrome browser. Sessions within Pathable are held on Zoom, and attendees should download Zoom here (free and available for Mac and PC).
Attendees will receive a login for the Pathable platform before the conference.
Does IRE offer fellowships to attend?
Fellowships are available for the following communities:
Journalists, students and educators of color
Women who are early-career (three years or less) or students
Educators who teach data journalism/investigative reporting
Fellowships include a complimentary IRE membership/renewal ($25 for students/$70 for pros) and a complimentary conference registration ($50 for students/$175 for pros).
For more information and to apply, visit our fellowships page.
How long can I access conference materials?
All on-demand classes, live session recordings, tipsheets and session materials will be available on the conference website for one year for any attendee to access. Members are encouraged to register for the conference even if they can't attend during live conference hours.
Will there be a mentorship program?
No, the mentorship program will not be a component of the virtual conference. One-on-one help for data skills and projects will be available at office hour sessions where attendees can sign up for individual time slots.
How do I keep up with all the news about NICAR21?
Sign up here to receive email newsletters with all the latest NICAR21 announcements about sessions, Lightning Talks, the T-shirt contest, office hour signups and more!
The IRE office will be closed from Thursday, December 24, until Monday, January 4. If you need assistance during the break, please send an email to info@ire.org. Responses may be delayed during the office closure.
IRE's TV Watchdog Workshops are going virtual in 2021, allowing us to reach more journalists and keep everyone safe during the pandemic. These half-day workshops are open to broadcast journalists and will focus on tips and techniques for journalists working in television news.
Each of the four virtual workshops will focus on a different aspect of investigative journalism with sessions tailored to television reporters, producers and news directors. The workshops will include interactive sessions, group activities and time for attendees to network with other broadcast journalists across the country.
Registration is $35 for each workshop and includes a one-year IRE membership or renewal for the first 500 people to sign up for any of the events and qualify for IRE membership. Regular membership price is $70/year for professionals and $25/year for students. Each person can receive only one membership or renewal for the 2021 Virtual TV Watchdog Workshop series.
The workshops and free memberships are made possible by support from Knight Foundation. Before the pandemic, IRE hosted TV Watchdog Workshops in Denver, Seattle, Detroit, Philadelphia, and Dallas.
"We're excited to bring this valuable training online and make it accessible to more journalists than ever before," IRE Deputy Executive Director Denise Malan said. "These unique events will help broadcast journalists dig deeper for their stories, expand their investigative toolkit and network with other journalists from across the country."
Registration is open for the first two workshops and will open soon for the other two:
Upping your game: Make every day a watchdog day
Legal Workshop with Reporters Committee for Freedom of the Press
Art of the TV interview

Noon to 4 p.m. ET, March 20, 2021
More details and registration signup to come.

Digging deeper with data in broadcast newsrooms

Noon to 4 p.m. ET, April 17, 2021
More details and registration signup to come.
A fully redesigned IRE website will debut in December with improved navigation, easier event registration and a more robust search of Resource Center materials.
The transition to a new website will require a few temporary outages:
New memberships and renewals will be paused Dec. 3-7. That will enable IRE to transfer its member database to the new site.
The current IRE website will be taken offline briefly around Dec. 7.
Members and the public alike will see a variety of improvements on the new site, including:
A homepage focused on IRE's mission and how to get involved with the organization.
Streamlined navigation to better-organized IRE content.
Simplified event registration with robust information about conferences, data bootcamps, webinars or workshops, plus integration with Google Calendar and iCal.
A unified advanced search of IRE resources such as tipsheets, audio files, contest entries, data sets, webinars, books and more. Now, items can be searched only in their individual category. For instance, on the new site, IRE members will be able to search "coronavirus" and pull up related tipsheets, webinars and more with one search. Items across categories may be put into an online shopping cart for easy check-out and download. IRE members still will get free access to these items.
A new Diversity & Inclusion page will gather all of IRE's related programs, fellowships, partnerships and other efforts in a central hub.
Familiar items will remain, in a redesigned format: IRE Job Center, Shop, Listservs, Awards and more.
IRE last redesigned its website in 2011. The new website has been developed in partnership with Hoot Design Co., a women-led creative branding agency in Columbia, Missouri, near IRE headquarters at the Missouri School of Journalism.
Investigative Reporters & Editors has launched its search for a new executive director to lead the world's largest organization supporting investigative and data journalism.
The position involves overseeing a dynamic organization with more than 6,300 members internationally, 13 full-time staff members and dozens of volunteer contributors, as well as serving as a faculty or staff member at the University of Missouri School of Journalism. Those interested in the position can access application materials here. You can search for the position by using the job identification number: 34900. The application deadline is January 15.
For 45 years, IRE — a nonprofit organization — has led the journalism industry in supporting and training journalists and college students in techniques for investigative reporting and data analysis. The organization runs the world's biggest conferences on investigative journalism, and its data arm – the National Institute for Computer-Assisted Reporting (NICAR) – runs the world's biggest data journalism conference. IRE provides training and resources for journalists in news organizations of all sizes, from rural U.S. communities to cities across the globe. Its website, ire.org, offers a growing portfolio of training tools, including podcasts, video tutorials and an extensive library of resources.
The job search began after current Executive Director Doug Haddix submitted his resignation, effective in January. Haddix has served as IRE's director since 2016, overseeing the organization's first virtual conference in September with nearly 3,000 attendees. Haddix also developed initiatives to further IRE's commitment to diversity and inclusion, including training and mentorship programs for journalists of color.
Six veterans in the field of investigative journalism have been appointed as members of IRE's executive director search committee. IRE board president Cheryl W. Thompson has appointed Mark Rochester and Ziva Branstetter co-chairs of the committee. Thompson will serve on the committee along with Cindy Galli, Manny Garcia and Mark Horvit.
The committee is meeting regularly to review applicants for the position of executive director and will recommend finalists for the position to the full 13-member board of directors, which will make the final selection.
The right candidate will have experience in investigative journalism, management experience, teaching or training experience and an enthusiasm for evangelizing on behalf of investigative journalism and raising funds to support that mission.
IRE is located in Columbia, Missouri, and while not required, there is a preference for a candidate who would relocate after the pandemic. For a Columbia-based candidate, a faculty appointment could include teaching one class per semester at the School of Journalism. The position also involves considerable travel, both domestically and internationally. Salary will be commensurate with experience.
Candidate screening will begin immediately, with a goal of filling the position by early 2021.
Applicants must submit a resume, a letter outlining employment history and achievements, a statement no longer than two pages of your vision for the organization, as well as relevant material or samples that demonstrate work in investigative journalism, any evidence of teaching experience and fundraising, and a one page diversity statement that specifically addresses how you would engage with a diverse student population with regards to teaching, research, mentoring and advising. The names and contact information for three references should be provided.
June 30, 2020
Cheryl W. Thompson of NPR will serve another year as IRE's board president, the full board decided unanimously today during a livestreamed video meeting. Thompson, IRE's first African-American president, has served in the role during the past two years. She is in her sixth year on the IRE board.
The board also elected other members of the Executive Committee for one-year terms:
Vice president: Mark Rochester, editor in chief at Type Investigations, a nonprofit newsroom based in Manhattan. Rochester, who was one of three Black journalists elected to the board earlier this month, previously served on the board from 2001-2003.
Treasurer: Jodi Upton, the Knight Chair in Data and Explanatory Journalism at Syracuse University. Upton served the past year as IRE treasurer, a position that also chairs the Endowment Committee. Earlier this month, she was elected to her second two-year term on the board.
Secretary: Jennifer LaFleur, data editor at The Investigative Reporting Workshop at American University. She was recently elected to her second term on the board.
At-large member: Steven Rich, database editor for investigations at The Washington Post. Rich is in his sixth year on the board.
During a month-long online voting process that concluded June 20, IRE members elected seven candidates to the board, including three Black members, increasing representation to a total of four. In addition, women hold a majority for the second consecutive year on the 13-member board.
Following the announcement of election results, the newly constituted board elected officers on June 20. The process resulted in an all-white Executive Committee. On June 24, the Executive Committee announced that all five members would resign to pave the way for a new election of officers.
Board members are elected by IRE members for two-year terms: seven seats during even-numbered years and six seats in odd-numbered years. There are no term limits for board members. Each year, the full board votes on one-year terms for its Executive Committee: president, vice president, treasurer, secretary and an at-large member.
June 29, 2020
IRE recently awarded eight fellowships to upcoming Data Journalism Bootcamps thanks to the generosity of financial supporters. Recipients will either attend the August Online Data Journalism Bootcamp or the January 2021 Data Journalism Bootcamp. IRE is fortunate to have funding available to provide fellowships for financial assistance.
Alexia Fernandez Campbell from the Center for Public Integrity, Kaylee Tornay from Mail Tribune (Medford, Oregon) and Andrea Perdomo from WGCU Public Media (Ft. Myers, Florida), received the Ottaway Fellowship.
Established by David Ottaway and the Ottaway Family Fund, the Ottoway Fellowship is aimed at increasing the diversity of IRE's membership.
Ramon Galindo from KNSD-TV (San Diego, California) and Archith Seshadri from Nexstar Media Group, received the Knight TV Data Fellowship.
The Knight TV Data Fellowship is funded by the Knight Foundation to strengthen data watchdog skills at local TV stations across the United States.
Carter Walker from LNP Media Group received the Total Newsroom Training Fellowship.
Total Newsroom Training (TNT) Fellowships are open to those who have completed two days of TNT training.
Samantha Hogan from Pine Tree Watch/Maine Center for Public Interest Reporting and Liz Owens from WRDW/WAGT-TV (Augusta, Georgia), received the R-CAR Fellowship.
Established by IRE member Daniel Gilbert, the fellowship is intended to provide rural reporters with training they might not otherwise receive. The fellowship is offered in conjunction with the Institute for Rural Journalism and Community Issues at the University of Kentucky.
If you are interested in applying for a fellowship for financial assistance for future IRE boot camps, sign up to receive IRE's newsletter about fellowship opportunities.