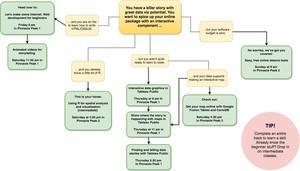 Want to up your data viz game at #IRE17? Follow our "Choose your own IRE17 adventure: Data viz" flowchart to find out which hands-on sessions are right for you.
If you're ready to crack open a text editor and start writing some code, we've got you covered with classes in HTML, CSS, AfterEffects -- heck, even R!
Not quite ready to dip your toes into the cold, cold waters of Lake Web Development? No worries! Check out our training sessions on Tableau, Fusion Tables, CartoDB and other code-free data viz tools.