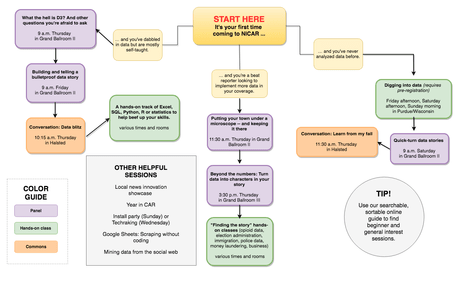 Overwhelmed by the 2018 CAR Conference schedule? You're not alone. With so many sessions to pick from, it can be challenging to know where to start. We have several resources to help you chart a path:
The official conference schedule and Guidebook mobile app (coming soon!)
Our NICAR Guide, which allows you to filter the schedule by session title, speaker name, skill level and keyword.
Choose your own adventure guides (linked below)
IRE staff created three "Choose your own adventure" guides to help you create a game plan based on your specific skill level and needs.
If you're attending your first NICAR or are new to data journalism, try our first-timer guide. We've identified some core sessions that will help you build beginner data skills, learn the NICAR lingo, bulletproof your work and develop data-driven story ideas.
If requesting and wrangling data is a constant challenge, check out our spreadsheet guide. Our suggested panels and hands-on classes will help you extract vital information from PDFs, big data, paper records, text files, online databases and more.
Finally, if you're looking to up your viz game, we have a guide for you. Choose your own path to learn illustrations/animations, interactive maps, code-free design and the princples of good data viz.