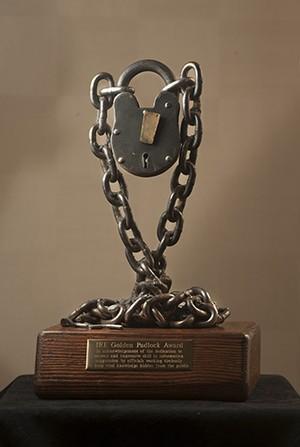 Investigative Reporters and Editors has named the City of Atlanta as the winner of its annual Golden Padlock Award recognizing the most secretive U.S. agency or individual.
Atlanta was selected for this honor for directing city staff to block records requests and for releasing false invoices that triggered a criminal investigation into alleged violations of Georgia's Open Records Act. In response to a potentially embarrassing records request from Channel 2 News, former Atlanta Mayor Kasim Reed's press secretary sent text messages to city staff advising they respond by being, "as unhelpful as possible…Drag this out as long as possible…And provide information in the most confusing format available."
In a separate case, a city attorney provided legal invoices totaling $1.4 million in response to an Atlanta Journal Constitution request. But there was a problem: The invoices weren't real. City officials buried the real ones and created new documents made to look like invoices for release to reporters without disclosing the sleight of hand, the newspaper found.
In March, the Georgia Bureau of Investigation opened a criminal investigation into alleged violations of the state's open records act. Then, in April, the two Atlanta news outlets filed a complaint with Georgia Attorney General Chris Carr alleging "a culture of political interference" with open records requests at Atlanta City Hall, outlining 10 examples of alleged violations of the law and "a pervasive culture of noncompliance.
"The City of Atlanta has become the Golden Padlock Award's first ever repeat nominee, adding to the remarkable achievement of its victory this year in the name of government secrecy excellence," said Golden Padlock committee chair Robert Cribb. "The city's bold methods of stopping public interest information from reaching the public makes it richly deserving of this honor."
IRE invited city officials to attend the 2018 IRE Conference and receive the honor. No response was received.

"Some day, we hope, there will be no need for a Golden Padlock Award," IRE Executive Director Doug Haddix said. "Until then, we will keep shining a light on the most egregious abuses of the public trust."
To learn about the 2019 finalists, click here.
FINALISTS
Texas Attorney General communications director Marc Rylander
The City of Riviera Beach and Councilman Terence Davis
The Ohio Department of Rehabilitation and Correction
The United States Department of Agriculture
Former Missouri Gov. Eric Greitens
Sioux Falls Mayor Mike Huether
The City of Atlanta