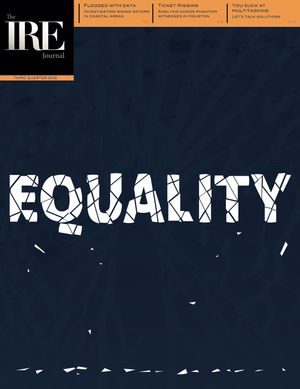 By Shada Hottam | Arab Reporters for Investigative Journalism
The idea of investigating "Nightmare Dorm at Sana'a University" started after I enrolled at Sana'a University to study TV and radio journalism in 2010. Over the years, I came to hear from my female colleagues about the horrible conditions they lived in at the dormitory, the only female residence in Yemen attached to a state-run university.
Women had to survive a poorly maintained, dirty and overcrowded facility that housed about 500 female students, more than double its capacity. They had to put up with indifferent and harsh supervisors.
I got furious one day when I found out there were 15 female students with no option other than sleeping inside the mosque, near the dormitory, without any access to running water, electricity, kitchen utensils, bathrooms, showers and beds. They did not even have proper windows to keep out cats and insects.
I felt that there were many secrets that no one wanted to expose for fear of reprisal from society, family and the university administration. The girls were worried that if they complained, the administration would take action against them or their families would force them to come back home, thus stripping them of a chance to continue their undergraduate studies. In Yemen's male-dominated, conservative society, traditions and lack of money often prevent girls from renting out flats to live on their own.
The only option they had was to shut up, accept the situation and survive. Otherwise, they would be part of Yemen's female illiterate, which is more than 50 percent of the female population.
I had to win their trust to tell their untold stories and to be the voice of the powerless. I assured them that I would try to document their daily miseries in a run-down dorm for the sake of transparency, good governance and to force those responsible to act and remedy the situation.
In meetings with students living in the dorm, I assured them that my ultimate goal was to ease the injustice and not to defame anyone or cause a sensational scandal. In the beginning, they were apprehensive, and that wasn't surprising, as many ordinary Yemenis do not trust media independence and professionalism. I also promised to protect their identities by giving them other names to safeguard their privacy and shield them from trouble. It is very important that victims are assured that you understand their plight and can show empathy. Most of the work of investigative reporters in Yemen depends on secret sources. But that does not mean we give them a free ride and don't double-check the accuracy of what they tell us.
It also took a while until they were able to break their silence and tell me why they had accepted to live in such dismal conditions inside the dorm.
"We have no other option but to shut up, or stop our university education, go back to our families living outside Sana'a and waste our lives and futures," one person said. "The mentality of my family goes back to the stone ages."
To gain access, I only had to borrow the dorm ID of a female colleague to prove that I lived there. Guards manning the gate are actually too busy and too distracted to check the IDs of women entering the dorm. Even a man can wear a traditional long robe, cover his face and enter the facility without risk of being caught by these guards.
I was a senior at the university when I started the project and finished it after graduation. I did not live in the dorms.
To understand how the system at the dorm worked, I had to start at the bottom of things and move up. I had to educate myself about the requirements and conditions for a woman to be accepted into the dorm, as well as who was responsible for admission decisions; which laws and regulations governed the dorm; who implemented them; and who supervised their implementation.
I had to get hold of the university's budget for the past 10 years, as dispensed by the state, to see how much money was allocated for annual maintenance on the dorm facilities and how much money had been spent. I had to talk to past and present wardens of the dorm to see what went wrong and how things reached that terrible end.
Then I had to confront the culprits, starting with the president, a very powerful figure. Every time he tried to evade my question or to accuse me of exaggeration, I would pull out fact after fact as documented over months of hard work. Then editors at the Amman-based Arab Reporters for Investigative Journalism (ARIJ) went over several drafts of my story and offered guidance by asking for more information and verifying data. Then ARIJ contracted a Yemeni lawyer to review the final text before it was published. This is part of ARIJ's stringent bulletproofing of the investigative and editorial process.
Once I ran the investigation, many of the dorm residents thanked me for completing a balanced and honest investigation that would hopefully lead to a lot of soul searching and solutions. Human rights activists, other journalists, politicians and local dignitaries also thanked me for the hard work, a rarity in local media. Of course, the university's officials did not like it, but they could not deny any word. Facts and documentation were my weapon against their attempts to discredit my report.
Some might say, "Look at that — a female journalist is investigating a female dorm." But that wouldn't take away from all the hard effort, investigating and documenting that was put in by a professional journalist, who, regardless of her sex, was doing a job like any doctor, nurse or lawyer in the service of the public. In addition, being a woman gave me wide-open access into an area that can only be accessed by women.
Another reason that prodded me to investigate the situation at the dorm is because my society suffers a huge gap in gender equality in stark contrast to the 1950s, when women had a role to play in society and the Queen of Sheba ruled. Also, most of the journalists are men who are working on stories involving power, politics and corruption.
I wanted to investigate something as simple as the lives of female students at the dorm — a story that shows how the system does not function properly even at the most basic level. If a matter as simple as setting up a working dormitory does not work, then what could that mean for more important issues that affect the wider population?
Such a story also had easy access to sources in a country where investigations can be difficult. Although Yemen has had a freedom of information law since 2012, it remains mere ink on paper. Most ministries have not classified their documents or set up departments where one can file a request.
Journalists, I believe, are there to serve the public, to expose what is wrong and to hold officials accountable to what they promise and what they deliver.
It is our duty as journalists to use our conscience, ethics, profession and pen to be society's watchdogs instead of being officials' lapdogs. To use your pen is not a crime, but to remain silent about abuses hurting the public is the crime. Of course, being a female journalist is in itself a daily battle in a profession that is a closed-male club. Yemen society in general believes that women should stay at home and be homemakers, serving their husbands and kids. Men will respect female reporters due to tradition and not try to harass them, but at the same time, they will look down upon them as inferior.
Despite the fact that society is very conservative — socially and religiously — being a woman in journalism can have its advantages. With growing political and media polarization in Yemen, male sources look at female journalists as being less politicized than male journalists, and this helps.
Reducing the gender gap in my society will take time. It's true that Yemeni women played a role in standing up against oppression, indignity and human rights abuses at the start of the 2011 revolution that swept across Yemen and ended in the removal of President Ali Abdullah Saleh. It's also true that many officials and political leaders that took over during the transition period wanted to reflect a reformist attitude by starting to involve more women in decision-making and in Yemen's political life.
Whatever minimal gains women have achieved since 2011 have sadly been rolled back under the Saudi-led war on Yemen, raging for months with no sign of hope on the horizon.
In such a tragic situation, journalists should be honest voices, as they are the privileged ones to write the first draft of history and to document what went right and what went wrong for the benefit of the public and civilization. Being a female journalist has been tough in normal times. Today, it is an impossible mission in a country witnessing daily bombings, a catastrophic humanitarian crisis, chronic fuel and electricity shortages, no functioning government and a politically polarized media that has become a key player in the war.
I plan to continue reporting. It is a profession I have chosen out of principle and value. It is my job to focus on what goes on in my society (whether right or wrong), to serve the public by allowing them to make up their minds with facts and to demand for their rights. It is also our job as members of what should be an independent Fourth Estate to monitor those in power, hold them accountable and make sure they are implementing what they have promised us.
Shada Hottam holds a bachelor's degree in TV and radio journalism from Sana'a University. She presented the youth radio program "Share Shabab with Shada Hottam" until the Houthi rebels took over the private-run radio station in October. Her first investigation, "Nightmare Dorm at Sana'a University," was assisted with technical, professional and financial support from ARIJ, the region's leading media-support organization that has promoted "accountability journalism" in nine Arab states since 2005.