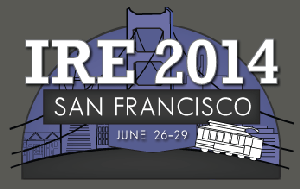 Are you a journalist with less than 10 years of experience? Interested in attending the upcoming IRE Conference in San Francisco? IRE could pay your way.
In 2012 IRE added a new fellowship, created to honor the memory of longtime IRE member David Dietz, who succumbed to cancer in June of 2011. David served as president of the organization and gave a decade of service and more to IRE. Dave was a beloved colleague and friend to many IRE members, and was honored with IRE's Lifetime Achievement Award in recognition of his many contributions. For over a decade, Dave worked as a San Francisco-based investigative reporter for Bloomberg Markets magazine. He had a 40-year career in journalism, including positions at TheStreet.com, The San Francisco Chronicle and The San Francisco Examiner. He won more than 30 national and regional reporting awards for investigating corporate fraud, judicial misconduct and civic corruption.
The fellowship honors his memory and legacy by helping a journalist who has demonstrated an interest in financial investigative journalism and who has fewer than 10 years professional experience. This fellowship covers IRE conference registration fees, provides $750 in reimbursed travel and lodging expenses and a one-year IRE membership.
The winner of this fellowship will also be enrolled in IRE's mentorship program and will be paired with a top investigative journalist in the field of financial journalism, for a year-long mentorship.
Applications can be emailed to IRE membership coordinator John Green at jgreen@ire. Materials must be received by Friday, May 2.
Apply to attend the 2014 IRE conference in San Francisco.
More IRE Conference fellowship/scholarship opportunities:
IRE makes available certain fellowships and scholarships to allow professional journalists or students the opportunity to attend training events they would not otherwise be able to attend. Fellowships typically include a one-year IRE membership, conference or seminar registration fees, and reimbursement for hotel and travel expenses. The following scholarships will help send journalists to the upcoming IRE Conference in San Francisco: