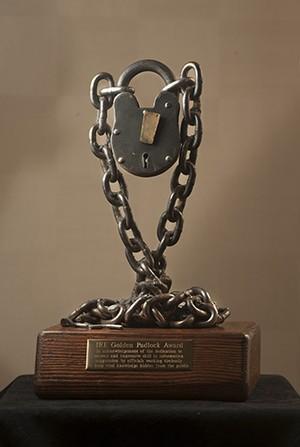 Investigative Reporters and Editors has named the Department of Veterans Affairs as the winner of its annual Golden Padlock Award recognizing the most secretive U.S. agency or individual.
The VA was selected for this honor for withholding records about the qualifications of medical staff who evaluated thousands of veterans for potential brain injuries following service to their country. When TEGNA TV stations across the U.S. formally requested the information, VA hospitals withheld the names, board certifications and medical specialties of doctors performing the exams, saying release of the information "would not contribute to the public's understanding of the Federal Government." Kare11 in Minneapolis first obtained records showing many potential brain injuries were evaluated by staff whose qualifications did not meet the VA's own requirements, potentially missing cases of injuries that can trigger additional benefits for veterans. Following an internal investigation, the VA now acknowledges 25,000 veterans across the country had their brain injury diagnoses performed by doctors who were not qualified to make those diagnoses. TEGNA is currently in the process of appealing the agency's public disclosure denials.
"The judges believed the VA represents all of the hallmark attributes that we try to honor with the Golden Padlock -- secrecy, evasion and a fundamentally curious view of what contributes 'to the public's understanding' of government," said IRE Executive Director Mark Horvit.
IRE invited a representative from the winning agency to attend and receive the honor. No response was received.
To learn about the 2016 finalists, click here.