Anti-press attacks are generating fear and self-censorship among journalists in Tanzania, according to a report published Wednesday by The Committee to Protect Journalists. Despite good international publicity for moving toward an open government, public discontent remains largely unseen and unheard.
CPJ's findings include 10 serious anti-press attacks since September, which is "a notable jump over historical trends in the country. In September 2012, veteran cameraman Daudi Mwangosi was killed while covering an opposition rally in a rural area outside Iringa when a police officer fired a tear gas canister at him at close range."
Among CPJ recommendations for the current situation:

VIDEO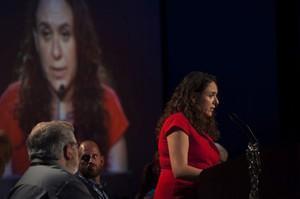 Mexican journalist Marcela Turati makes a plea to the investigative reporting community.
---
Conduct a thorough investigation into the attack on Absalom Kibanda, managing editor at Habari Media Corp. and chairman of the Tanzania Editors Forum.
Consult with news media about developing a bill that meets international free speech standards and repeal the 17 provisions in Tanzanian law that are repressives for journalists, include one that allows government censorship in violation of international standards.
Draft and adopt an access-to-information law enabling citizens to have open and expedited access to public records.
Immediately lift the ban on the weekly publication MwanaHalisi, reopen investigations into the killing of journalist Daudi Mwangosi and consider criminal charges against the officers directly involved in the physical altercation that led to Mwangosi's death.
Tanzania is not alone in the issue of fear and self-censorship among journalists.
Al Jazeera this week reported that Mexican journalists continue to be killed and harassed despite new legislation offering protection, which passed in May after a long campaign by NGOs in the region. More than 80 have been killed in the past decade, and 17 have disappeared, according to Reporters without Borders. Journalist Marcela Turati of the investigative newsmagazine Proceso detailed these killings and the terror facing journalists in a powerful keynote speech at the 2013 IRE Conference in San Antonio.
Also at the IRE Conference in June, Rana Sabbagh explained that in the wake of the Arab Spring, administrations in many countries have brought intimidation, not freedom, to the press.
She recalled an incident that happened in the capital city of Jordan a few years ago, in which journalists covering a pro-reform demonstration were told to wear orange vests that said "press" for their safety. When the pro-reform demonstrators clashed with government supporters and police used the batons to break up the clash, several journalists were among those beaten by police.
Sabbagh also explained a situation in Egypt where dozens of chief editors at news organizations were replaced by ones affiliated with the Muslim Brotherhood. Journalists protested, she said, but it did not stop them. Those chief editors have become journalists' biggest enemies, she said, and have taken the solidarity out of newsrooms.