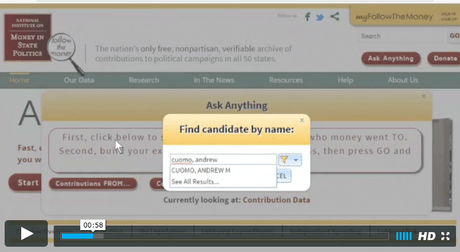 As part of our NICAR-Learn video series, we've released three new training videos on working with election data, specifically campaign finance and advertising.
We've made the videos – and a few others we think might be useful for election coverage – free and available to everyone between now and Election Day. After that, the videos will move behind our NICAR-Learn paywall.
Here's what's new:
How to track money in state politics using FollowTheMoney.org. In this 10-minute video, a researcher at the National Institute on Money in State Politics offers an insider's look at how to use the site to drill down on campaign contributions. Learn how to find out who's contributing to candidates in your state, including which PACs, industries and business are spending the most. The video also covers how to use the "My Legislature" tool, which helps connect campaign contributions to politicians and policies.
How to use the Political TV Ad Archive: Nancy Watzman walks through how to use the website (politicaladarchive.org) to gather and analyze data on campaign advertising in select battleground markets. In this 11-minute tutorial, she walks through how to gather data – who's running the most ads, who's sponsoring them, and when they're running ­– on the Ohio Senate race. Nancy also demonstrates how to download detailed data and analyze it in Excel using pivot tables.
The basics of digging for federal campaign finance data. Carrie Levine of The Center for Public Integrity walks through how to explore federal campaign finance data from the Federal Election Commission and OpenSecrets.org.
To help you prepare for Election Day, we also temporarily moved three existing videos out from behind our paywall.
NICAR-Learn is IRE & NICAR's gallery of on-demand data journalism training videos. Watch as many as you want, whenever you want for $40/year. IRE members can sign up for just $25/year by emailing learn@ire.org for a coupon code.