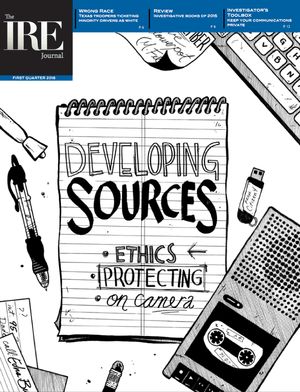 By Aidan White | Ethical Journalism Network
The relationship between journalists and their sources is complex and full of ethical pitfalls. In the provocative opening to her splendid 1983 book onthe subject, "The Journalist and the Murderer," Janet Malcolm targets deceptive journalism:
"Every journalist who is not too stupid or too full of himself to notice what is going on knows that what he does is morally indefensible. He is a kind ofconfidence man, preying on people's vanity, ignorance or loneliness, gaining their trust and betraying them without remorse."
But not all journalists are confidence tricksters. Some journalists are flawed and occasionally incompetent, but most strive for journalism rooted intransparency, fair-dealing and humanity. Our work is morally defensible, but few will deny that if the measure of good journalism is how we treatsources, then we are not always up to the mark.
Establishing the Ground Rules
Journalists need to be as transparent as possible in their relations with sources. The news media have great power, and people can be flattered whenthey are approached by reporters without fully understanding the risks to themselves and to others when they come into the public eye. This isparticularly true of people affected by humanitarian disasters, war or other traumatic events.
Journalists have to assess the vulnerability of sources as well as their value as providers of information. They must explain the process of theirjournalism and why they are covering the story. They should not, except in the most extraordinary circumstances, use subterfuge.
Of paramount importance is the need for journalists to reassure sources that their identity will be protected. But often this is easier said than done.
Protection of sources is well recognized in international law as a key principle underpinning press freedom. It has been specifically recognized by theUnited Nations and the Council of Europe. In the U.S. there is no federal shield law. State shield laws vary in scope, but the best of them uphold theright of reporters to resist demands to reveal their source.
Over the years there have been hundreds of cases when courts and public authorities order journalists to hand over material or information that willreveal a source of information. In most cases, the ethical reporter will instinctively demur.
A good example is Jonathan Randal of The Washington Post who famously refused to answer a subpoena in 2002 ordering him to appear before theInternational Criminal Tribunal for the former Yugoslavia, which was prosecuting war crimes. Randal, who had covered the war, fought the subpoenawith the backing of his paper and won. This action, which was supported by press freedom groups around the world, established some limited legalprotection for war correspondents against being forced to give testimony.
Cases like this highlight why journalists and news media need to establish guidelines and internal rules that help protect their sources. Reporters maybenefit from a clause in their contracts or their agreements that clearly state their duties and obligations in this area. NPR has a clause in its guidelinesthat spells it out:
"NPR journalists must not turn over any notes, audio or working materials from their stories or productions, nor provide information they haveobserved in the course of their production activities to government officials or parties involved in or considering litigation."
Getting Too Close to the Source
Sometimes journalists make the mistake of getting too close to their source. They create cozy, ambiguous relations that undermine the ethical base oftheir work. Powerful sources have their own agendas, and when reporters accept what they say without question, they cross an ethical line. They alsorun the risk of being used as convenient vessels for the leaking of information.
Source Review of Content
Sean Penn's interview with Joaquín "El Chapo" Guzmán, the Mexican narcotics gangster, on the run and accused of murder, was a world exclusive,but some journalists questioned why Rolling Stone allowed Guzmán to approve what would ultimately be published.
Steve Coll, the dean of the Columbia University Graduate School of Journalism, told The New York Times he was concerned by the decision to giveGuzmán access to the article. But ultimately, he said, "scoring an exclusive interview with a wanted criminal is legitimate journalism no matter who thereporter is."
An interview with one of the world's most wanted men is certainly a scoop, but can it ever justify abandoning editorial control over a journalist's work?
The issue of who controls the story — the source or the reporter — comes up whenever copy approval is demanded by high profile and powerfulfigures.
Anonymous Sources
Anonymity is a right that should be enjoyed by those who need it: people who may lose their job for whistleblowing or others at risk from exposure. It isnot a privilege to be enjoyed by people who are self-seeking and who directly benefit from anonymity.
Social Media and User-Generated Content
In today's digital environment, rumor and speculation circulate freely, and knowing what is real and how to verify news and information is essential.Digital age sourcing is a major challenge, particularly in breaking coverage where rumor and falsehood can add to tension and uncertainty surroundingtraumatic events.
But help is at hand. Craig Silverman, editor of Regret the Error at the Poynter Institute, has collaborated with the European Journalism Centre toproduce the useful "Verification Handbook" (verificationhandbook.com).
And in all of this, there is a final but essential question. When using other people's words, images or content, make sure to give credit where it is due.
The failure to assign the ownership and origin of the information we use is a common failing of students in the age of copy-and-paste, but it'sunforgiveable for journalists to plagiarize the work of others. Failing to do so is not just a moral question, it can also lead to legal problems.
Aidan White is director of the Ethical Journalism Network. Many of the questions and tips set out here were compiled by him and his fellow panelists atlast year's IRE Conference in Philadelphia: David Boardman, Dean, School of Media and Communication, Temple University; Margaret Sullivan,Public Editor, The New York Times; and Wendy Ruderman, Reporter, Philadelphia Daily News.