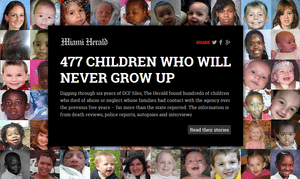 Innocents Lost | The Miami Herald
Fraternal twins Tariji and Tavont'ae Gordon joined a sad procession of children who died, often violently, after the Florida Department of Children & Families had been warned, often repeatedly, that they or their siblings could be in danger.
The children were not just casualties of bad parenting, but of a deliberate shift in Florida child welfare policy. DCF leaders made a decision, nearly 10 years ago, to reduce by as much as half the number of children taken into state care, adopting a philosophy known as family preservation. They also, simultaneously, slashed services, monitoring and protections for the increased number of children left with their violent, neglectful, mentally ill or drug-addicted parents.
The result: Many more children died.
Prison system clamps down following Colorado prison chief's murder | The Denver Post
One year after a parolee killed state prisons director Tom Clements, life behind bars — and beyond — is far different for Colorado convicts. After years of declining prison populations — reductions that Clements had trumpeted — the number of inmates has risen in the past year as a direct result of his slaying.
Alabama State audit mired in secrecy | Montgomery Advertiser
As the cost of a forensic audit of Alabama State University nears $1 million, the investigation into the potential fraud it has uncovered is shrouded in secrecy and confusion.
Kentucky addicted babies increasing despite pain-pill crackdown | The (Louisville, Ky) Courier-Journal
Trinity is part of a heartbreaking surge in babies born dependent on drugs because of their mothers' addictions — which continues to escalate unabated despite Kentucky's crackdown on prescription-drug abuse.
The state has seen hospitalizations for drug-dependent newborns soar nearly 30 fold in a little more than a decade — from 28 in 2000 to 824 in 2012, according to a recent drug report from the Kentucky Injury Prevention and Research Center. Preliminary figures suggest that number will surpass 900 in 2013, according to state officials.
Lost in jail, defendants waits weeks for chance at freedom | The Baltimore Sun
Shykill Brewer, who was arrested on a misdemeanor drug charge days before Christmas, is among dozens of Baltimore suspects who have been detained for days with no chance at release, after being charged directly by prosecutors instead of by police. Officials say the unusual strategy is key to taking down major criminal organizations, but they also acknowledge problems that have led to long delays.
In the 205 cases initiated last year by the office of State's Attorney Gregg L. Bernstein, 20 percent of defendants waited more than five days for an initial appearance in court, according to a Baltimore Sun review. One man waited nearly two months.
State offices ignore freedom of information laws | Press & Sun Bulletin (Binghampton, N.Y.)
Part of New York's Freedom of Information Law requires each state agency to maintain up-to-date "subject matter lists" — indexes of all records maintained by the agency — and to post them on the Internet. But a study of 86 New York state agencies by the Press & Sun-Bulletin found 9 in 10 were not in compliance with that part of the law. Two-thirds of the agencies had not posted a subject matter list online at all, and others were years out of date.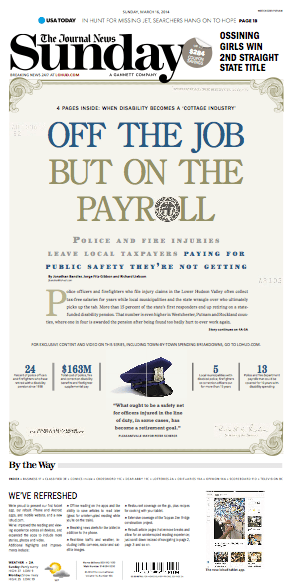 Investigation: Police, firefighters off the job but on the payroll | The Journal News
Newseum
Police officers and firefighters who file injury claims in the Lower Hudson Valley often collect tax-free salaries for years while local municipalities and the state wrangle over who ultimately picks up the tab. More than 15 percent of the state's first responders end up retiring on a state-funded disability pension. That number is even higher in Westchester, Putnam and Rockland counties, where one in four is awarded the pension after being found too badly hurt to ever work again.
The Journal News examined thousands of records from more than 70 area police and fire departments, finding that taxpayers in the three counties spent more than $163 million over the past decade to pay injured public safety employees unable to work. That's enough to cover the salaries of all police officers and firefighters in 13 local departments for 10 years.
1 in 3 state veterans center doctors has marred record | The Oklahoman
Veterans centers in Oklahoma routinely hire doctors and other licensed medical personnel with a record of problems to treat the state's sickest, most vulnerable veterans.
Officials with the Oklahoma Department of Veterans Affairs say money is the culprit, claiming it's difficult to find suitable applicants with clean records to work at the state's seven veterans centers.
North Dakota oil shipped by rail through Oregon unusually volatile | The Oregonian
Oil moving through Oregon has contained six times more propane – the same stuff in backyard gas grills – than comparable types of crude.
Despite the risks, the oil isn't required to go through simple steps to stabilize it when it's extracted from the ground. Producers can flare off the propane and other gases in it. But then they have less to sell and their profits suffer.
Recovering money lost to fraud can be costly, frustrating | The Salt Lake Tribune
Being a fraud victim can be financially and emotionally devastating — then you get sucked into the U.S. legal system.
For some investors, the experience can be maddening as they watch lawyers and accountants eat up $380 an hour and more in fees and expenses paid from recovered investor money as cases drag on.
But for some investors who are left with little money when the scam they invested in falls apart, the system of court-appointed receivers taking over fraudulent operations can work wonders in getting back at least some of their funds — even if it sometimes takes years.
Report: Welder may have sparked blaze at premier research lab under construction | The Frederick News-Post
A welder's torch may have sparked a fire that caused $10 million in damage at the world's largest high-security research lab, still under construction at Fort Detrick, according to a report prepared by the U.S. Army Corps of Engineers.