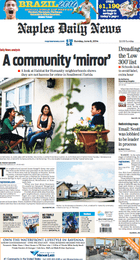 Habitat for Humanity neighborhoods not havens for crime | Naples Daily News
Neighbors fear a decrease in property values and an increase in crime when low-income Habitat homeowners move in. It's a concern law enforcement officials say and a Daily News analysis shows is unfounded by data.
Oso neighborhood never should have been built | The Seattle Times
This year, Steelhead Haven was destroyed by a massive landslide that crashed across the North Fork of the Stillaguamish River and killed 43 people.
More than a half century ago, when Taylor opened the community, she failed to secure a required permit, avoiding a process that would have warned of the dangers of building there, according to a Seattle Times review of thousands of records in the Washington State Archives.
Bay Bridge's Troubled China Connection: How Caltrans' choice of an inexperienced company left structural doubts and cost taxpayers | The Sacramento Bee
In 2006 the California Department of Transportation approved an inexperienced Chinese company, unaccustomed to U.S. construction rules, to fabricate the new Bay Bridge suspension span's signature tower and roadway – a choice that partly explains why costs ballooned to $6.5 billion and misgivings about the quality of the bridge persist.
A Sacramento Bee investigation found that Caltrans continued to bet on Zhenhua Port Machinery Co., Ltd. by relaxing U.S. standards when the firm couldn't finish fast enough. Caltrans overrode bridge welding codes when it deemed many cracks in welds produced by ZPMC inconsequential and left them in place to hurry construction along, Caltrans documents show.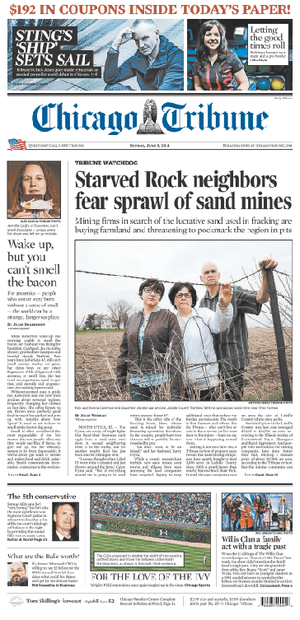 Starved Rock neighbors fear sprawl of sand mines | The Chicago Tribune
While a county moratorium forbids new sand mines, area towns and villages have been annexing the land companies have acquired, hoping to reap additional taxes that reduce the burden on residents. The result is that farmers and other like the Flynns – who don't live or vote in those towns yet live next door to the mines – have no say over what is happening around them.
Mining is not new here. But a Tribune review of property sales reveals that sand mining companies have quietly bought at least 3,100 acres in LaSalle County since 2005, a swath larger than nearby Starved Rock State Park. In total, the sand companies own an area the size of LaSalle County's three state parks.
Track flaw went unrepaired | Connecticut Post
Metro-North Engineer Steven Bauer's testimony is just one part of a wide-ranging and ongoing NTSB investigation of the Bridgeport derailment and subsequent collision with an oncoming train, records reviewed by Hearst Connecticut Media show. Investigators have also produced an animated reconstruction video that offers concise details about the accident.
The video concludes the crash was caused by a broken section of track that rail workers had repaired a month earlier -- but failed to again fix two days before the crash.
Convicted murderer Jimmy Dac Ho had history of abuse, violence, documents show | Sun Sentinel (Ft. Lauderdale, Fla.)
Before he was handed a badge and a gun as a police officer for Florida Atlantic University, Jimmy Dac Ho was no stranger to trouble in South Florida.
Fired from the Broward Sheriff's Office in 2004 after a violent fight with his wife, Ho spent two years trying to get another job as a police officer. He was rejected by at least seven departments because of his history at the Sheriff's Office before he landed at FAU in 2006.
Once there, he racked up complaints of excessive force, intimidation and sexual harassment. Many of his problems involved women: Records show he was reprimanded for sending inappropriate text messages and making lewd comments to female employees and students.
Perdue campaign hammers Kingston over fundraisers involving felon | Atlanta Journal-Constitution
Congressman Jack Kingston's Republican U.S. Senate opponent dubbed the lawmaker an out-of-touch Washington insider Sunday after reports showed that major donations to the lawmaker came from companies linked to a felon that the U.S. government has long tried to deport.
BMV leaders knew of overcharges, top deputy says | The Indianapolis Star
Top officials at the Indiana Bureau of Motor Vehicles were told the agency was improperly overcharging Hoosiers millions of dollars, but they secretly kept doing it for at least two years to avoid budget troubles, a former deputy director alleges.
The explosive accusation comes in an 88-page deposition taken last week as part of a class action lawsuit pending against the BMV in Marion Superior Court. The suit seeks to recoup $30 million to $40 million that the BMV overcharged Indiana motorists for personalized license plates, vehicle registrations and dozens of other services.
Notorious landlord has another problem to explain | The Boston Globe
One of Boston's most notorious landlords is housing international high school students in a building for which he does not have a proper license and whose facade Boston University considered structurally unsound when it sold the property to him in 2006.
Anwar N. Faisal, who largely caters to student tenants in Boston and was among the subjects of a Globe Spotlight Team investigation last month, has been operating a dormitory on Commonwealth Avenue in Allston with a license intended for the New England Institute of Art.
Moss withheld records from Chemung probe into union complaints | Press & Sun-Bulletin (Binghampton, NY)
Chemung County Sheriff and lieutenant governor candidate Christopher Moss withheld records from a county investigation into workplace harassment and violence complaints against him earlier this year, according to documents obtained by the Central New York Media Group.
The complaints, filed by the union representing Chemung County Jail correction officers, allege a "slide show presentation" by Moss at the Chemung County Sheriff's Office Annual Awards Banquet on March 1 involved "inappropriate references" to three officers including Art Laurey, a Republican who challenged Moss in the 2013 election.
Despite evidence of danger, some parents still share beds with infants | The Kansas City Star
The tragedies put the city on pace for a deadlier-than-usual year for bed-sharing infants.
Jackson County, meanwhile, has recorded 100 such deaths since 2004 believed to be related to co-sleeping — grim statistics seldom discussed publicly.
The deaths continue to increase nationally despite a campaign by the American Academy of Pediatrics to avoid bed-sharing and efforts by advocates to promote safe-sleeping guidelines for infants.
Middle Class Squeeze: As incomes slide, voters check out | Providence Journal
As middle- and working-class people have fallen behind over the last decades, many who struggle for the daily bread have become less motivated to vote, petition, speak out, organize or otherwise exercise the American birthright.
A growing sense of cynicism, felt by many citizens on the right, left and center, threatens to erode basic tenets of our democracy — and the situation is compounded by the vast power that big-dollar donors now wield, economists and political scientists tell The Providence Journal.