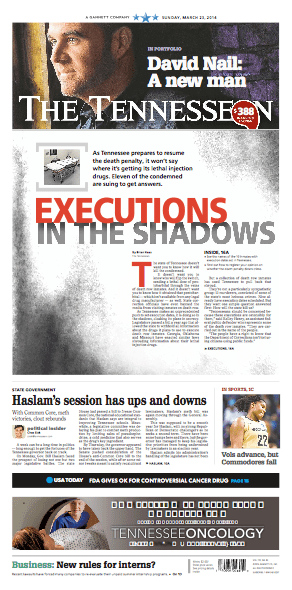 Tennessee plans executions in secret | The Tennessean
The state of Tennessee doesn't want you to know how it will kill the condemned.
It doesn't want you to know who will flip the switch, sending a lethal dose of pentobarbital through the veins of death row inmates. And it doesn't want you to know how it obtained that pentobarbital — which isn't available from any legal drug manufacturer — as well. State correction officials have even banned the media from visiting inmates on death row.
As Tennessee makes an unprecedented push to set execution dates, it is doing so in the shadows, cloaking its plans in secrecy. Legislators passed a bill a year ago that allowed the state to withhold all information about the drugs it plans to use to execute death row inmates. Georgia, Oklahoma and Missouri have enacted similar laws shrouding information about their lethal injection drugs.
Offshore Web Nets Chinese Giant in Italian Solar Scandal | The International Consortium of Investigative Journalists
The story of Suntech's fall links China to Italy, Germany, London and Wall Street, passing through some of the world's leading tax havens and ending up — Dolce Vita fashion — in some of the most luxurious spots in Rome.
It's a tale about the nexus of offshore financial secrecy and Italy's onshore culture of corruption, featuring a cast of characters that includes figures linked to a businessman who has served, authorities allege, as a front for Mafia clans.
The story can be told in full detail for the first time thanks to secret offshore files and court records from around the world obtained by Investigative Reporting Project Italy and the International Consortium of Investigative Journalists as part of ICIJ's "Offshore Leaks" probe.
Region's child-protection team lacks power, support | The Virginian-Pilot
State law has always limited the way the Hampton Roads Child Fatality Review Team operates. It cannot subpoena people involved in cases, nor hand down directives based on its findings.
Ultimately, the lack of attention to the alarm the team sounds is the fault of no single individual or organization. It is an entire system that has accepted the death by abuse of an average of 13 children each year in the region.
Records expose funds misuse | The Atlanta Journal-Constitution
DeKalb County Commissioner Elaine Boyer, a crusader for cutting government spending, has rung up thousands of dollars in personal purchases on her county Visa card.
The purchases include airline tickets bought during times the commissioner and her husband were having financial problems, an investigative by The Atlanta Journal-Constitution found.
Dangerous consequences: Preserve a mental health patient's gun rights, or protect the public? | The Kansas City Star
Before he turned 21, Blaec Lammers had seen the inside of mental health facilities at least seven times.
One of those visits stemmed from following an employee for two hours at the Bolivar Wal-Mart wearing a Halloween mask and wielding a butcher knife.
None of that stopped that same supercenter from selling the 20-year-old a pair of AR-15-style, semi-automatic rifles in November 2012. Lammers was not in the National Instant Criminal Background Check System deployed to deny the wrong people access to firearms.
For Jared Remy, leniency was the rule until one lethal night | The Boston Globe
Jared Remy had glided through his first five criminal cases, but prosecutors thought the sixth one would be different.
Compared to what he had been charged with in the past — beating and choking his ex-girlfriend while she held their baby, cracking a friend over the head with a beer bottle in a jealous fit, elbowing and cursing out a police officer — the case that landed in Lowell District Court in January 2001 seemed minor: Threatening to commit a crime.
But for the first time, prosecutors had a victim willing to testify against Remy, son of one of the most beloved figures in New England.
Why was driver in fatal wreck still driving? | Florida Today
Nancy Chancey, 59, was killed after she hit another car and was thrown from her vehicle. Two days later, a resident nearby found the body of 60-year-old Art Stroud in the brush near his home. Stroud was struck by the airborne car and thrown out of sight of the police who responded to the crash.
The story of the horrific crash and Chancey's driving record seemed to universally spark the question "How was this woman still driving?"
The answer is simple.
Because state law allowed her to.
Execution for Miss. woman looms | Clarion Ledger
Unless courts or the governor intervene, the state of Mississippi will execute a woman whose son repeatedly confessed to the killing she is slated to die for — evidence the jury never heard.
Innocents Lost: Florida's undercount of child abuse death | Miami Herald
The death of 10-year-old Nubia Barahona personifies something else: DCF's penchant for minimizing the number of deaths of children it was supposed to protect. Last month, Florida marked the three-year anniversary of Nubia's passing and the state has yet to send her case to the Florida Child Abuse Death Review Committee, which catalogs child deaths.
The death review committee has a somber but important role: Besides keeping a count, it studies such tragedies in hopes of learning lessons that will avert similar deaths in the future.
Beneath Cities, a Decaying Tangle of Gas Pipes | The New York Times
It is a danger hidden beneath the streets of New York City, unseen and rarely noticed: 6,302 miles of pipes transporting natural gas.
Leaks, like the one that is believed to have led to the explosion that killed eight people in East Harlem this month, are startlingly common, numbering in the thousands every year, federal records show.
California drought puts spotlight on water theft | The Sacramento Bee
It's amazingly easy to steal water from a California stream. Even in this epic drought, the state has no way of monitoring exactly who is tapping into its freshwater supplies and how much they take. And those who do get caught taking water they have no right to often are allowed to keep taking it for years just by promising to obtain a permit.
Like many prisoners, police shooting suspect was out early | Baltimore Sun
After Gregg Thomas pleaded guilty in 2004 to killing a teenager, a Baltimore judge ordered him to serve 15 years in prison. He was out in less than 10, and by last week he had been charged in the shooting ambush of off-duty Baltimore Police Sgt. Keith Mcneill.
The shooting, which left Mcneill in critical condition, put the spotlight on a poorly understood feature of corrections policy that reduces most Maryland sentences. Thomas was able to leave prison early because he had received credit for good behavior and had completed work and education programs that helped him shave off more than a third of his sentence.
Cartels pipe heroin, death into the heartland | Star Tribune (Minneapolis, Minn.)
Deangelo Curtis measured his life's work in kilos and ounces, and the year he turned 27, the scales were turning in his favor. The young St. Paul gangster sat atop a multimillion-dollar heroin boom sweeping Minnesota — the point man for an international drug cartel that linked the poppy fields of Mexico with the streets of the Twin Cities.
He called himself "King Kong."
To the agents watching from the shadows, Curtis was also a case study in the economics of Minnesota's new heroin trade: A highly structured trafficking operation that has spawned a new market of middle-class suburban users and delivers a product so pure that young Minnesotans are willing to risk their lives for the high of it.
Most city students don't attend neighborhood schools | Democrat & Chronicle (Rochester, N.Y.)
Whether for infestations of insects or crime or simply for convenience, parents in the Rochester School District overwhelmingly send their children to schools other than the ones within walking distance.
The median neighborhood elementary school in Rochester enrolls only 15 percent of its local children, even without counting those who attend the district's citywide schools, which are open to all children. Only one, School 46 in the Browncroft neighborhood, attracts more than half the children living within easy walking distance.
Losing Garnett the Great: Boy's death reveals mom's lies | The Journal News (White Plains, N.Y.)
The Journal News spent nine days in Alabama and Florida talking with people who know Lacey Spears, trying to unravel the mystery of what happened to her son, Garnett. What becomes clear in these conversations is that Lacey's world centered entirely on the boy. Some saw her as a great mom, attentive and caring. She worshiped Garnett, wouldn't let him out of her sight.
But when she trusted someone to hear her story, they'd often hear a tale that wouldn't bear scrutiny.
Lacey Spears, it turns out, has a problem with the truth.
Failure to protect: Most agree R.I. can do more to prevent domestic murders | Providence Journal
Restraining-order applications, as well as no-contact orders based on criminal complaints, have foreshadowed the violent deaths of at least 11 Rhode Islanders since 2000 — including the stabbing deaths of two abusive men slain by fearful women in self-defense.
During this period, such orders, and the allegations of abuse that accompany them, preceded at least 20 percent of 55 domestic violence-related homicides involving men and women who had either lived together or engaged in romantic relationships.
Failure to test DNA allowed Cordova serial rapist to continue attacks for decade | The Commercial Appeal (Memphis, Tenn.)
Untested rape kits allowed serial rapist Anthony Alliano to continue his violent attacks on young girls and women in Cordova.
Shootings involving combat veterans raise questions of police training | Austin American-Statesman
Gene Vela was supposed to graduate in May with a master's degree in global policy studies. It would have been a milestone for Vela, who was among the first U.S. Marines involved in the initial invasion of Iraq.
Vela, 30, battled post-traumatic stress disorder in the Marines and after leaving the military, and his struggles have included run-ins with Austin police — for driving while intoxicated, among other interactions.
Images from the Nesweum