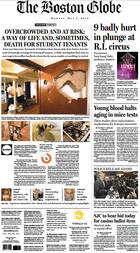 Shadow Campus: A house jammed with students, a life of promise lost | The Boston Globe
Boston, defined in large measure by the students who flock to it, allows these eager newcomers to be put at risk in overcrowded houses that serve as shoddy substitutes for modern dorms. Such illegal overcrowding is rampant in student neighborhoods, a Globe Spotlight Team investigation found, a health and safety hazard virtually ignored by city inspectors and exacerbated by local universities that have in recent years, admitted many more students than they can house.
Terminal neglect? How some hospices decline to treat the dying | The Washington Post
For more than a million patients every year, the burgeoning U.S. hospice industry offers the possibility of a peaceful death, typically at home.
But that promise depends upon patients getting the medical attention they need in a crisis, and hundreds of hospices provide very little care to such patients, a Washington Post investigation has found.
To better understand the quality of services rendered to terminal patients, The Post analyzed the Medicare billing records for more than 2,500 outfits, obtained an internal Medicare tally of nursing care in patients near death and reviewed complaint records at hundreds of hospices.
From death row to freedom: One Tennessee man's journey | The Tennessean
As state officials makes an unprecedented push to execute prisoners — at least 10 are scheduled to die in the next two years — the implications of Paul House's life story loom over the state's death penalty system. Dozens of appeals of the murder charge against him, in both state and federal courts, failed to free him, even as he maintained his innocence and new technology ripped apart prosecutors' evidence against him.
Police used guise to gain info from Utah vets in sweat lodge feud | Salt Lake Tribune
Police at the Salt Lake City veterans hospital used a "guise" to gain information about a demonstration planned by veterans upset about changes to the hospital's acclaimed sweat lodge, an email shows.
"VA police, under the guise of a potential participant, contacted one of the individuals listed as an organizer to gain more information," reads a Jan. 31 email from Steven Young, the director of George E. Wahlen Department of Veterans Affairs Medical Center.
Atlanta squandered jobs money: Payments made for phantom workers, useless instruction | Atlanta Journal-Constitution
As Atlantans lost their jobs to the Great Recession, the city's workforce agency squandered emergency federal grants to retrain them, recklessly paying hundreds of thousands of dollars to companies that billed for phantom workers or token or non-existent training, an Atlanta Journal-Constitution investigation found.
Much of the on-the-job training money ended up in the pockets of companies with ties to city insiders.
Some companies won the grants, which covered up to 90 percent of workers' wages, for so-called trainees who already had permanent jobs and even advanced degrees. Many supposed participants never knew they were part of a job-training program at all.
Jacobson documents provide details into MCC firing | Northwest Herald (Crystal Lake, IL)
Hebron Village President John Jacobson, for years, had been viewing pornographic photos and videos through his work email and forwarding them during work hours, sometimes to colleagues, before he was fired from McHenry County College in February 2013.
The new details regarding the college's investigation came from documents obtained by the Northwest Herald last week after the newspaper challenged MCC's response to a Freedom of Information Act request made in February.
'Dreamers' see double standard in Brewer's license ban | The Arizona Republic
Gov. Jan Brewer made sure that undocumented immigrants who are allowed to stay in the country through President Barack Obama's deferred-action program can't get driver's licenses in Arizona.
But The Arizona Republic found that undocumented immigrants whom the government is actively trying to deport have been able to obtain Arizona driver's licenses in the 20 months since Brewer's executive order. That number could potentially be in the thousands.
Big budgets, little oversight in war zones | The Washington Post
International Relief and Development has received more grants and cooperative agreements from USAID in recent years than any other nonprofit relief and development organization in the nation — $1.9 billion.
In Baghdad and Kabul, companies such as IRD were left to manage hundreds of millions of dollars' worth of taxpayer-funded programs with little meaningful oversight from USAID, according to interviews with government auditors and former IRD employees familiar with the projects.