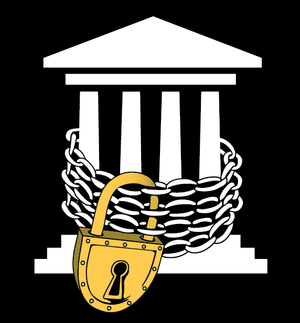 Investigative Reporters and Editors has released the list of finalists for its inaugural Golden Padlock Award honoring a U.S. government agency for its unrelenting commitment to undermining the public's right to know.
JobsOhio: Ohio Gov. John Kasich and the state legislature are nominated for creating a non-profit economic development entity exempt from public records disclosure laws, despite its financing by state grants and bond sales backed by $100 million in profits from the state liquor store monopoly. JobsOhio was spun off from the state's Development Services Agency and staffed by former agency employees at much larger salaries. The governor and legislature designated JobsOhio as a private company exempt from state audits and financial disclosures required for state agencies, making it impossible for the state auditor, news media or citizens to monitor its finances, business investments or potential conflicts of interest.
The U.S. Border Patrol: The country's largest law-enforcement agency is nominated for refusing to make public the details of use-of-force incidents involving its agents. Despite a string of fatal incidents over the past three years in which Mexicans allegedly throwing rocks have been shot and killed by agents along the Southwest border, the Border Patrol routinely refuses to disclose the names of agents involved. And it has repeatedly stonewalled FOIA requests on the incidents filed by the Arizona Republic because the cases remained under investigation by the FBI, sometimes for years. In an October, 2012 case, local police forces in both Mexico and Arizona released separate reports within a month of the shooting death of a Mexican teenager by Border Patrol agents. The Border Patrol itself has remained silent.
New Jersey Transit: The country's largest state-operated transit agency is one of its most secretive. Hurricane Sandy resulted in more than $120 million in damage, the destruction of hundreds of rail cars, and months of transit delays. In the aftermath, reporters investigating whether the agency could have prevented the damage submitted Open Public Record Act requests for Transit's hurricane preparedness plan. The document provided was all but entirely blacked out — only the title remained. The Transit cited security reasons for the redactions, pointing to passenger-rail terrorism. But inadequate hurricane preparedness is a significant public safety issue for a transit system during and after emergencies.
Fulton County, Georgia Tax Commissioner: Arthur Ferdinand is nominated for a pattern of secrecy that served to shield his actions from public view. When first asked for information regarding questionable tax liens sold to private companies by his office, Ferdinand said records didn't exist. Then, when he received a formal request for his tax system, Ferdinand said those records would cost whopping $16.2 million. The state Legislature removed the exemption he used to justify the cost, and Ferdinand turned to a new excuse. He said that turning over the records would disclose proprietary secrets of the private company that sold Fulton County the software. The attorney general's office concluded Ferdinand "absolutely" fought to withhold the information. He eventually turned it over under the threat of lawsuits, although he did so in a manner that makes the information exceedingly difficult to understand.
The Centers for Disease Control and Prevention: The federal health agency is nominated for a longstanding pattern of refusing to comply with FOIA requests for a documentary about Lyme Disease that dates back more than five years. The CDC attributed delays to understaffing, year-end deadlines, people taking vacation and unanswered calls in the agency's FOIA office. The FOIA request was in "final review" for over a year, and the final pages were coughed up after 5 years, 4 months, and 24 days. The nomination said that, ``Through their tireless mastery of FOIA stalling techniques, (CDC officials) controlled and prevented infectiously damaging agency information from spreading across the country."
"Information suppression is a practiced art," said David Cay Johnston, IRE president. "Our list of finalists represents the kind of creativity found in government offices across the country when it comes to undermining public knowledge."
The winner will be announced at IRE's national conference in San Antonio June 21. A representative from the winning agency will be invited to receive the honor.
Download a pdf version of this announcement here.