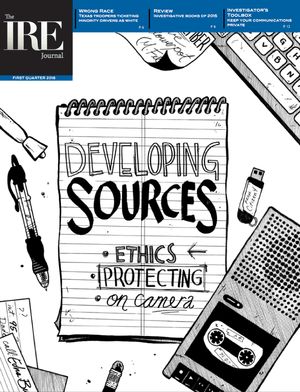 By Brian Collister
"You were right, and we were wrong."
It was a stunning reversal by Steven McCraw, director of the Texas Department of Public Safety, who couldn't deny what KXAN spent months documenting: His troopers wereinaccurately reporting the race of minority motorists, mostly Hispanic, as "white" and skewing crucial racial profiling data.
For months, the state's top cop had used statistics collected by his agency to defend against allegations of racial profiling following the controversial arrest of Sandra Bland, ablack driver who was found hanged in her cell in a Texas jail. In the wake of that case, several news organizations and academics analyzed the agency's racial statistics whichshowed a dramatic rise in the number of stops involving Hispanic drivers.
During this same time, another reporter in our investigative unit mentioned seeing some Hispanics listed as white on court affidavits. I had seen this before back in 2004 whilereporting in San Antonio where I uncovered San Antonio police doing the same. So we decided to find out how the DPS was collecting its racial profiling data. What weuncovered revealed that the number of Hispanic drivers being stopped was actually being underreported.
16 million records reviewed
A Texas law aimed at preventing racial profiling requires officers to determine and document the race of every driver they arrest or give a warning or citation to. The state's racialprofiling statute requires they report "the person's race or ethnicity, as stated by the person or, if the person does not state the person's race or ethnicity, as determined by theofficer to the best of the officer's ability." The law requires race and ethnicity be treated the same, and officers must differentiate between white and Hispanic.
Our analysis of statewide traffic stop data from the past five years uncovered troopers inaccurately recording the race of minority drivers as white. We reviewed more than 16million records — data obtained under the Texas Public Information Act.
First, we filtered out the records of more than eight million drivers reported as white. After sorting the data by last name it didn't take long before we saw large numbers ofHispanic names. Next we ran a count query and found the most common surnames for drivers documented as white, after Smith, are Garcia, Martinez, Hernandez, Gonzalezand Rodriguez. Although not everyone with a Hispanic last name is of Hispanic descent, our analysis shows approximately 1.6 million drivers with Hispanic last names wererecorded as white — including thousands with home addresses in Mexico.
Through several more public information requests, we obtained copies of about 150 citations issued by troopers to make sure there were not data entry errors. Another series ofrequests yielded about 50 dashcam videos that allowed viewers to see what the troopers saw, how the drivers looked and the fact that many drivers only spoke Spanish. Bothproved that the race entry of white was incorrect.
We searched online court records and jail records for mug shots of those in the sample with criminal histories. We made contact with many of them through social media andwent knocking on doors to make contact with those we were otherwise unable to reach.
Sergio Raul Mejia received a traffic citation in Georgetown. The trooper wrote down his race as white on the ticket.
"That's bad," Mejia said in broken English. "I'm Hispanic. He was not supposed to put white people."
Richard Kai-Tzung Chang is from Taiwan. But when a trooper stopped him in Austin, he reported Chang as white.
"It's almost incomprehensible that I could be mistaken for a white male because I don't look anything like a white male," Chang said, speaking with a Taiwanese accent.
Racial profiling reports unreliable
Experts in racial profiling told us that what KXAN found shows DPS data is flawed, if not possibly manipulated.
"I think there could be accidents every now and then, but the sheer number of the reports that you found, where it looks like the people who are not white are being classified aswhite, means there is something else going on here," said Professor Ranjana Natarajan, director of the Civil Rights Clinic at the University of Texas School of Law. "What itshows is there either seems to be a complete lack of training on the part of DPS officers…or there is deliberate, sort of trying to not follow the policy."
We also showed our findings to lawmakers, including state Sen. José Rodríguez, D-El Paso.
"We've got to stop playing these kinds of games," Rodríguez said. "I mean, people want to know why Hispanics are being singled out. That's a simple question, and you can't goaround saying, 'Well, they're white.'"
Rodríguez had already asked the DPS director to explain the reason behind the rise in traffic stops of Hispanic drivers shown in his agency's data. McCraw replied in a letter tothe legislator, claiming the increase is partly because troopers are doing a better job of documenting race after a change to the racial profiling law in 2009 requiring officers toreport if they knew the race of the driver prior to a stop.
McCraw wrote: "In implementing this new requirement, troopers received additional training on the collection of racial profiling data, which emphasized the importance ofaccurately reporting the race and ethnicity."
KXAN requested DPS records showing that additional training. The agency provided a slide from a presentation used to teach troopers to choose from the categories named inthe law, including Hispanic, and determine what "most closely represents race."
Hitting roadblocks
We anticipated trying to get answers and interviews from the DPS would be difficult. After all, there is a good reason why the agency was a finalist last year for IRE's GoldenPadlock Award, which recognizes the most secretive publicly-funded agency. KXAN requested an interview with McCraw, but the DPS declined. We contacted every member ofthe Texas Public Safety Commission, which oversees the DPS. They each declined our requests, as well.
So we caught up with McCraw at a commission meeting. As several troopers and public relations staff hovered over us, we finally got our chance to show the director what wehad uncovered.
"With so many minorities being put down as white, how can you say that the data is still accurate?" I asked McCraw.
"Your point could be valid," McCraw told me, blaming the inaccurate reporting on a problem with the in-car computer system used by troopers. But when I pressed him, McCrawconfirmed troopers are aware of the system's limitations and trained to determine and report the race of each driver, as required by the law.
"I don't doubt that there may be mistakes made on occasion, but I don't know the details of that, until I see the data and I sit down with my experts," he added. "And I'd like to seehow wrong we are."
Reaction and results
Within days, state Rep. Garnet Coleman, D-Houston, called a hearing of the Texas House Committee on County Affairs. McCraw was called to testify and said his agency isscrambling to correct the problem KXAN uncovered.
"What we can do better — and we should have been doing better — is collect the data accurately, as it relates to Hispanics," McCraw said. "Plain and simple, [we're] guilty. Thatshould have been done better, and we've got an obligation to fix that."
State Rep. Ramon Romero, D-Fort Worth, the lone Hispanic member of the committee, said he planned to request an independent audit of DPS' collection of racial data.
"I was disappointed by (McCraw's) lack of urgency," Romero said. "The fact that he continued to defend the numbers."
The DPS director told lawmakers he had ordered troopers to start asking drivers to identify their race. We followed up with a story in which the state's leading expert in racialprofiling criticized the move, saying it lead to costly lawsuits and put officers in a difficult position.
A month later the director did an about-face and rescinded the order. He issued a new directive instructing troopers to record what they believe is the race of the driver and giveeach motorist the chance to confirm or object to the race category selected when they sign the citation. DPS is also instituting new audit procedures to regularly test the accuracyof the data and agreed to hire third-party experts to audit the agency's data collection in order to recommend further improvements.
Some viewers expressed concerns over the difference between race and ethnicity. So in subsequent reports, we emphasized the law requires race and ethnicity must be treatedthe same to gather the data, and troopers must select from the categories listed in the statute — "Caucasian, African, Hispanic, Asian, Native American, or Middle Easterndescent."
"People might disagree about racial categories, whether they apply, whether they are real and whether Hispanics should be included as white or not," said Natarajan. "Peoplecan argue about that all day long, but when the state chooses a method then the state officers must follow that method."
Investigating in your city or state
Texas is one of 30 states with racial profiling laws and reporting requirements. Find out when the law in your own state took effect, and use that as a starting point for the timeframe of the data you collect.
Even if your state has no law, you can still see if your state or city's traffic stop data could yield a story on whether police are stopping a disproportionate number of minorities orinaccurately recording drivers' races.
KXAN also uncovered the same problem in the Austin Police Department, which has ordered an independent audit of its collection of racial profiling data.
Before you request traffic stop or citation data from police, get an understanding of the fields of data they maintain, how they maintain them and how they can provide them toyou. In some cities, the data comes from municipal courts. If your state's open records laws do not apply to courts, as is the case with Texas, then they can provide information attheir discretion.
Make sure to request the actual citations, and never assume what the data shows is what the officer actually wrote on the ticket.
And check the retention schedule for all the records you need. How long do police agencies have to keep dashcam video footage on file? In Texas, only 90 days after a case isclosed.
Lastly, get an expert in racial profiling to review and interpret your data, regardless of what you think it shows.
Joe Ellis and Josh Hinkle contributed to this article.
Brian Collister is an IRE Award and Emmy award-winning investigative reporter with KXAN, specializing in uncovering fraud, corruption, and government waste. Brian's reportinghas resulted in the criminal convictions of public officials, passage of new laws and the return of embezzled public funds to taxpayers. He is also a licensed private investigatorand a board member of the Freedom of Information Foundation of Texas.