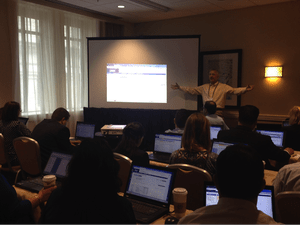 By Anh Nguyen
It's not uncommon to see a news story citing percentages and analyses that sounds like they came from an expert who specializes in collecting data and doing math, such as "21.3 percent of the U.S. participates in Government Assistance Program each month."
Where this information comes from and how it's collected are valid questions – ones we sometimes forget to ask. USA TODAY's Paul Overberg led a hands-on census data workshop that aimed to address these questions and provide a new source for reporting.
I was amazed when Overberg discussed his approach to news like a scientist: "Let's start with situations we see and hear about, and find data that describes them.
I felt nauseous thinking about the expertise required and how unfamiliar I was with statistics and technical websites. As it turns out, census.gov and censusreporter.org are both user-friendly and amazingly resourceful tools that include data on income, poverty and food stamps.
Navigating the census.gov website, I discovered data on Pennsylvania poverty rates in 2006 and 2011. The census lists out the percentage of the population living under the poverty line in every town, and with some simple Excel commands I could sort out the percent change, see the difference, and develop my own story ideas. For example, what happened in places where the poverty rate dropped, and why has it increased somewhere else?
Overberg simplified the idea of the census as "data to generalize the problem." Take the Great Depression, for example. With no hindsight and national survey back then, Americans just knew things went bad and had no clue they were living through the worst economic depression in history. The term "Great Depression" had not been coined because there was no proof the trend existed. However, things are different today because journalists have access to a powerful data set to spot patterns and create and develop stories on topics like the economy, education, housing, health and international trade.
A seemingly difficult topic was turned into an exciting new field where journalism and data converge. I was thrilled to continue the "homework" Overberg assigned: How do you find the number of "adult children"? I subtracted the percentage of children over the age of 18 that still live with their parents from the percentage of children in households in general. A pattern emerged: More young people were out of college, unable to find a job, and moving back in with their parents. Boom! A great story idea was backed by real data from the census.
Nerdy, cool stuff I can't wait to show my friends and apply to my classes!
Anh Nguyen is a sophomore journalism major at Temple University and vice president of the Temple Debate Society.