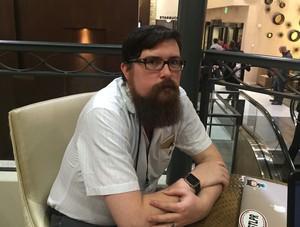 Brent Jones | Photo by Phillip Jackson
Phillip Jackson, a student Hampton University and a 2016 CAR Conference Knight Scholar, talks with Brent Jones, the data visual specialist for St. Louis Public Radio.
Jackson: What do you do at St. Louis Public Radio?
Jones: I help reporters use data to tell stories, and that can be in a lot of forms. Sometimes I will build graphics and websites for projects. It becomes a pretty wide variety, some of the things that I do.
Jackson: What are some interesting projects that you have worked on?
Jones: We did one within the last month on homicides in St. Louis. We followed one homicide and focused on the victim and his family. We talked about the neighborhood and the people who lived there. I thought it was a very powerful story.
Jackson: How do you go about enhancing written stories with other types of media?
Jones: You can't throw a lot of data into the story and expect people to care about it. We had to figure out how we could put the human element back in the story. So we just picked one [resident], and focused on him and his family. In the story, there is a piece of audio that we have where a nurse is breaking down in tears trying to help people. To make someone care, you have to have the human element in it.
Jackson: How often do you work on stories that go in-depth, like this one in particular?
Jones: This was a really big project, so we might do one like this just a few times a year.
Jackson: Are you working on anything innovative to enhance your stories?
Jones: We just recently hired a photographer. We are also trying to see what we can do with video and audio really well. I'm always looking for ways to incorporate audio with data. We are always finding which tool is going to tell the story in the best way.
Jackson: Does covering stories that focus on these issues get mentally and emotionally tiring?
Jones: I think it can be. When we did the reporting around Ferguson, it was really hard to describe what the feeling was like. It affects you, and you have to realize that it affects you and you can't try to plow through it. The best thing to do is to keep telling the story, but take care of yourself so you can keep telling the story. I think it is something that we have to pay attention to. I hope that we do keep thinking about how these stories are affecting our readers and us as journalists.