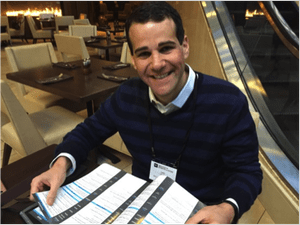 Lee Zurik | Photo by Jocelyn Stargell-Zachery
Jocelyn Stargell-Zachery talks with Lee Zurik, evening anchor and chief investigative reporter at WVUE-TV in New Orleans.
Stargell-Zachery: What sparked your interest in the field of journalism?
Zurik: I was kind of a freak, and I wanted to be in journalism since I was like 10 years old. I like telling stories. I am always curious and I like to ask questions. Also, I like the fact that no day is the same, and that is really what drew me to journalism.
Q: What is a typical day on the job for you?
A: Well, I anchor and report, so a typical day for me would be me coming into work, looking at emails, returning phone calls, looking through records, and filing public records request. I usually pop into our newsroom meeting and then proceed to brainstorm some story ideas. Finally, after all that is done, I then prepare for the evening newscast.
Q: How did you go about landing your first job?
A: I went back home after graduating from Syracuse University in New York. I drew a circle around all the smaller market stations that I wanted to work at in New Orleans within driving distance and flooded them all with my tapes. So I sent those out and followed up with phone calls, and a certain station said they had not seen it yet. The next day they called me back and said, could I interview tomorrow? I said yes. I came for the interview and they hired me on the spot.
Q: What is your favorite story that you have worked on?
A: It was series called "Louisiana Purchased" and it looked at campaign financing in Louisiana. It was a wide range of stories that changed state laws, launched three FBI investigations and forced politicians to repay money. We got a lot of result out of that one and a ton of response from our viewers, and it was just great.
Jocelyn Stargell-Zachery is a student at Savannah State University and a 2016 CAR Conference Knight Scholar.