By Jennifer Johnson, The Grand Forks Herald
Spreadsheet programs like Excel have always intimidated me. Sure, I dabbled in them a few times. I pulled up pre-formatted sheets and leafed through them. I used basic formulas and figured out percentages. And I also attended a two-day IRE training with fellow reporters at the Grand Forks (N.D.) Herald, where I'm the education reporter.
Anyone with experience will tell you that the only way to learn a program is by consistent use. Our newsroom had the training in February and by the time I started the project in earnest last month, I'd forgotten plenty.
For the project, the idea was simple. Our superintendent had claimed a few times that teachers earned more here than the rest of the state. This fact, he said, put our district at a disadvantage with per-pupil funding.
The formula that calculated how much districts received was based partly on average salaries, and those averages were considerably lower than what our district paid, he said.
So, my quest was based on a simple question: What were teachers and administrators actually paid here? And how did it compare to the biggest districts in the state?
For the next month, I sent FOIA requests to nine districts in the state, including ours. What I found won't surprise reporters: Contrary to our superintendent's claim, the median base salary of teachers here was among the lowest in the state, even in districts notably smaller than ours. Administrators, however, were nearly paid the highest. With help from IRE trainer Megan Luther I was able to accurately reach this conclusion and boost my standing beyond an Excel beginner.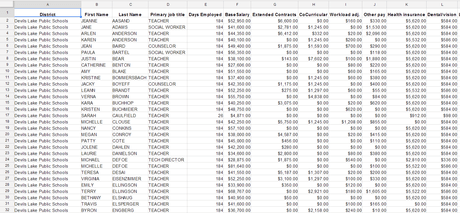 Here's what helped me survive my first CAR story:
Know exactly what data you're asking for. Although this is true for any story with sensitive information, and I knew I needed to be as specific as possible, I still fumbled. I didn't know how districts collected it, if they used a specific program to do it, etc. Naturally, they gave me the exact information I requested, but I wanted more. Luckily, one business manager provided a spreadsheet he sends to the state each year that broke down base salaries, extra pay for additional duties, retirement contributions, the works. Organization was key for this story, and I would have benefited from creating a detailed checklist of the information I needed and had yet to receive.
Try to gauge the scope of the project – expect delays and plan for them. Not surprisingly, some districts were reluctant to release salary information. One flat-out refused and relented only after a threat that we'd get the Attorney General involved. But dirty data turned out to be the factor that slowed us down the most. One district turned in a spreadsheet that lacked health benefits for 65 employees. Another gave me all of the numbers I requested for its 1,001 employees, but what I really needed - employee titles to differentiate who was an administrator and who was a teacher - were provided on a separate 345-page PDF, requiring us to merge sheets. In other cases, names were misspelled, employees were listed more than once and titles were outdated. (I looked up employees that lacked titles online, and ended up fact-checking with the district anyway.)
Know your strengths and resources before you start. It's worth it to spend time at the outset studying your sheets, and gauging your own skill level and what you might not know. If you have a data expert in the newsroom, that's great. If you don't, try to ask for more time. It makes the difference between a good story and an outstanding one.
Jennifer Johnson is the K12 reporter at the Grand Forks Herald in Grand Forks, N.D. She's had short stints as a copy editor here and abroad, briefly freelanced for a special section in the Washington Post and spent several years reporting at a small paper in southeast North Dakota.