A record number of journalists turned out at the annual IRE Conference in Philadelphia this year, so we thought it would be fun to get to know some of our 1,800 attendees. We asked a few of our 2015 IRE Conference Knight Scholars to talk to attendees and share portions of their conversations on this blog.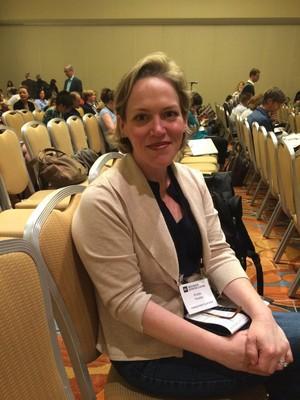 Kristin Hussey
Kristin Hussey, independent journalist
Q: What do you do for a living?
A: I live and work in Connecticut. I'm a freelance reporter and I cover Connecticut stories.
Q: How did you become interested in journalism?
A: I think I read a book when I was in fifth or sixth grade and it just sounded like a great adventure.
Q: What kind of stories do you like to cover?
A: I like to cover quirky, unusual stories. I wrote a story recently about some lawmakers in Connecticut who were trying to push the idea that some guy in Connecticut beat the Wright brothers to be the first in flight.
Q: What's your favorite story that you've worked on to date and why?
A: It is my career goal to have a story that I can look back on and say, that was awesome, I totally rocked it. I haven't gotten there yet.
Q: In your opinion, what's the best aspect of journalism?
A: Getting to meet people that I wouldn't run into in my normal life. Hearing their stories and learning more about the way the world works.
Q: What qualities make a good journalist?
A: Curiosity. Good listening skills.
Q: Which panel have you liked the most?
A: The mentoring breakfast was awesome. I was paired up with someone and I had specific questions about a specific project and he gave me great guidance. It was just nice to sit and talk with someone one-on-one for a while.
– Brelaun Douglas
Ron Nixon, Washington correspondent for The New York Times
Q: How long have you been a member of IRE?
A: Since 1993.
Q: What's your favorite part of IRE and the conference?
A: No matter how long you've been in the business, you always learn something.
Q: What do you do for The New York Times?
A: I cover federal regulatory agencies.
Q: What's something you like about that beat?
A: It's never boring, and the federal government is so big you're never going to run out of stuff. It encompasses so much. I get to do foreign reporting; I was in Nigeria reporting some stuff.
Q: Where did you go to school?
A: Alabama State
Q: What do you like about journalism?
A: Journalism is never boring. You are always meeting people. You get to do stuff that you thought you would probably never do. You get to interview people, meet people that you'd thought you'd never meet. It's never dull. That's the good thing about it. You never know what the day is going to be like.
– Travis Nixon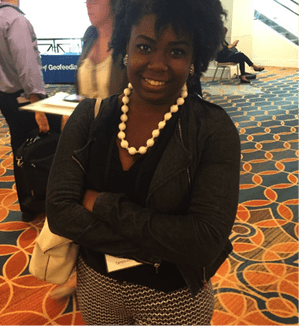 Kameel Stanley
Kameel Stanley, staff writer at the Tampa Bay Times
Q: How long have you been a member of IRE?
A: Only two years.
Q: What do you like about IRE?
A: I think it's a great resource for journalists, young ones like myself. I hear so many good tips and the networking is awesome. It just reenergizes you and it's just great.
Q: What's your advice for student journalists?
A: Go do some journalism.
Q: In today's changing world of journalism, what is a core value that a student journalist needs to learn?
A: I think we get caught up with technology. So I think they need to focus on learning the basics, on reporting and writing. Also they need to work on their craft.
Q: What's your favorite part of being a journalist?
A: Telling stories and holding people accountable.
Q: Why did you become a journalist?
A: I can get paid to write and be nosey.
– Travis Nixon
Brelaun Douglas is a senior at Howard University pursuing a Bachelor's of Arts in Journalism. Her reporting has appeared in DC Spotlight News, The Trice Edney Newswire, and various other publications across the country.
Travis M. Nixon is a senior at Savannah State University majoring in Journalism and Mass Communications. He has served as a reporter for three years and will serve as the editor-in-chief of the school newspaper.