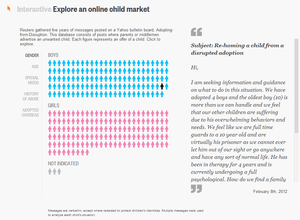 This week on IRE Radio we'll be taking you inside the 2013 IRE Awards with audio from some of the reporters, editors and producers who worked on prize-winning stories. View the complete list of winners here.
The Child Exchange
Members from the Reuters investigative team spoke at the NICAR conference about the 2013 IRE Award-winning story, "The Child Exchange."
Megan Twohey, Ryan McNeill, Janet Roberts, Robin Respaut, Charlie Szymanski, Matthew Weber, Maryanne Murray, Zachary Goelman, Jim Bourg, Troy Dunkley and Blake Morr all worked on developing the story.
Janet Roberts from Reuters explains how reporter Megan Twohey's story idea about international adoptions turned into an investigation into a child exchange on internet chatrooms and discussion boards.
Ryan McNeill explains how the Reuters team collected the data they needed for the groundbreaking story. He designed two different apps for the information they found: one app for data entry and another to view the emails.
You can read the award-winning story on the Reuters website here.