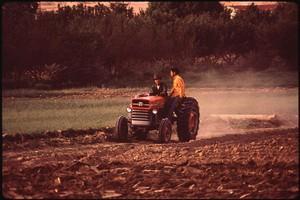 Navajo boys plow a corn field on the Navajo Reservation in Shiprock, New Mexico, date unknown. Photo from the National Archives and Records Administration.
Monday is the last day to register for an all-expenses paid reporting workshop on covering agribusiness from The Midwest Center for Investigative Reporting and Investigative Reporters and Editors, held May 30 to June 2 in Champaign, Ill. The workshop will bring together educators, reporters and editors from small-to-midsize newsrooms to hear and learn how to take an in-depth look at the issues surrounding agribusiness.
Why investigate agribusiness? Corporate agribusiness is growing each year. Agribusiness produces food, feed and fuel. Large firms employ tens of thousands of people and their sales net billions of dollars.
The issues involved in are many and diverse, including federal subsidies and crop insurance, farm worker conditions and immigration, antibiotics and food safety, pesticides and genetically-modified seed patents, to name a few. Curious what can and has been done? IRE has put together a few examples of investigations into agribusiness:
Anonymous tipsters often prompt Monsanto farm investigations | St. Louis Beacon, 2013
William Freivogel of the Midwest Center for Investigative Reporting reports on Monsanto's enforcement of its seed patents, and how the company has set up an anonymous tip line to find farmers who are infringing on its patents.
Beef's Raw Edges |The Kansas City Star, 2012
Veteran reporter Mike McGraw spent months on this story, uncovering that "The industry increasingly relies on a mechanical tenderization process, increasing E. coli risks. Meanwhile, doctors and USDA say antibiotic overuse is leading to resistant bacteria in humans. And with consumption down, beef is fighting back with efforts to influence U.S. dietary guidelines."
As Common as Dirt | Food and Environment Reporting Network/American Prospect, 2012
Tracie McMillan examines wage theft -- a practice rampant in agriculture unlike any other industry, and how the farm labor contractor system prevents oversight and robs farm workers of protection: "Farm-labor contractors give American produce growers what companies like China's Foxconn offer to Apple: a way to outsource a costly and complicated part of the business, often saving money in the process and creating a firewall between the brand and the working conditions under which its products are made."
What the USDA Doesn't Want You to Know About Antibiotics and Factory Farms | Mother Jones, 2011
Food and agriculture blogger Tom Philpott reports that the USDA scrubbed from its website research on antibiotics in food production and the rise of resistant bacteria, as well as ordered the researcher not to speak to the media. The report stated that "Use and misuse of antimicrobial drugs in food animal production and human medicine is the main factor accelerating antimicrobial resistance," a fact the industry resists.
Agriculture is nation's biggest polluter but usually goes unpunished | InvestigateWest, 2012
Robert McClure investigates hole in the Clean Water Act that allows agriculture to continue polluting: Forty years after Congress passed the Clean Water Act, the Lemire case highlights one of the biggest failings of this bedrock environmental law: farms are exempted from federal water-pollution regulation."
In Sugar Price Supports, Sour Tastes for Consumers | Florida Center for Investigative Reporting, 2012
Amy Green reports that Americans pay $2 billion in increased food prices every year as a result of the inflated price of sugar. "There has been a lot of tension between environmentalists and sugar growers in South Florida," she has said of her reporting. "But we don't realize the way food policy has affected all Americans."
Our Dwindling Food Variety | National Geographic Magazine, 2011
John Tomanio visualizes the thousands of heirloom varieties that have been lost -- 93 percent for the 66 crops included in a comparison of seed varieties sold by commercial U.S. seed houses in 1903 with those in the U.S. National Seed Storage Laboratory in 1983
Monsanto's Harvest of Fear | Vanity Fair, 2008
Reporting team Donald Barlett and James Steele investigate Monsanto's strong-arm tactics against small farmers: "Monsanto already dominates America's food chain with its genetically modified seeds. Now it has targeted milk production. Just as frightening as the corporation's tactics–ruthless legal battles against small farmers–is its decades-long history of toxic contamination"
Harvesting Cash | The Washington Post, 2006
Sarah Cohen, Dan Morgan and Gilbert Gaul spent more than a year examining farm subsidies, finding more than $15 billion in "wasteful, unnecessary and redundant spending."
Fraud on the Farm | NPR, 2005
In a series of radio reports, John Burnett explains how "federal crop insurance was created in the dust bowl days of the 1930s to help farmers survive the ravages of nature. But changes in the program have created a new type of farmer: one who farms only for the insurance money.