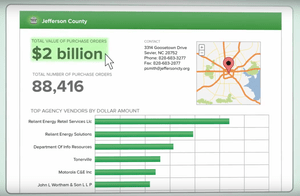 Today IRE is announcing a partnership with SmartProcure to provide IRE members discounted access to the largest government purchasing database. This database contains more than 237.79 million purchase orders from more than 10,000 local, state and federal government agencies in the U.S.
This partnership means IRE members can receive a subscription to SmartProcure for $39 per month. This is a 40 percent discount off SmartProcure's annual media subscription of $799, which is already reduced from the regular business subscription at $4,000 per year.
"At SmartProcure, we believe that millions of details are what really tell the story in local, state and federal spending. When the government purchases anything, the transaction is recorded in detail. It is this data that we believe should be fully transparent and aggregated online, and it should be available to government agencies, government suppliers, the media and all taxpayers. SmartProcure provides a quick and efficient way to find relevant data that can become actionable in a variety of ways. For the media, it is an unprecedented opportunity to follow the money," said Jeff Rubenstein, founder and CEO of SmartProcure.
"It is a massive undertaking to aggregate this amount of government data, but it is really the only way to get a fully transparent spending snapshot. Purchase orders make it possible to view line item descriptions, line item pricing, quantities, buyer information, seller information, dates, key contacts and a variety of other details. Making all of that data searchable allows you to filter by products, vendors, agencies price or location. Journalists provide such a profound service to the public. We are proud to provide IRE reporters with a research tool that they can trust to unearth the facts, verify information and build great stories."
What does this mean to you: As an IRE member, your subscription will give you "SmartSearch" access to SmartProcure. This includes unlimited searches in SmartProcure's database, government and vendor profiles and key contacts, email alerts for saved search updates and more.
To get a subscription: Current IRE members should send an email to smartprocure@ire.org. If you're not a current IRE member, you can join or renew here.
IRE already has a number of partnerships that provide benefits to members in addition to SmartProcure. These include: