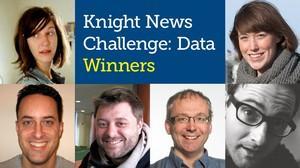 Three IRE members were awarded Knight Foundation grants that will create online resources for journalists.
The grants are part of six news innovations intended to improve access to information on local communities, air quality, elections, demographics and more that in total received $2.22 million as winners of Knight News Challenge: Data. The Knight Foundation said it sought ideas that make the large amounts of information produced each day available, understandable and actionable.
IRE member Joe Germuska of The Chicago Tribune and project partners John Keefe of WNYC and Ryan Pitts of The Spokesman-Review were awarded $450,000 to continue work on census.ire.org, which was originally built as a volunteer effort organized by IRE and funded by the Reynolds Journalism Institute.
Germuska said the team plans to add the American Community Survey (ACS) data, which includes information about income, occupation, education, veteran status, and quite a bit more. They will also improve the fundamentals of the site, designing more intuitive navigation, and developing a easier-to-understand "profile page" which will be the starting place for learning about any city, county, or other census geography. They also have a number of ambitious "stretch goals" for other tools which will make census-based reporting easier.
"US Census data can be intimidating, but it also is key to grounding stories in the facts about a place," Germuska said. "Our project will distill the accumulated expertise of veteran census reporters so that all journalists can more easily use this information."
IRE members Derek Willis of The New York Times and Serdar Tumgoren of The Washington Post were awarded $200,000 for their OpenElections project.
OpenElections will create the first comprehensive source of official election results.
"Finding consistent and accurate election results is too hard, with official returns scattered in different formats and locations among the 50 states," Willis said. "OpenElections aims to make it easier for journalists and developers to get what they need by identifying and organizing results in useful formats for federal and most statewide offices."
They envision the database will allow people who work with election data to download the information in various formats for data analysis or web applications and interactive graphics. It will also allow for the possibility linking election results with other existing databases.
IRE will serve as the fiscal agent on both grants.