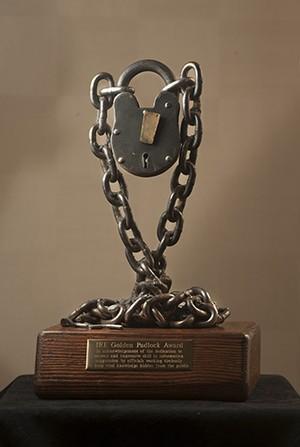 The Golden Padlock Award. Photo: Travis Hartman
Investigative Reporters and Editors is now welcoming nominations for its second annual Golden Padlock award recognizing the most secretive government agency in the United States.
"This award acknowledges government officials across the country who excel in the art of suppressing public information," said David Cay Johnston, president of IRE. "Undermining the public's right to know can be tireless work. We seek out the very best to be broadly recognized with this honor."
Nominations should be emailed to goldenpadlock@ire.org including the name of the government department or individual along with reasons and/or media coverage detailing the intransigence. Entries must be submitted to IRE by May 16.
Last year's inaugural Golden Padlock winner was the U.S. Border Patrol for refusing to make public the details of use-of-force incidents involving its agents. Despite a string of fatal incidents in which Mexicans have been shot and killed by agents along the Southwest border, the country's largest law-enforcement agency routinely refused to disclose the names of agents involved and repeatedly stonewalled FOIA requests on the incidents.
Governments at all levels — from local to federal — are eligible for the award. A list of finalists will be announced in June and the award will be handed out at IRE's national conference.
The winner will be invited to attend the award ceremony. This year's conference is June 26 - 29 in San Francisco.
For further information, contact IRE Executive Director Mark Horvit, at 573-882-1984.