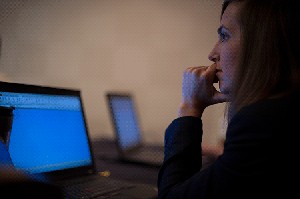 Erica Proffer, KRGV-TV, listens during a hands-on class at the 2013 IRE Conference.
Get skills to help you dig into your next story with hands-on classes at IRE in San Francisco. If you're looking to get your feet wet with spreadsheets or level up to mapping, we've got you covered. You'll find classes at the IRE Conference that will help you do all of this and more:
Liberate data from pesky PDF files
Analyze large amounts of information quickly with spreasheets and database managers
Turn addresses into mapable points
Give your data a makeover with clean-up tricks in spreadsheets and OpenRefine
Make maps with Fusion Tables and ArcGIS*
Make your breaking news coverage shine with searchable databases
Discover the power of programming for data wrangling
Conquer common problems in Excel
Get data from other sources into spreadsheets
*Our three-class series using GIS software will give your mapping skills a jumpstart. Those who attend all three sessions will receive a free copy of ArcGIS Desktop from Esri. Preregistratioin for the three-class mapping series is required and will be open at the conference. Stay tuned to the conference schedule for more details.
Seating is limited all classes are first-come, first-served.
More about IRE 2014