Surviving rickshaw "bumper cars" and helping local journalists gain data analysis tools were all in a week's work for IRE Executive Director Mark Horvit and Training Director Jaimi Dowdell, who recently returned from Dhaka, Bangladesh.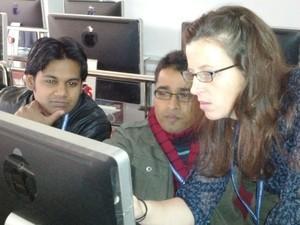 "What was nice about the training was how quickly a lot of the journalists seemed to see the value of using the tools," Horvit said. "Several of them were already talking about potential story ideas or ways they could use this to go back and do stories."
The training was similar to IRE's computer-assisted reporting seminars conducted in the the U.S. Horvit and Dowdell helped about 30 journalists learn how to use Excel, advanced Google search, international websites and even U.S. FOIA laws to write their own stories. The training came at an opportune time, considering Bangladesh's media industry is booming and a new "right to know" law is in effect.
Before the training began, Horvit and Dowdell were taken on a tour by Ralph Frammolino, a former Los Angeles Times reporter and IRE member, who organizes trainings for journalists in Bangladesh. Frammolino organized the training, working with the World Bank Institute and the Canadian International Development Agency. On the tour, they visited the historic 'Old Dhaka' area, including centuries-old buildings, a mosque, medical facitlies and small "factories" where umbrellas and soap were made.
To understand the pace of life in Dhaka, it was important to see the older part of town where more Bangladeshis lived, Dowdell said.
As a newcomer, the traffic jams and pulse of the city were surprising, she said.
"One rickshaw would come up and ram the one in front of it," Dowdell said. "I think they were doing it on purpose, it was like let's go, let's go, let's move."
The training, held at American International Univerity-Bangladesh, drew attendees from throughout the sprawling city.
"The journalists were much more open to what we were teaching than I thought they might be," Horvit said, "and that is a testament to their desire to be able to do better work."
They are ready to dig into data and search for stories despite how risky it can be to write negative stories about government officials, he said.
In 2009, the Bangladesh Right To Information Act was issued, but journalists and officials are still determining the de facto boundaries.
"They kept saying there is no information available; it's definitely a different world than we deal with as far as access to information," Dowdell said. "The fact is, if you don't push the law, you don't know if you can get it," she told them.
At the training Horvit and Dowdell were able to teach the journalists how to access information about Bangladesh from the U.S. government using FOIA laws. They also pointed out international websites, such as, ujima-project.org, un.org and worldbank.org for gathering international data. The group particularly liked a site on the U.N.'s website that tallied urban population growth through 2025.
Growth and money trails were most important to the trainees.
For one assignment, Horvit and Dowdell asked the journalists to analyze data from the Ministry of Communication's budget. They noticed that funding for road construction had been cut even though Dhaka is bursting at the seams.
The journalists also came up with story ideas after finding out that officials' real salaries were 44 percent higher than proposed salaries while staff's real salaries were 7 percent less than proposed salaries.
There is plenty of investigative reporting to be done and the media industry is growing to take on the job. One reporter at the training came from a newspaper that was less than a year old, the Daily Sun, and there were multiple TV stations opening, Horvit said.
"I was part of taping for a TV show about the future of investigative reporting in Bangladesh," he said.
At the end of the training, Dowdell told the journalists they now know things that the average journalist in the U.S. doesn't. "They burst into applause," she said.
Johanna Somers is a graduate student at the University of Missouri School of Journalism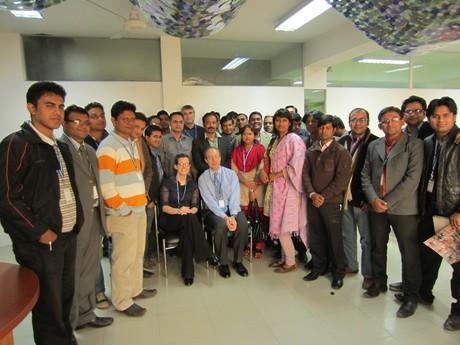 (From top) Photo 1: Training Director Jaimi Dowdell helps journalists work on data analysis using Microsoft Excel.
Photo 2: Twenty-nine Bangladeshi journalists took the three-day computer-assisted reporting course.
Photo 3:
Executive Director Mark Horvit details recent examples of computer-assisted reporting.
Journalists listen as Dowdell and Horvit explain advanced Google searches.