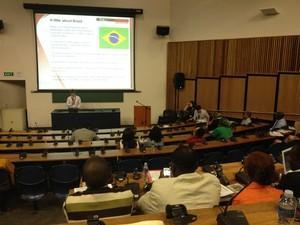 By Megan Luther
African journalists face different reporting barriers than their colleagues in the U.S., yet they share the desire to learn investigative techniques.
IRE traveled to Johannesburg, South Africa at the end of October to train reporters at the annual Power Reporting: The African Investigative Journalism Conference.
More than 200 journalists attended the three-day conference, which included typical sessions such as hands-on Excel training, but also addressed the risks that some journalists face.
The Dangers
Freedom of the press takes on a different meaning in Africa. Journalists have been murdered, exiled and imprisoned for publishing the truth.
Somalia remains the most dangerous country on the continent for journalists. To date, 17 journalists have been murdered this year -- the deadliest on record in Somalia. A Somalian radio journalist died on Oct. 28 from gunshot wounds, according to Afrik-News.
At supper, a Nigerian journalist casually talks about having both legs broken and serving time in jail for his reports
In some countries, defamation is criminal and even if reports are true, journalists face jail time.
Amazingly, conference attendees are eager to learn the latest techniques on how to dig deeper and produce even more impactful investigative stories.
Open Records
The majority of countries in Africa do not have open records laws. Ten of the 54 have access to information laws, but like Western countries the key is that governments abide by the laws.
Impactful Investigations
One of the presenters was Ghana journalist Anas Ameyaw Anas, who is known for his undercover work. Anas wore a mask during his conference presentation about his latest investigation into a doctor performing abortions and raping his patients.
Anas went undercover and placed a hidden camera in the exam room.
The three-month investigation captured the doctor raping more than 50 patients, usually in the middle of the abortion.
Anas' TV news story included graphic video of a blue bucket full of blood, close-ups of the womens' vaginas during the abortions and footage of the doctor raping his patients. The doctor was subsequently arrested.
There is some great investigative work being done on the continent. From a free-trade cocoa investigation to an in-depth look into Somali pirates, the investigations have world-wide impact. With such talented journalists learning even more investigative techniques last month, it's an area to watch.