Megan Luther joins IRE today as the newest member of our training team. She will work with training director Jaimi Dowdell to run our workshops, in-newsroom training and other initiatives.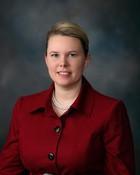 Megan has worked in radio, TV and most recently, newspapers. Before she joined IRE, Megan was a government reporter for the Argus Leader in South Dakota and a computer-assisted reporting specialist for The Atlanta Journal-Constitution. Previously, she worked at IRE and NICAR in the Database Library while completing her master's degree at the University of Missouri.
Her investigations included abuse of government credit cards, farm subsidies and a loophole that allowed repeat drunk drivers to be classified as first-time offenders, which prompted legislative change.
Megan and Jaimi will share on-the-road training duties, running our workshops and seminars. They will also be available for in-newsroom training that can include CAR training, reporting strategies, consulting on story ideas and open records issues. Megan takes over for Doug Haddix, who left IRE to serve as director of the Kiplinger Program in Public Affairs Journalism.
Megan can be reached at megan@ire.org.