Wireless network and password
Wireless internet is available throughout the meeting space thanks to Raycom Media. Join the network IRE17 and follow the steps to enter the access code: Raycom.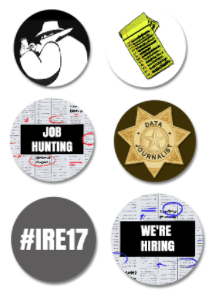 Look for IRE Conference buttons
At the registration desk: All attendees can pick up an #IRE17 button when checking in.
At the Tipsheets & Reprints table: To make networking a little easier, we made special buttons for job hunters and news organizations that are hiring. First-time attendees can wear a special button inspired by Washington Post reporter David Fahrenthold's investigation into Donald Trump's charities.
In the hands-on classrooms (Pinnacle Peak): Attend a hands-on class and you'll earn a data journalist sheriff's badge button.
At sales: Show your support for IRE. Make a donation to IRE while you're in Phoenix, and then swing by sales to pick up an investigator button.
Tipsheets and presentations
Speakers: Please send your tipsheets and other presentation materials to tipsheets@ire.org so we can add them to the IRE website.
The Diversity Dilemma (Hosted by CNN)
Friday, June 23 at 9 a.m. in Grand Sonoran E
Why is there a shortage of diversity among investigative journalists in the industry? What can be done about this dilemma? How do you find and develop more diversity: women and journalists of color? It's never been more important to make sure your newsroom is reflective of America. Learn the importance of mentorship, and developing innovative strategies and initiatives.
Facebook Journalism Project: Local News Initiative (Sponsored by the Knight Foundation)
Friday, June 23 from 10:30 - noon in Grand Sonoran A
What are the next steps with Facebook's efforts with the Knight Foundation and Lenfest Foundation to work with local journalism organizations? We'll hear about the role that the Institute for Nonprofit News (INN), Local Independent Online News (LION), the Detroit Journalism Collaborative and the Center for Cooperative Media at Montclair State University will play in working with Facebook to open training opportunities and experimentation to smaller, independent news organizations, and the listening that Facebook is doing as it develops features aimed at users' interaction with local news.
Diversity Mixer hosted by USA TODAY NETWORK, The Arizona Republic and azcentral.com
Friday, June 23 from 5-6:30 p.m. at Twenty6 Lounge
Please join us during the 2017 IRE Conference for networking and free appetizers at a recruiting mixer. We want to invest in more diverse talent to help strengthen our newsrooms and coverage. Come to meet investigative journalists from across the country, stay for the free food for the first 50 people. Everyone is welcome! USA TODAY NETWORK shares investigative journalism across the nation through local media outlets in 109 markets, including in Arizona, where The Republic is the state's largest newspaper and news website. This event is organized by The Republic's Diversity Committee, a group of journalists from all parts of the newsroom who work to ensure our coverage better reflects the diversity of people and communities in Arizona. You'll be able to spot committee members at the mixer by their name tags. Say hi!
Special training by Tableau
Don't miss these four free training opportunities with Tableau on Thursday:
Interactive data graphics in Tableau Public
Show where the story is happening with maps in Tableau Public
Finding and telling data stories with Tableau Public
Overview of data journalism curriculum for universities