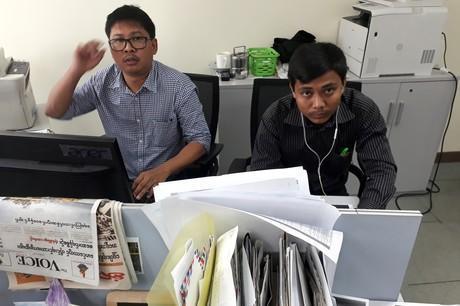 Wa Lone and Kyaw Soe Oo of Reuters
Two Reuters journalists, arrested while reporting on human rights abuses in Myanmar, have been selected as recipients of the Don Bolles Medal from Investigative Reporters and Editors (IRE).
The Don Bolles Medal recognizes investigative journalists who have exhibited extraordinary courage in standing up against intimidation or efforts to suppress the truth about matters of public importance.
Wa Lone and Kyaw Soe Oo have been imprisoned since December 2017.
"These two dedicated journalists were interested in one thing: the truth," IRE President Matt Goldberg said. "The pursuit of the truth should never be a crime, in Myanmar or in any country."
At the time of their arrest, Wa Lone and Kyaw Soe Oo were investigating the September 2017 massacre of 10 Rohingya Muslim men and boys in Myanmar's Rakhine state. The murders occurred during an army crackdown that the United Nations said has sent 700,000 people flooding into Bangladesh.
The two journalists were accused of "illegally possessing confidential government documents" after two police officers invited them to dinner and handed them a stack of rolled-up papers.
A police captain has testified that officers had been ordered to "trap" Wa Lone.
"I should be in the newsroom," Wa Lone said during a February court appearance. "I am a journalist. I never did anything wrong."
Formed in 1975, IRE is a grassroots nonprofit organization dedicated to improving the quality of investigative reporting around the globe.
The Don Bolles Medal was created last year in conjunction with the 40th anniversary of the Arizona Project, an effort led by IRE to finish the work of Don Bolles, an Arizona Republic investigative reporter who was killed in 1976 by a car bomb.
Bolles' death came a few days before the first national IRE conference in Indianapolis, where the veteran reporter had been scheduled to speak on a panel. At the time, Bolles had been investigating allegations of land fraud involving prominent politicians and individuals with ties to organized crime.
After his murder, nearly 40 journalists from across the country descended on Arizona to complete his investigation. News organizations across the country published their findings.
Their message: Even if you kill a reporter, you can't kill the story.
"This year, our message is that you cannot lock up journalists, in an attempt to hide the truth, without the world taking notice," said Phil Williams, chair of IRE's public engagement committee.
The Don Bolles Medal will be accepted June 16 by Reuters representatives during the annual IRE national conference in Orlando.