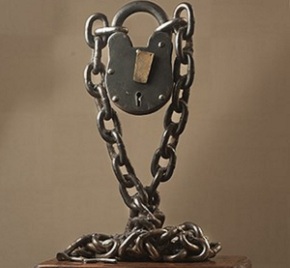 Investigative Reporters and Editors has named Michigan State University as the winner of its annual Golden Padlock Award recognizing the most secretive U.S. agency or individual.
MSU was selected for this national honor for keeping sweeping sexual assault scandals under tight wraps, including serial abuse by disgraced team doctor Larry Nassar and hundreds of student complaints against faculty, staff and students. Last year, the attorney general's special counsel accused the university of trying to "stonewall" the Nassar investigation, saying MSU officials were disingenuous in their commitment to transparency by issuing misleading public statements and withholding key documents. That secrecy reached well beyond Nassar's case.
Last year, MSU officials refused to release records detailing whether 38 of its top officials faced misconduct investigations, the Lansing State Journal reported. MSU also fought to withhold names of athletes in campus police records until a 2015 state supreme court ruling awarded ESPN the records.
In a separate 2017 case, MSU took the remarkable step of suing ESPN in response to a similar request for police reports involving student athletes. The lawsuit was dismissed when a judge concluded the lawsuit could "dissuade persons from making FOIA requests...out of fear of being sued by a public body."
"The secrecy tactics employed by MSU to hide the exploitation and abuse of students under its care were sophisticated and effective," said Golden Padlock committee chair Robert Cribb. "Hiding hard truths and undermining the public's knowledge of a national tragedy in an effort to protect the university's reputation has distinguished MSU as a worthy recipient of this honor."  
IRE invited MSU officials to attend the 2019 IRE Conference and receive the honor. No response was received.
"Sadly, we had a lot of competition for the Golden Padlock Award again this year," IRE Executive Director Doug Haddix said. "As long as officials keep taking extreme measures to suppress information, we'll keep calling them out for their blatant disregard of the public trust."
Golden Padlock judges also awarded a special "Local Padlock" recognizing government secrecy in Houston, the location of the 2019 IRE Conference. Former Houston Mayoral Press Secretary Darian Ward received the honor for spending time on the city's payroll working on side projects — including reality TV show pitches — instead of answering reporters' questions. She also tried to hide her emails, which showed she was distracted with priorities that had nothing to do with serving the people of Houston, from public release. After the news broke, Ward resigned and later pleaded guilty in court to conducting personal work on the taxpayer's dime and was granted probation. IRE notified Ward of the prize but did not hear back from her.
To learn about the 2019 finalists, click here.
FINALISTS
Michigan State University

Former Houston Mayoral Press Secretary Darian Ward

Massachusetts Justice Officials

New York City Economic Development Corporation (NYCEDC)

Mine Safety and Health Administration (MSHA)

Former Alabama Attorney General Luther Strange

Charleston (S.C.) County School District
JUDGES
Rob Cribb, The Toronto Star — Committee Chair

Andrew Ba Tran, The Washington Post

Nicole Carr, WSB-TV

John Tedesco, Houston Chronicle

Katie Townsend, Reporters Committee for Freedom of the Press

Jodi Upton, Syracuse University
CONTACT:
Robert Cribb, Golden Padlock committee chair: 416-579-0289; rcribb@thestar.ca
Doug Haddix, IRE Executive Director: 573-882-1984; doug@ire.org