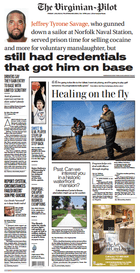 The Virginian-Pilot reports that investigators are trying to figure out how Jeffrey Tyrone Savage, a 35-year-old truck driver with a violent criminal record, accessed the Navy's largest base.
Savage Monday night climbed aboard the guided missile destroyer Mahan, disarmed a guard and used the weapon to kill a sailor who tried to intervene.
According to the Pilot:
"Savage had a valid Transportation Worker Identification Credential, commonly known as a TWIC card. The TWIC program was created by the Department of Homeland Security primarily to ensure security at civilian marine terminals, but the government ID can also be used to access military bases.
To get a TWIC card, a worker must provide personal information, including fingerprints, and pass a background check conducted by the Transportation Security Administration. More than 2 million people nationwide hold valid TWIC cards.
Some felonies disqualify applicants from receiving the security pass, but manslaughter is not listed among them. Savage's drug conviction might have disqualified him had it happened within the past seven years, according to TWIC guidelines."
Read the entire story here.