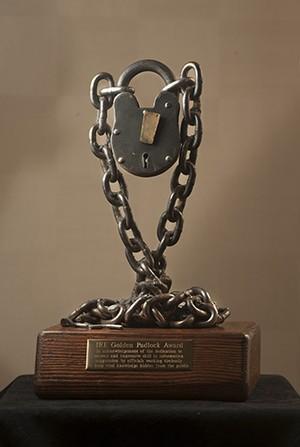 Investigative Reporters and Editors is now welcoming nominations for its annual Golden Padlock award recognizing the most secretive government agency in the United States.
"The techniques of government secrecy have been elevated into high art by determined civil servants," said Robert Cribb, chair of the Golden Padlock committee. "This award brings well-deserved recognition to those who have distinguished themselves with ingenious creativity in denying the public's right to know."
To nominate an agency, please fill out this short form. You'll be asked to provide the name of the government department or individual, your reasons for nominating, and links to media coverage or documents detailing the intransigence. Entries must be submitted to IRE by Sunday, April 30.
The Department of Veterans Affairs won the 2016 Golden Padlock Award for withholding records about the qualifications of medical staff who evaluated thousands of veterans for potential brain injuries following service to their country.
Previous winners also include:
The Massachusetts State Police for habitually going to extraordinary lengths to thwart public records requests, protect law enforcement officers and public officials who violate the law, and block efforts to scrutinize how the department performs its duties.
The U.S. Navy FOIA office for its commitment to keep documents and images from a navy yard massacre from public view and the governors of Oklahoma and Missouri for their dedication to secrecy around execution records.
The U.S. Border Patrol won the inaugural Golden Padlock award in 2013 for refusing to make public the details of use-of-force incidents involving its agents.