Help us remember David Donald at the 2017 CAR Conference
Join us in Jacksonville on Friday, March 3, at 6:15 p.m. in River Terrace 1 for a brief tribute.
Elena Egawhary was terrified. She stood before a classroom of journalists, most older and more experienced, at the Centre for Investigative Journalism summer school in 2008. Her task was to teach them the basics of data journalism. Her hands shook, and she felt nauseous. She had written a script to follow, so she wouldn't forget her words.
Egawhary stumbled through the class with a trembling voice. At the end of the class, she felt deflated, sure that she wouldn't be able to teach the next group.
But the smiling face at the back of the room didn't let her give up. David Donald, who'd been observing some of Egawhary's first attempts at teaching, enveloped her in a hug and told her to relax. She just needed to be herself.
David had been the first person to draw Egawhary to data journalism. The summer before, when Egawhary was fresh out of graduate school, he had patiently walked her class through the basics. She remembered how his wry sense of humor and his infectious passion for data journalism inspired and engaged her and her classmates. A year later, he taught her to find her own voice as a teacher.
And she did. Her next class went smoothly. With David's guidance, Egawhary came to love teaching.
David Donald's friends, mentees and colleagues brim with stories like Egawhary's. "He always gave you the advice that was the best advice for you," said Brant Houston, former executive director of IRE and a journalism professor at the University of Illinois Champaign-Urbana.
David passed away on Dec. 10, 2016, at the age of 64, after a yearlong battle with cancer. He was a life-changing teacher, an award-winning reporter and a careful mentor. A pioneer for data journalism, David helped spread the practice across Europe. From his time as training director for IRE to his work as data editor for the Center for Public Integrity, David, in his quiet and humble way, touched the lives of an entire community.
"He was rare, he was exceptionally rare," Egawhary said. "He was so humble, I never felt that he was celebrated as he should have been when he was here."
A teacher from the very beginning
Current and former Center for Public Integrity staff members gather at the 2014 CAR Conference in Baltimore. David Donald worked at CPI as data editor, overseeing data analysis and computer-assisted reporting. (Photo by Travis Hartman)
David was born in Cincinnati, Ohio on June 5, 1952. He received his bachelor's degree in English from Miami University in Ohio in 1974 and his master's degree in English from Cleveland State University in 1980. His thesis was a book of original poems. He worked as a high school English teacher for three years and as an outdoor gear salesman for ten. "Even as a salesperson, he was a teacher," his wife, Joyce Donald, said.
He met Joyce in 1981 on a blind date after returning from a climb on Mount Rainier. A year later, they were married and in 1987 their son Ryan Donald was born. "He was a devoted father and a wonderful family man," Joyce said. "Family was paramount."
It wasn't until his late 30s that David embarked on the journalism career that changed the lives of so many. "He said he wanted to get back to his words," Joyce said.
David, his wife and his then 5-year-old son left Ohio, and David began working as an education reporter at the Savannah Morning News, where he worked for 11 years and eventually became research and projects editor. In 1997, he received his master's in journalism from Kent State University.
In 2004, David began working as training director at IRE.
"It was so clear that he was a terrific teacher," said Houston, who hired David to work at IRE. "I joked that if he could teach high schoolers, then he could definitely teach journalists."
David began traveling the country and the world teaching journalists the basics of computer-assisted reporting. Aron Pilhofer, who teaches journalism at Temple University, co-taught with David for years, mostly at CIJ conferences in London. "He would teach a lesson for the 10,000th time and it was like he was discovering the material all over again with everyone in the class, and that's infectious," Pilhofer said.
David's demeanor as a teacher could be boiled down to one word: patient.
Rock-solid data analysis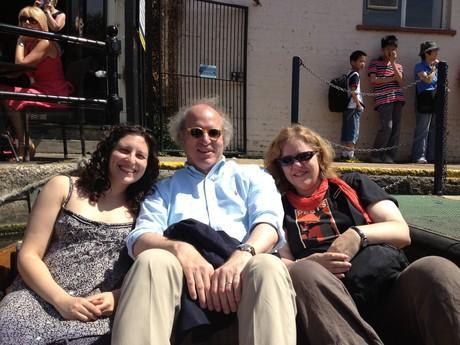 After the 2013 Centre for Investigative Journalism Conference in London, Elena Egawhary took a group "punting" on the River Cam in Cambridge. The trip was followed by tea and scones. Pictured: Elena Egawhary (left), David Donald and Jennifer LaFleur (right). (Photo courtesy of Jennifer LaFleur)
After leaving IRE in 2008, David went to work as data editor at the Center for Public Integrity, one of the country's largest non-profit investigative news organizations. There he collaborated on several award-winning investigations, including one into Medicare payment irregularities that won two Philip Meyer Awards, and a Peabody Award-winning series about campus sexual assault.
David's list of journalism accolades is long: In addition to the Philip Meyer Awards and the Peabody, he earned a Tom Renner Award, an IRE Award, a James K. Batten Award, a Dart Award and a Robert F. Kennedy Journalism Award.
"He helped us produce rock-solid data analysis that nobody questioned, even though it was entirely original," said Kristen Lombardi, a senior reporter at CPI who collaborated with David on the campus sexual assault series. Without David's diligence, expertise and willingness to collaborate, she said the series would not have had the impact or the success it achieved.
"He loved really big, really hard data analysis projects," said Jennifer LaFleur, a senior data editor at Reveal from the Center for Investigative Reporting. "The stuff they did with Medicare at CPI, most people don't have the capacity to dig into that kind of stuff."
Methodical and patient, David worked side-by-side with some of the country's best investigative reporters to break life-changing data stories. "He was a phenomenal example of how to behave as a journalist," said Maggie Mulvihill, a journalism professor at Boston University.
Mulvihill first met David while taking his Excel class at an IRE training. She attributes her focus on data journalism to David. "He cared deeply about his stories, and it was always about the work and not about his own self blandishment."
In 2014, David left CPI and returned to teaching at American University's Investigative Reporting Workshop. There he taught, mentored and worked as data journalist in residence. Liz Essley Whyte was one of his students. She barely knew him, but when she asked him for career advice, he didn't just offer her a few words of wisdom.
"He came to where I worked and sat down with me," Essley Whyte said. "He offered really clear advice and a willingness to mentor." Essley Whyte is now a reporter at the Center for Public Integrity.
Chuck Lewis, founder for the Center for Public Integrity and current executive editor for the Investigative Reporting Workshop, hired David at American.
David and Lewis would go out for dinner and, over glasses of wine, talk about everything from the Cleveland Indians to the meaning of life to poetry and literature. Lewis would scribble notes on the placemat while they worked through big, ambitious ideas about the future of journalism.
"So many parts of his brain were in full gear, but his demeanor was laid back and friendly and warm," Lewis said. "When people are that cerebral and thoughtful, they are not that personal. In my view, he was brilliant. He was also warm and sensitive. That's really rare."
Erin McKinstry is a graduate student studying investigative reporting at the University of Missouri-Columbia. She works as a graduate assistant at IRE, contributing to the website and podcast. Erin is also a reporter for KBIA, the local NPR station in Columbia, Missouri.