Ron Nixon, global investigations editor for The Associated Press and a longtime IRE member, will be the keynote speaker at the IRE21 virtual conference in June.
The conference will include several other featured speakers who will talk about their experiences covering the pandemic, social justice protests, Asian-American hate, international corruption and more.
As the keynote speaker, Nixon embodies the spirit of IRE through his commitment to mentorship, training and volunteering with the organization.
"The board is excited to have chosen Ron as the keynote for this year's annual conference," IRE Board President Cheryl W. Thompson said. "Whether it's mentoring younger IRE members or pitching in on a panel, Ron has contributed so much to this organization over the years. And his commitment to diversity is unwavering. We look forward to his inspiring message."
Nixon joined the AP in early 2019 as international investigations editor, managing a team of investigative reporters in the U.S. and abroad. He was promoted to global investigations editor in March 2020.
Nixon has a passion for training and mentoring other journalists. He was training director at IRE from 2000 to 2003 and also is co-founder of the Ida B. Wells Society, which trains journalists of color in investigative techniques.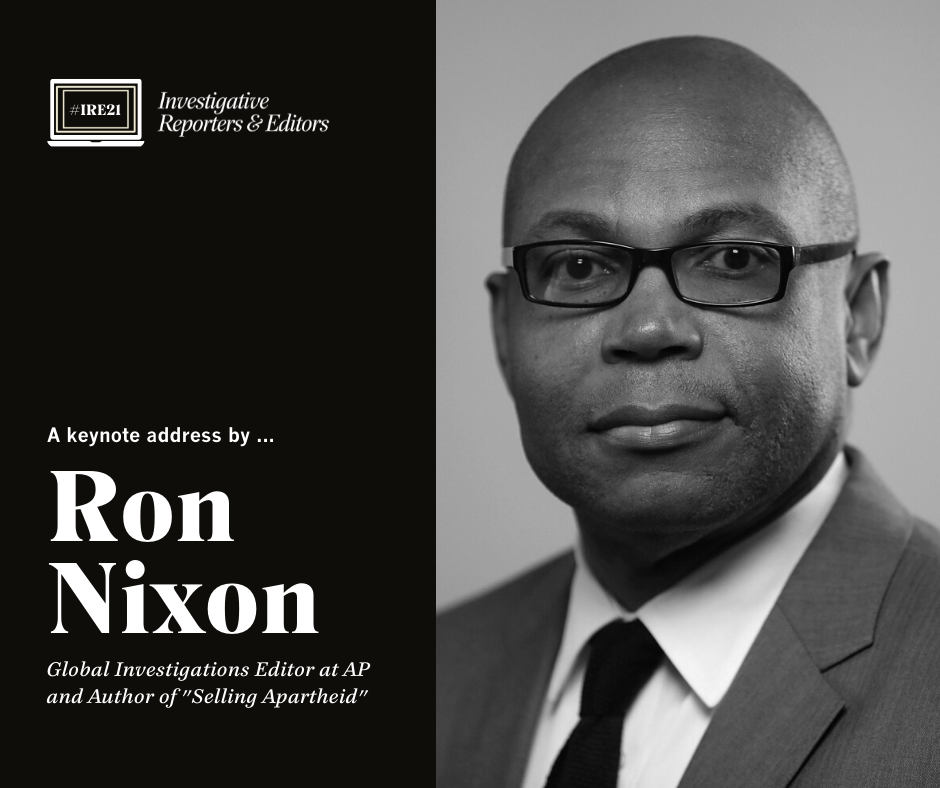 He started his journalism career at South Carolina Black Media, a statewide weekly Black newspaper, and also has worked as data editor at the Minneapolis Star-Tribune and as environment and investigative reporter at The Roanoke Times in Virginia.
Prior to joining the AP, Nixon was homeland security correspondent for the New York Times. He has reported from Mexico, Belgium, Rwanda, Uganda, Senegal, South Africa, Nigeria and the Democratic Republic of Congo, among other places. He is author of the book "Selling Apartheid: South Africa's Global Propaganda War."
He has won numerous accolades during his career, including most recently the News Leader of the Year Award, the Worth Bingham Prize for Investigative Journalism, Virginia Press Association Public Service Award and the National Association of Black Journalists Salute to Excellence Award.
FEATURED SPEAKERS