IRE's Don Bolles Medal for 2022 has been awarded to two Russian investigative journalists whose commitment to exposing corruption by Russian dictator Vladimir Putin and his regime led to them being forced to flee their homes to avoid imprisonment.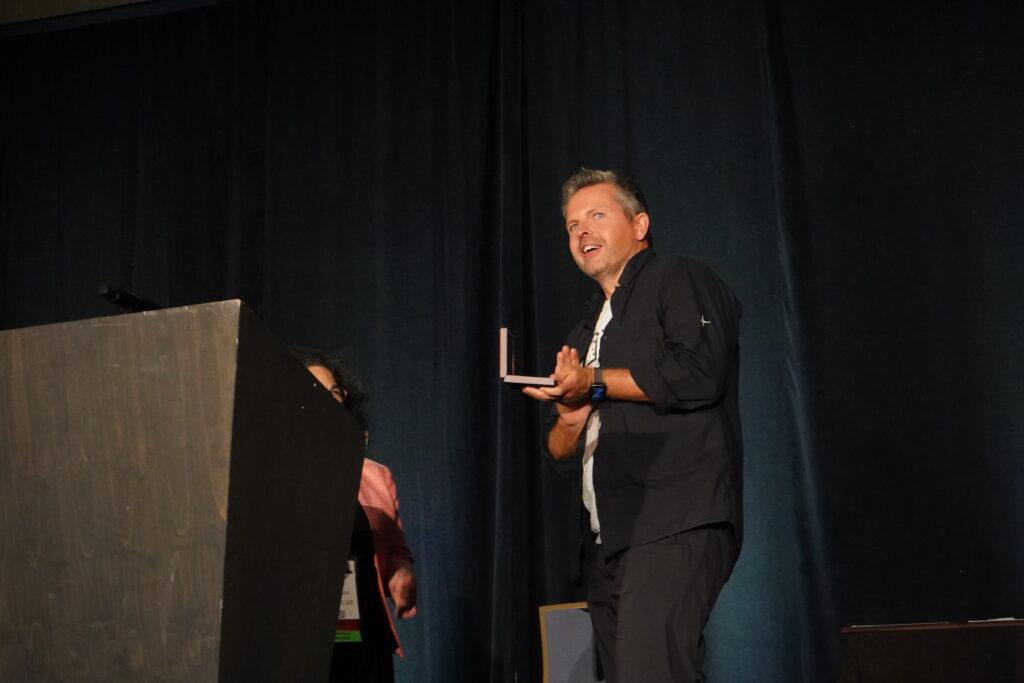 This year's recipients are Roman Anin, founder and editor of iStories, and Roman Badanin, founder and editor of Proekt. Both were subjected to raids of their homes in 2021, eventually forced to leave Russia in order to continue their investigative journalism.
The Don Bolles Medal recognizes investigative journalists who have exhibited extraordinary courage in standing up against intimidation or efforts to suppress the truth about matters of public importance. 
"Putin has not only attacked Ukraine, he has also declared war against journalism and the truth," said IRE President Mark Walker. "In recognizing Roman Anin and Roman Badanin, IRE stands with them and other Russian investigative journalists who have been targeted by the Putin regime. Journalism is not a crime, and journalists should never be treated as criminals."
In April 2021, Federal Security Service agents raided the home of Roman Anin, as well as the editorial offices of iStories ("Important Stories") in apparent retaliation for the news outlet's reporting on the inexplicable wealth of Igor Sechin, head of the state-owned oil company Rosneft. Anin was interrogated about iStories' use of Instagram photos showing Sechin's ex-wife aboard a yacht valued at up to $180 million.
Anin has also worked on cross-border investigations with the Organized Crime and Corruption Reporting Project (OCCRP) and the International Consortium of Investigative Journalists (ICIJ) since 2009.
The investigative journalist was out of the country on vacation when he got word that it was not safe for him to return to Russia.
"Some sources told me that there was a big risk if I came back, that they would arrest me on the border because this criminal case, the searches were just the pretext for a broader investigation against me," Anin said.
In June 2021, authorities raided the homes of Roman Badanin and other members of his Proekt team as they prepared to publish an investigation into corruption allegations surrounding Russia's interior minister.
Proekt became the first independent news organization to be labeled by the Russian government as "undesirable," forcing Badanin to seek refuge in the U.S.
Anin's iStories received that same branding earlier this year.
"To be undesirable in Russia is to be public enemy," Badanin said. "Any kind of activity of an undesirable organization on the ground in Russia is completely banned, and every person who collaborates with an undesirable organization in any form can go to prison – sometimes immediately."
Both men are now continuing their investigative reporting on Russia from outside the country.
Former IRE Board member Phil Williams, who has spearheaded the nomination process for the Don Bolles Medal, said the selection of Anin and Badanin is a statement of solidarity with them and other Russian investigative journalists.
"Putin is known for his 'long arm' reputation for silencing his critics," Williams said. "With the Don Bolles Medal, we send the signal that the world is watching."
The Don Bolles Medal was created in 2017 in conjunction with the 40th anniversary of the Arizona Project, an effort led by IRE to finish the work of Don Bolles. The Arizona Republic investigative reporter was killed in 1976 by a car bomb in retaliation for his reporting.
Bolles' death came a few days before the first national IRE conference in Indianapolis, where the veteran reporter had been scheduled to speak on a panel. At the time, Bolles had been investigating allegations of land fraud involving prominent politicians and individuals with ties to organized crime.
After his murder, nearly 40 journalists from across the country descended on Arizona to complete his investigation. News organizations across the country published their findings.
Their message: Efforts to suppress the truth will be met by even greater efforts from the rest of the journalism community to tell it.