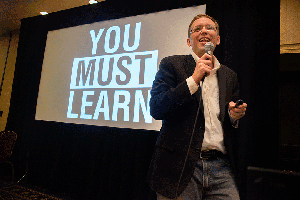 Lightning Talks are back for CAR 2015 in Atlanta!
Got an idea for a talk? Pitch your idea by Feb. 15 at lightningtalks.ire.org.
Lightning Talks are 5-minute presentations on topics wide and varied. NICAR attendees can submit and vote on the talks, and the 10 with the most votes will be presented on Friday, March 6 at 4:30 pm.
Need some inspiration? Watch the 2013 and 2014 Lightning Talks.
Still not convinced? Read this piece by 2015 Lighting Talks moderator Sisi Wei.
A note for Lightning Talk veterans: We've added a new rule about the number of consecutive years a person can present. It won't prevent anyone from pitching a talk this year, but it could potentially affect speakers in 2016. Learn more on the Lightning Talks page.