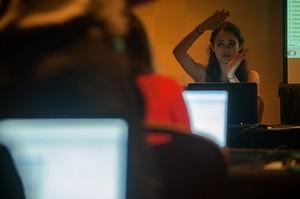 The IRE Conference in San Francisco is only a few months away. Here are a few things to consider as you make your travel plans:
Expected Speakers and Sessions
The best in the business will gather for panels, hands-on classes and special presentations about covering business, public safety, government, health care, education, the military, the environment and other key beats. Still on the fence? Check out our lists of expected speakers and sessions. More names and titles will be added as the conference approaches.
Baseball Tickets
Grab your friends and enjoy a night cheering on the San Francisco Giants vs. the Cincinnati Reds on Friday, June 27. Game time is 7:15 p.m. at AT&T Park. Ticket sales end Wednesday, May 21. Your purchased tickets ($26 each) will be available for pick-up beginning Thursday, June 26 at the IRE Conference sales desk.
Tickets are limited, so place your order now.
For any questions, please email Stephanie Sinn, stephanie@ire.org or call 901-286-7549.
IRE Mentoring Program
The IRE Conference offers an opportunity for in-depth, one-on-one coaching on investigative reporting. These private sessions allow attendees to seek advice on challenging stories or follow-up ideas.
IRE pairs those who signed up with a mentor, and contact information is provided to both mentors and those who want to be mentored. Mentors and mentees can then agree on a time and place to meet at the conference.
Register now for the 2014 IRE Mentoring Program.
Find a roommate for IRE14
Looking for a roommate for the conference? Post your information in our Google Doc. Please include your name, contact info, gender, smoker (y/n) and when you're arriving and leaving. Once you find a roommate, please delete yourself from the list.
IRE Conference Fellowships/Scholarships
IRE makes available fellowships and scholarships to allow professional journalists or students the opportunity to attend training events. Fellowships typically include a one-year IRE membership, conference or seminar registration fees, and reimbursement for hotel and travel expenses. Applications are due 30-60 days before the event. Apply now.
The David Dietz Fellowship
This fellowship is available to applicants who have a demonstrated interest in financial investigative journalism and who have fewer than 10 years' professional experience. Recipients will be invited to attend the annual IRE Conference. In honor of Dave's commitment to mentoring younger journalists, the winner of the fellowship will also be enrolled in IRE's mentorship program. Apply by May 26.