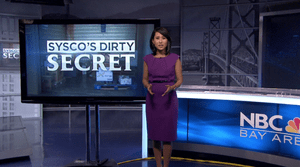 A tip from a source prompted the NBC Bay Area team to launch a major investigation into Sysco Corporation, the world's largest food distributor.
Using a wide variety of cameras and surveillance techniques, the station exposed the company's dangerous practice of storing fresh food in unrefrigerated storage sheds. The food was then delivered to restaurants, hotels, hospitals and schools.
In our latest installment of Story Shorts reporter Vicky Nguyen and producer Kevin Nious explain how the investigation came together. They'll offer tips on working as a team, selling managers on a major project, reaching out to sources via social media and more.
We're releasing videos every day this week on our Story Shorts page and social media.